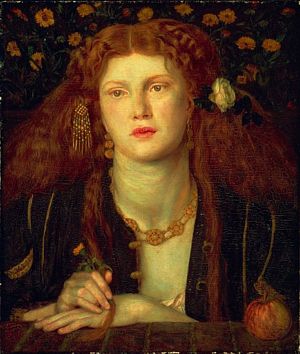 Elizabeth Siddal was Dante Gabriel Rossetti's
artistic and spiritual muse, playing Beatrice to his Dante. But Fanny Cornforth, pictured here in Rossetti's Bocca Baciata, was a muse of a more sensual and seductive nature.
Her hair is wild and free, her garment unbuttoned. The inspiration for this piece was a line from Bocaccio's Decameron: "The mouth that has been kissed does not lose its savour, indeed it renews itself just as the moon does."
Rossetti inscribed the line on the reverse side of the canvas in its original translation: Bocca baciate non perda ventura, anzi rinnova come fa la luna.
Writing to his brother, Rossetti discussed the painting, saying "I have painted a little half-figure in oil lately which I should like you to see, as I have made an effort to avoid what I know to be a besetting fault of mine—& indeed rather common to PR painting—that of stipple in the flesh. I have succeeded in quite keeping it at a distance this time, and am very desirous of painting . . . various figures of this kind, chiefly as a rapid study of flesh painting."
Like this painting? I suggest you visit this page at the Rossetti Archive. It has a wonderful zoom feature so you can study the painting in more detail.
Fanny Cornforth is often overlooked as having an important role in Rossetti's life, due to the fact that she was not a respectable Victorian lady and was known as a prostitute. But Rossetti depended on her and considered her a true friend. I highly recommend that you read the first full-length biography of Fanny, Stunner: The Fall and Rise of Fanny Cornforth by Kirsty Stonell Walker.