Buy the Lady of Shalott DVD for a special cause!
First, a personal update: I mentioned in my last post that my husband was involved in a motorcycle accident.  Unfortunately his injuries are more serious than previously thought.  He's crushed most of the bones in his foot and ankle, requires multiple surgeries, and will lose some motion.  All of this happened while our son (age 13) was recovering from a procedure to have titanium plates in both his legs.  So, um, we're dealing with a lot.
My husband's self-employed and we don't have insurance.  His shop has been closed since the accident, so there's no income coming in.  He had his first surgery last Friday and was hospitalized for several days.  During his hospital stay, we discovered some high blood pressure and diabetes issues that we were unaware of.  No word yet on when his next surgery will be.  The surgeon needs to wait until the swelling has subsided and skin wounds have healed.  Until then, he has what's called an external fixator and is in a wheelchair.  All those rather attractive bars and pins you see in the pic below will stay in his leg for quite a while and he won't be able to walk for six months: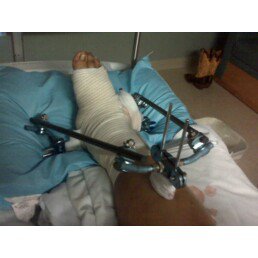 Even though things look pretty bleak at the moment, we are determined to remain positive.  We know that somehow we will get through this.  The next few months will be rough, but he's alive and our three children are coping well.  We are overwhelmed by the kindness of others.
The Lady of Shalott DVD: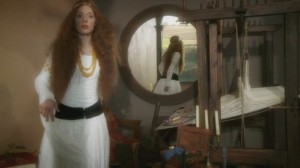 If you've followed this blog for a while, it is no secret that I've been excited about this project from the beginning.  Before the film was completed, I regularly posted photos of the production in progress.  I had approached Pauline Loven, one of the producers and an extremely talented period costumer, who sent me photos and updates. Here's a previous post about The Lady of Shalott film.  I'm proud to say that over the next few years we became friends.  This is one of the things I enjoy the most about my Pre-Raphaelite blogging — I've formed friendships that I treasure.  Friendships that stemmed from a shared interest, but have grown into something much more.  And here I should mention Cathy Baker, who very kindly took the time to create this Facebook page to help us raise funds for our ever-growing medical bills. I'd also like to thank Lisa Gill of Medieval Muse, Robin Wallace of Passing Fancies, and Kirsty Walker of The Kissed Mouth for being so generous.
Pauline and the rest of the team at WAG Screen have offered to help raise money by generously donating 50% of sales of The Lady of Shalott DVD to my family.  First of all, I don't even know how to put into words how much this means to me.  The fact that people want to help us, people that I've never met in person, is so unbelievably kind.  Just to say thank you is not enough.  But it is all I can say.
Thank you.  Thank you.  Thank you.