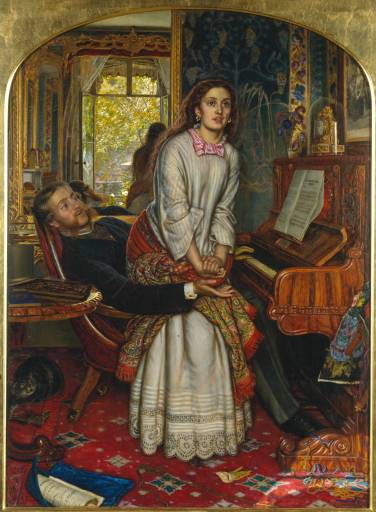 The fallen woman was quite a theme for the Pre-Raphaelites. In this painting, The Awakening Conscience, we see a mistress rising from the seat of her lover, seemingly stricken with the realization of what her life has become. The Awakening Conscience, painted by William Holman Hunt, is filled with symbolism: a cat crouches under the table devouring a dead bird, the woman's hands are adorned with rings on every finger except where a wedding ring would be, on the floor we see unraveling wool. I recently read in Reading the Pre-Raphaelites that the sheet music on the piano, Oft in the Stilly Night, is presumably responsible for the awakening of her conscious:
Oft, in the stilly night,
Ere Slumber's chain has bound me,
Fond Memory brings the light
Of other days around me;
The smiles, the tears,
Of boyhood's years,
The words of love then spoken;
The eyes that shone,
Now dimm'd and gone,
The cheerful hearts now broken!
Thus, in the stilly night,
Ere Slumber's chain hath bound me,
Sad Memory brings the light
Of other days around me.
John Ruskin, feeling that the painting was misunderstood, wrote that "There is not a single object in all that room, common, modern, vulgar…but it becomes tragical, if rightly read…That furniture so carefully painted, even to the last vein of rosewood – is there nothing to be learnt from the terrible lustre of it, from its fatal newness; nothing there that has the old thoughts of home upon it, or that is ever to become a part of a home?"
The newness of the furniture is significant and indicates the freshly furnished home of a kept woman, not the loved and worn furnishings that fill the home of a family.
The model in this painting is Annie Miller, who Holman Hunt "rescued from obscurity". He was engaged to her and launched a campaign to better her. She took classes and worked to become a refined woman of a higher class. It is said that in this painting, her face originally showed a look of guilt. But after learning of her infidelity with Dante Gabriel Rossetti, Holman Hunt repainted her features. I would love to know what the original looked like.