Isabella and the Pot of Basil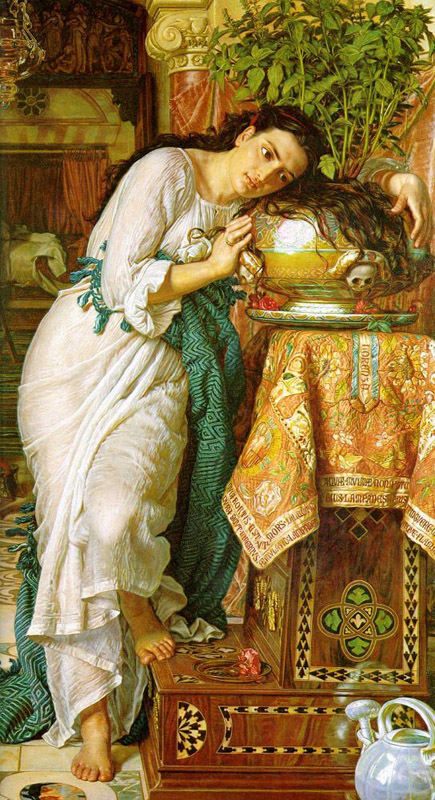 I had seen this painting several times in books and online, but when I saw it in person I was blown away. The painting is quite large, measuring 73.5 x 45.5 inches. Due to its size, the painting draws you in, completely dominating the room and immersing you in every detail.
The painting illustrates a poem by John Keats: Isabella, or, the Pot of Basil. In it, Isabella and Lorenzo fall in love. Her brothers kill Lorenzo. After searching for and finding his body, Isabella buries his head under a plant of Basil. Romantic, no?
William Holman Hunt used his wife Fanny as the model. He wanted to paint Isabella thin and wan with grief, but being a Pre-Raphaelite he believed in painting "truth to nature". If Fanny was to portay Isabella, he had to paint her as she was. She was pregnant at the time and gave birth to their son in October 1866. Sadly, Fanny died a few months later in December.
I love this painting for its mixture of beauty and grief. Isabella can never be repulsed by her close proximity to Lorenzo's buried head. No, she embraces his flower pot/casket, with her hair draping over it like a shroud mixing in with the soil and the plant. And notice how the Basil plant flourishes, growing grandly – due to the fertilization, are we meant to believe? And the horrible irony of it all is that in this picture of death, a life was growing inside the beautiful model. The Lion King has nothing on this circle of life.