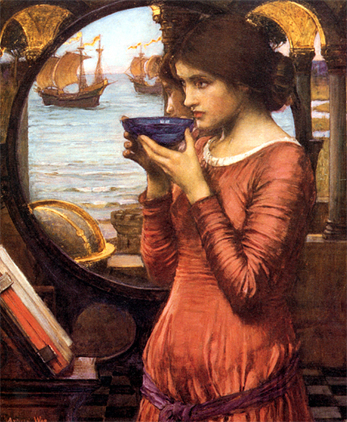 Destiny, painted by John William Waterhouse
In my previous post (Magic in Pre-Raphaelite and Symbolist Art) a visitor (Hi, Sally!) asked about the model used in Waterhouse's The Crystal Ball and that stunning red dress.
I love Waterhouse and his image of women.  But I do not know much about the models he used.  So, I encouraged to Sally to visit the fabulous message board at johnwilliamwaterhouse.com.
Ness posted a beautiful answer to my question about both paintings and the red dress. Here's a tiny excerpt, but I would rather you make your way over and join!
"Destiny is the one print I have here, so far, and is a favorite for several reasons: it shows the important red dress, the beloved round mirror, and the face of a model I am still looking for.
Though the modeling of the hair is the same, the shape of the features of the figure in The Crystal Ball are not the same as Destiny's – child (there – couldn't resist!)
We know by now the hair style was his favorite for women, he used it so often. After seeing how often he altered features to create his images, we can't say if one or more models were used. I see echoes of Circe Invidiosa in Destiny; he may have gone back to his sketches for that earlier painting. He would revisit earlier sketches for a number of works.
As for the dress: there is something personal in the choice of red dress. It is a choice he made again and again. But why? "