There is a wealth of possibility in beginnings, especially the beginning of a new year.  Since I see beginnings as positive, I think it's dreadful if we add anything negative to that. I never form New Year's Resolutions that have anything to do with subtraction.  No eating less, no shedding pounds, no pining or wishing desperately for something in our lives to be different. I firmly believe that if we participate in that world of resolutions, then we should embrace resolutions that involve more.  More laughter, more love, more goodness, more reading.  More guacamole.
All it takes is the effort to pursue those moments where we allow ourselves to slow down physically or mentally, to quiet our minds and our worries and just enjoy the moment we're in.  That's not always an easy thing to do, which is what makes it so wonderful when we can actually pull it off.
Since this is my first post of the year, I thought I should begin with a painting that I find meaningful.  Evelyn de Morgan's Hope in the Prison of Despair.  De Morgan's works are often allegorical and I'm drawn to the beauty and symbolism of her pieces.  This one is perfect for a new year, I think.  It tells us that we can move on from the past, the chains of thought that bind us.  Hope lives in the prison of despair.  Despair and hope, we all have both in abundance.  The key is, and I'm sorry if all of this sounds cliche, we have to work through that despair to set that hope free and embrace it.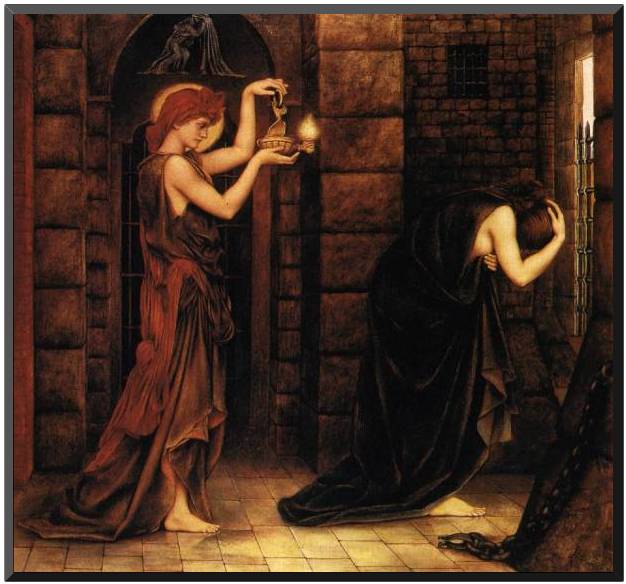 When I think of despair, I remember this quote from Agatha Christie.  I love this, it describes how I feel about my life:
"I like living. I have sometimes been wildly, despairingly, acutely miserable, racked with sorrow, but through it all I still know quite certainly that just to be alive is a grand thing."