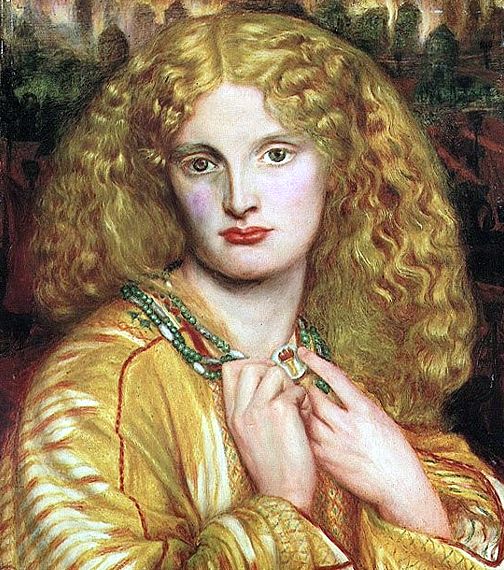 Helen's beautiful face was said to have launched a thousand ships. She was the wife of Menelaus, the king of Sparta. Of course, the fact that she was married didn't bother Paris at all; he was a married man as well. But Paris had fallen in love with Helen and, married or not, he wanted her. (Sounds a bit like the Rossetti/Morris situation, no?)
Paris was welcomed to Sparta by the unsuspecting Menelaus, who held feasts in Paris' honor and invited him to stay as long as he wished.
Menelaus went on a hunting expedition on a nearby island and Paris saw his chance. The goddess Aphrodite had previously promised Paris the most beautiful woman in the world after he had given to Aphrodite a golden apple that other goddesses had coveted. To fulfill her promise, Aphrodite made Helen fall in love with Paris, so he had no trouble persuading her to leave her husband and return with Paris to his homeland of Troy. Paris also took with him much of Menelaus' treasure. Paris was a greedy little beggar, wasn't he?
This abduction of Helen caused the Trojan war, which lasted a decade. And why was Helen the face that launched a thousand ships? Before her marriage to Menelaus, all the Greek kings wanted to marry her. Helen's father (with great foresight) had each king make a promise that they would be loyal friends to whomever Helen chose to marry and that if anything should ever happen to her, they all pledged that they would assist her husband in saving her. Bound by their promise, all the Greek kings offered their armies and ships to help Menelaus and his brother Agamemnon to rescue Helen and have victory over the Trojans.
Dante Gabriel Rossetti painted Helen of Troy in 1863, a year after the death of his wife from an overdose of laudanum. The model he used was Annie Miller (previously mentioned on this site in the post about The Awakening Conscience).
Below, Helen of Troy painted by Frederick Sandys.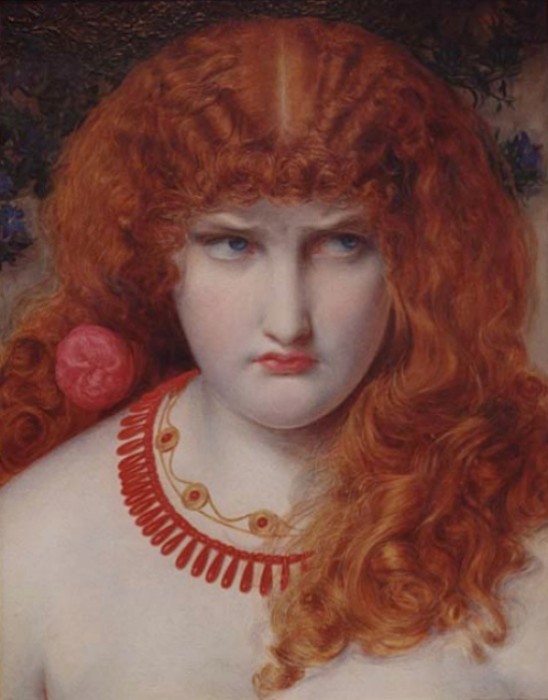 Four years after Rossetti painted his Helen, Frederick Sandys painted this depiction of Helen of Troy. Tensions rose between Rossetti and Sandys – Rossetti believed that Sandys' version was too similar to his own. Elizabeth Prettejon discussed this in her book Rossetti and His Circle
saying, "The rippling hair and full lips functioned as talismans in much the same way as the hair ornaments or pieces of china. They were symbols, in a general sense, of the group's shared artistic project; more specifically they were symbols of the group's compelling shared image of woman. The Rossettian image of woman has been criticised for its repetitiveness; but repetition was precisely its hallmark."
I prefer Rossetti's Helen to Sandys'. Sandys shows Helen more like a petulant, fussy child who hasn't had her way and is in great need of a time out. What do you think?
For more on Helen of Troy, here's a wonderful overview.
Here's a page showing different how different artists have portrayed Helen on canvas.
Rossetti's Helen of Troy at The Victorian Web, where you can also read Rossetti's poem Troy Town.
And this wonderful article: Rossetti's dreaming women: Three pictures of visioning and imagining