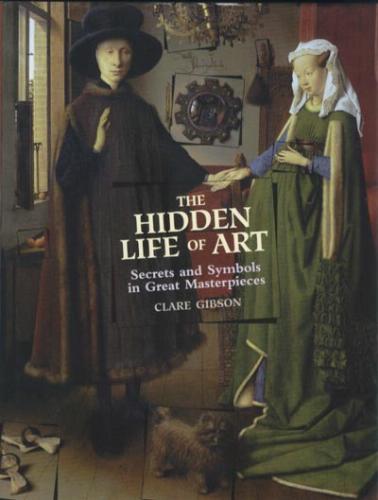 This is the first book I've featured on this site that is not strictly related to Pre-Raphaelitism.  But I purchased this book a few days ago and am enjoying it so much that I knew visitors to this site might be interested.  I've linked the image to the purchase page at Amazon, but I purchased it at our local Barnes and Noble (it was in the Bargain Books section for about $14).  So if you have one near you, you may be able to find it and not have to wait for shipping.
Here's a brief excerpt from the dust jacket:  "All art is at once surface and symbol.  Those who go beneath the surface do so at their own peril," warned Oscar Wilde in his preface to The Picture of Dorian Gray (1891).  Look closely at any painting, and you'll soon become aware of its hidden depths, some areas of which may open doors in your mind that lead you down paths you never knew existed." Oh,  how true that is!  I agree with that statement wholeheartedly – and reading that was one of the things that compelled me to buy this book.  I speak from personal experience when I say that devoting time to study art, looking beneath the surface can reveal not only layers beneath the art, but truths about yourself.
"Art is a lie that makes us realize truth". — Pablo Picasso
The Pre-Raphaelites are not mentioned extensively in this book, and I think as far as symbolism in pictures goes the author could have spent more time on Pre-Raphaelite works.  But then again, symbolism in Pre-Raphaelite art provides enough subject matter for its own book!  Rossetti's La Pia de Tolomei is featured on pages 190-91, and Burne-Jones is mentioned on page 33 where symbolism in his painting The Wine of Circe is discussed.
The book runs 203 pages (not including art index, index, and bibliography) and is filled with paintings that span the centuries.  Sections include:
Mythological Figures and Symbols (The Hall of Judgment, The Creation of the Milky Way by Peter Paul Rubens, The Union of Water with Earth by Peter Paul Rubens, Diana and Endymion by Giambattista Pittoni, Apollo and Mercury by Francesco Albani, Minerva Competing with Neptune for the Possession of Attica by Giovanni Battista Mengardi, Pallas Athene by Gustav Klimt, The Birth of Venus by Sandro Botticelli, The Judgement of Paris by Peter Paul Rubens, Andromeda by Joachim Wtewael, Thor Battling the Mitgard Serpent by Henry Fuseli)
Sacred Figures and Symbols (The Gods Worship Devi –  artist unknown, Matsya – artist unknown. Padmasambhava – artist unknown, Tibetan Anuttara-yoga Mandala – artist unknown, Paradise by Lucas Cranach the Elder, The Destruction of the Golden Calf by Andrea Celesti, Samson and Delilah by Michelangelo Merisi da Caravaggio, The Annunciation to Mary and St. Luke the Evangelist by Bendetto Bonfigli, Adoration of the Kings by Filippino Lippi, The Temotations of Christ by Bartholomaus Bruyn the Elder, The Raising of Lazarus from the Dead by Giotto di Bondone, The Last Supper by Leonardo Da Vinci, Crucifixion of Christ by Andrea Mantegna, Altar of the Last Judgement from St. Mary's Church, Gdansk by Hans Memling, The All Saints' Picture by Albrecht Durer, The Ka'bah in Mecca – artist unkown)
Allegorical Figures and Symbols (Fruit Garlands with Cybele by Jan Brueghel (the Elder) and Hendrick van Balen, The Chasseur in the Forest by Caspar David Friedrich, The Animals Enter Noah's Ark by Kaspar Memberger, The Air by Johann Baptist Rudolph Byss, Landscape with House, Dog and Cow by Franz Marc, Round of the Prisoners by Vincent Van Gogh, Round Table with Holy Grail – artist unknown from the L'Estoire de Saint Grall, by Robert de Boron, The Seven Deadly Sins and the Four Last Things by Hieronymus Bosch, Apollo and the Muses by Maarten de Vos, El Aquellare (The Witches Sabbath) by Francisco de Goya, Triumph of Chastity by Jacopo del Sellaio, St. George – artist unkown, Minerva Tames the Centaur by Sandro Botticelli, A Tryst at a Riverside Cafe by James Tissot, The Merchant Georg Gisze by Hans Holbein the Younger, Giovanni Arnofilni and his Wife ("The Arnofini Portrait" this is the one on the cover of the book) by Jan Van Eyck, La Pia de Tolomei by Dante Gabriel Rossetti, Pour feter le Bebe (In Honor of the Baby) by Henri Rousseau, the Battle of Issus by Abrecht Altdorfer, The Third of May 1808 by Francisco de Goya, Napoleon on the Throne by jean Auguste Dominique Ingres, The Stages of Life by Caspar David Friedrich, The Triumph of Death (Lo Scheggia)