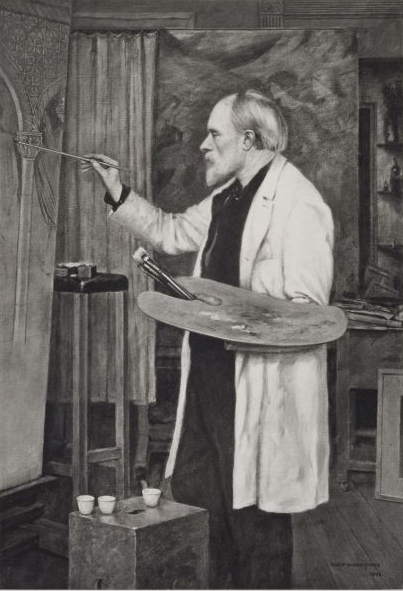 "I have been working very hard in spite of all things, and I hope to finish the 'Wheel of Fortune' and the 'Hours'.  I think you never saw the last–not a big picture, about five feet long–a row of six little women that typify the hours of day from waking to sleep.  Their little knees look so funny in a row that wit descended on me from above, and I called them the 'laps of time'. Every little lady besides the proper colour of her own frock wears a lining of colour of the hour before her and a sleeve of the hour coming after–so that Mr. Whistler could, if he liked, call it a fugue."  –Sir Edward Burne-Jones writing to Lady Leighton, quoted from Memorials of Edward Burne-Jones, vol. II
I confess that the symbolism of the colours escaped me until I read the passage above.  It's so subtle that it's brilliant.  The sky behind them also seems to represent the passing of time.
In the same letter, Burne-Jones mentions his Wheel of Fortune painting.  Lily Langtry posed as the head of Fortune (Fortuna).