I Lock My Door Upon Myself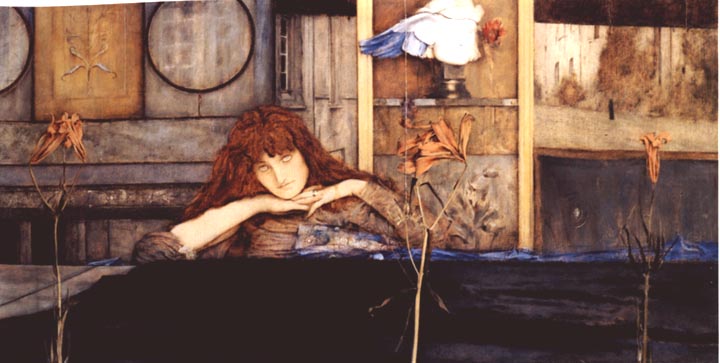 Fernand Khnopff was not a Pre-Raphaelite painter, but I wanted to share his 1891 painting I Lock My Door Upon Myself which draws inspiration from Christina Rossetti's poem Who Shall Deliver Me? Khnopff's title comes specifically from this stanza:
I lock my door upon myself,
And bar them out; but who shall wall
Self from myself, most loathed of all?
From Isolation and Hypnotism in Khnopff's "I Lock the Door Upon Myself" at The Victorian Web:
Khnopff's woman is not representative of the ideal form of beauty, instead she appears threatening and some may say, haunting. Khnopff borrows heavily from the Pre-Raphaelite tradition of women with strong features such as fiery, red hair, and distinct features. although the theme of this painting, upon first glance, seems akin to other PRB paintings in which a woman exists in isolation, such as "The Lady of Shallot", the sterile and alarming stare of the woman in Khnopff's painting immediately creates an unpleasant and unsettling ambience, as opposed to the thoughtful countenances that are commonly seen in many PR paintings. Khnopff's lady not only looks hypnotized herself, but also seems to be hypnotizing the audience, alluding to Khnopff's interest in the rise of Spiritualism and the occult in the 1890's.
Reading the poem I feel not only a sense of sadness and desperation, but also that there is a legitimate question to be explored: just who can save you from yourself? If I've become my own foe, then who shall deliver me?  There is no outside enemy, no tangible threat — it is my own inner dialogue that creates the danger, the depression, the loneliness.  Christina Rossetti captured this, gave words to this, and in doing so she created a work that can briefly take you outside of yourself to realize that others have been in that same loathsome place.  In fact, just thinking about that reminded me of a webpage I once encountered that criticized Pre-Raphaelite art (particularly images of Ophelia) as being angst-ridden and full of appeal for depressed teenage girls.  It strikes me that instead of a criticism, this should be seen as a positive thing.  Instead of looking at it with derision, let's celebrate the fact that art and poetry can not only provide a sense of escapism, it can provide a moment of resonance so that someone who may be metaphorically locking a door upon themselves can have the opportunity through poets like Christina Rossetti and artists like the Pre-Raphaelites to uncover the keys within themselves to not only unlock that door, but open new ones.
God strengthen me to bear myself;
That heaviest weight of all to bear,
Inalienable weight of care.
All others are outside myself;
I lock my door and bar them out
The turmoil, tedium, gad-about.
I lock my door upon myself,
And bar them out; but who shall wall
Self from myself, most loathed of all?
If I could once lay down myself,
And start self-purged upon the race
That all must run! Death runs apace.
If I could set aside myself,
And start with lightened heart upon
The road by all men overgone!
God harden me against myself,
This coward with pathetic voice
Who craves for ease and rest and joys
Myself, arch-traitor to myself ;
My hollowest friend, my deadliest foe,
My clog whatever road I go.
Yet One there is can curb myself,
Can roll the strangling load from me
Break off the yoke and set me free.