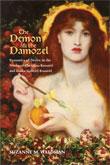 Oh, I hope to be able to purchase this soon!  The Demon and the Damozel: Dynamics of Desire in the Works of Christina Rossetti and Dante Gabriel Rossetti.
Here's a snippet from the publisher:
Suzanne M. Waldman views well-known poems and artworks such as Christina Rossetti's Goblin Market and Dante Gabriel Rossetti's The Blessed Damozel and Venus Verticordia in new ways that expose their authors' savvy anticipation of concepts that would come to be known as narcissism, fetishism, and the symbolic and imaginary orders, among many others. Waldman makes a strong case for the particular psychoanalytic importance of the Rossettis by looking at how the two Rossetti siblings' own psyches were divided by conflicts between the period's religious scruples and its taste for gothic sensationalism.
See?  You can't wait to read it either!