Today I have been pondering allegories of love in art.  Namely, the choices artists make when representing the concept of Love in physical form.  It is usually male and I assume that the root of this lies in Greek myths of Eros, god of love, or Cupid, his Roman counterpart.
While many today think of Cupid as a roly-poly baby seen on Valentine cards, his importance is mentioned in The Birds by Aristophenes:
"In the vast hollows of Erebus first of all black-winged Night, alone, brought forth an egg, from which Eros, the desirable burst forth like a swift whirlwind, his back glistening with golden wings.  He mingled in broad Tartarus with Chaos, winged and dark as night, and hatched our race of birds and first led it to light. There was no race of immortals before Eros caused all things to mingle. From the mingling of couples, Uranus, Oceanus, Ge, and the immortal race of all the blessed gods came into being."
So, according to Aristophenes, Eros holds an important place in this creation myth.  Which makes perfect sense to me that Love should appear to be at the root of all things, all creation, as a powerful force. Where Chaos existed, Love was a unifying force in creating harmony and balance.  Cliche alert: the Beatles were right.  Love is all you need.
An image of Love that I find quite striking is Love in Autumn by Simeon Solomon in 1866: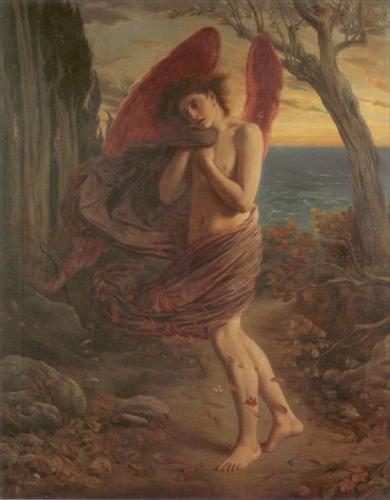 No happy-go-lucky cherub, this is the Love that perseveres in the midst of desolate winds.
G.F. Watts portrays Love in his painting Love and Death: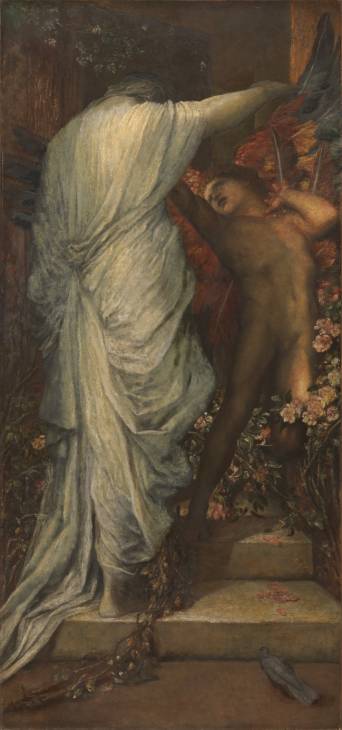 Death = fully clothed adult whose face we can not see
Love = nude boy, vulnerable and fully exposed
When Love and Death was first exhibited in the Grosvenor Gallery in 1877, it was reviewed by Oscar Wilde:
'a large painting, representing a marble doorway, all overgrown with white-starred jasmine and sweet briar rose. Death a giant form, veiled in grey draperies, is passing in with inevitable and mysterious power, breaking through all the flowers. One foot is already on the threshold, and one relentless hand is "tended, while Love, a beautiful boy with lithe brown limbs and rainbow coloured wings, all shrinking like a crumpled leaf, is trying, with vain hands, to bar the entrance. A little dove, undisturbed by the agony of the terrible conflict, waits patiently at the foot of the steps for her playmate, but will wait in vain, for though the face of death is hidden from us, yet we can see from the terror in the boy's eyes and quivering lips, that Medusa-like, this grey phantom turns all it looks upon to stone; and the wings of love are rent and crushed.' (Source)
Anna Lea Merrit also portrays Love as a boy who looks roughly the same age as the boy in Watts' Love and Death.  Merrit conceived the idea of Love Locked Out as a sculpture for her husband's grave but, lacking the funds, she painted it instead.  Describing her concept of the work, she said " In my thought the closed door is the door of the tomb…I feared people liked it as a symbol of forbidden love, while my love was waiting for the door of death to open and the reunion of the lonely pair."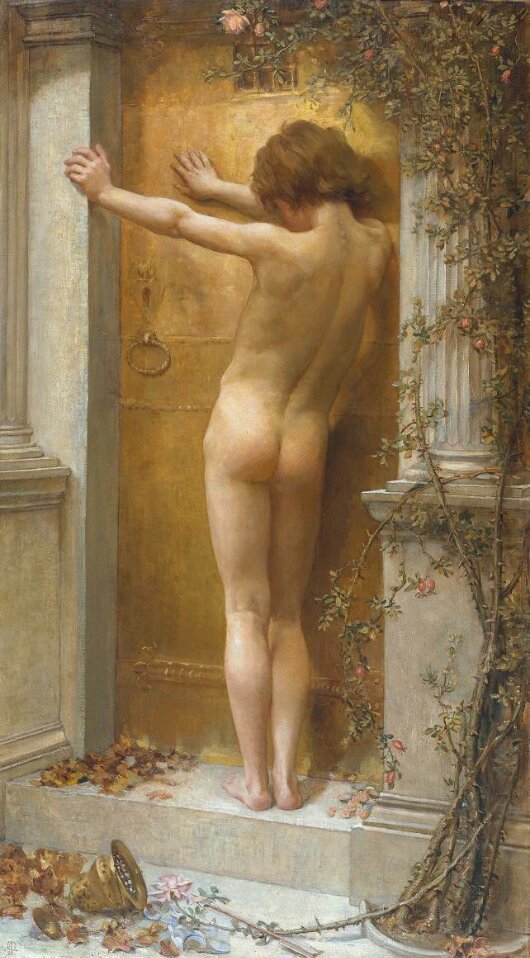 The Uninvited Guest is a work that I find touching and beautiful, but I confess that the title confuses me.  I assume Love would be an invited and welcome guest to any wedding? At any rate, it is a gorgeous example of Eleanor Fortescue Brickdale at her best.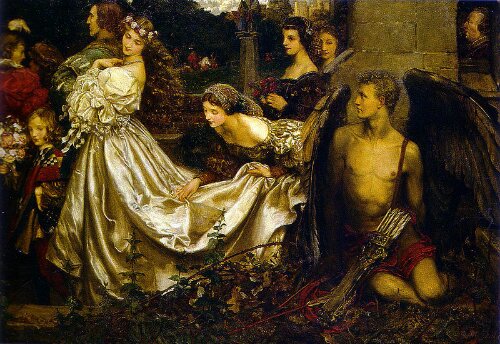 Love and the Maiden by John Roddam Spencer-Stanhope comes closest to our modern idea of Cupid/Eros.  A maiden sits alone, not joining in with the other maidens seen in the background.  Love is in her midst with his bow and arrow.  Is it that he senses her loneliness?  As an introvert myself, I can't bring myself to assume that she's lonely simply because she chose to not join the others.  Perhaps Love is drawn to her quiet contemplation, realizing that since she has the strength to be alone when she needs to be, she is now ready to welcome Love in her life.  Maybe he is giving her a choice.