I chose this poem because I find it to be one of  the most expressive of Elizabeth Siddal's poems. The bitterness is palpable. With all the force of "blasts of heaven to take thee down", Siddal unleashes her rage. I have no doubt that this poem finds its roots in the relationship between Lizzie and Dante Gabriel Rossetti. In modern terms, we would call their relationship dysfunctional. I take no sides, they both had responsibility for their shortcomings. But this poem gives us a glimpse of Lizzie's frustration at a love that had soured. " Great love I bore thee: now great hate
Sits grimly in its place." To accompany the poem, I have included Lizzie's self portrait. It provides a striking contrast to the beautiful images Gabriel created of Lizzie. Unlike most women (myself probably included) who choose to show themselves in the best possible light, Lizzie painted simply what she saw. I think it is a strong artistic statement that she made, and a bold one at that.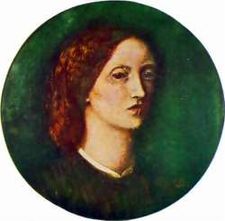 Love and Hate
Ope not thy lips, thou foolish one,
Nor turn to me thy face;
The blasts of heaven shall strike thee down
Ere I will give thee grace.
Take thou thy shadow from my path,
Nor turn to me and pray;
The wild wild winds thy dirge may sing
Ere I will bid thee stay.
Turn thou away thy false dark eyes,
Nor gaze upon my face;
Great love I bore thee: now great hate
Sits grimly in its place.
All changes pass me like a dream,
I neither sing nor pray;
And thou art like the poisonous tree
That stole my life away.
More:
Handwriting analysis of Elizabeth Siddal and Dante Gabriel Rossetti