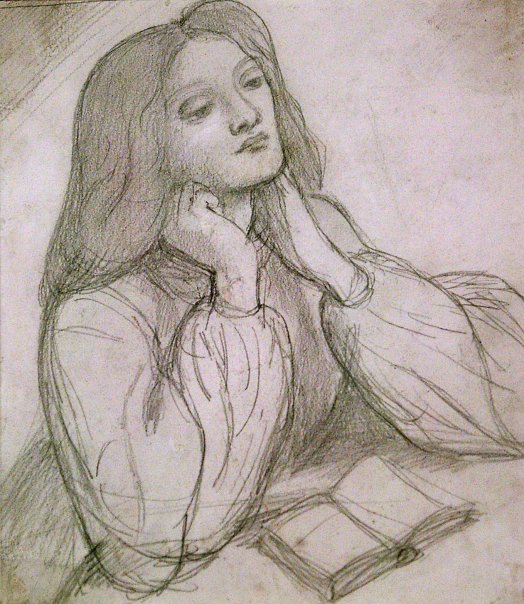 On February 11, 1862, Elizabeth Siddal died of an overdose of Laudanum.   This was a tragic end to a very sad period of her life.   She and her husband, Dante Gabriel Rossetti,  had suffered the birth of a stillborn daughter and Lizzie was in the throes of grief and depression.  She was also in the grip of addiction.
Her death set in motion another series of events that has helped to make Elizabeth Siddal a famous Pre-Raphaelite legend.  Rossetti was distraught with grief and guilt.  So he made the decision to bury his only manuscript of his poems with Lizzie, laying the volume against the famous red locks that he and others  had painted repeatedly.   Seven years later, Rossetti was a tortured soul.  He suffered from bouts of depression and insomnia.  He became a heavy drinker and also used Chloral.  Those poems haunted him.
His unscrupulous agent,  Charles Augustus Howell, suggested retrieving the manuscript.  Lizzie was exhumed from her grave in Highgate Cemetery and the manuscript was disinfected and returned to Rossetti.  He was not present at the exhumation and the story that Lizzie remained pristine and that her hair had continued to grow after death was most likely a fabrication on Howell's part, meant to silence any grief or Rossetti had about the ghastly business.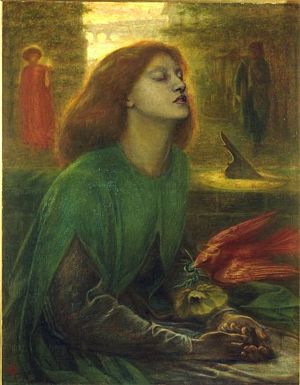 Beata Beatrix is a posthumous tribute Rossetti painted to his wife.  Once again, he has cast her in the role of Dante's Beatrice, his unattainable love.  At LizzieSiddal.com, you'll find discussions on more than one version of this work:  Beata Beatrix part I, Beata Beatrix part II.