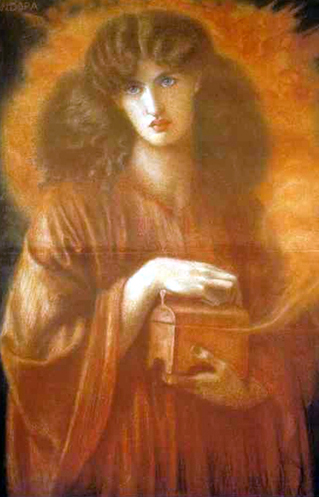 Image shown: study for Pandora, painted by Dante Gabriel Rossetti (1869). Model: Jane Morris.
Rossetti cast Jane in several famous roles such as Proserpine, Astarte Syriaca, and featured here: Pandora.
Instead of exploring Rossetti's motives in immortalizing Jane in such a role, I thought we could look at Pandora in general and how she has been portrayed.
Look at her face. There is virtually no expression. She is enveloped in the smoke, the evils pouring from the box. But what does she feel about it? We can not discern. For Rossetti, perhaps, it is all about beauty. And, honestly, what comes to mind when I view this painting is that all the orange reminds me of Reverie.
From Wikipedia:
In Greek mythology, Pandora was the first woman. Each god helped create her by giving her unique gifts. Zeus ordered Hephaestus to create her as part of the punishment of mankind for Prometheus' theft of the secret of fire, and all the gods joined in offering her seductive gifts. Her other name, inscribed against her figure on a white-ground kylix in the British Museum (illustration, right), is Anesidora, "she who sends up gifts" [1] According to the myth, Pandora opened a container jar (commonly referred to as Pandora's box) releasing all the evils of mankind— greed, vanity, slander, envy, pining— leaving only hope inside once she had closed it again.
The myth of Pandora is very old, appears in several distinct Greek versions, and has been interpreted in many ways. In all literary versions, however, the myth is a kind of theodicy, addressing the question of why there is evil in the world. In the seventh century BC Hesiod, both in his Theogony (briefly, without naming Pandora outright, line 570) and in Works and Days, gives the earliest literary version of the Pandora story."
Pandora, by John William Waterhouse: This Pandora looks more realistic to me. She has a natural, possibly child-like curiosity. She seems to open it tentatively, slowly. She has been told not to open the box and therefore she must. Which makes you wonder. Was that the plan all along?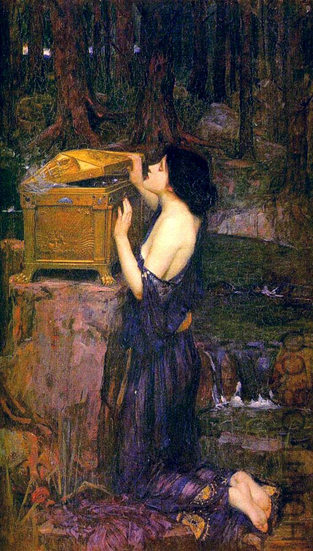 Poor Pandora. Unleashing all the world's ills and trapping only hope. And yet we still find it, don't we? Even if it is fleeting.  Hope is, somehow, all we have.