Pre-Raphaelite Christmas Ideas
Here's a few items I've seen online that would make lovely Christmas gifts. Feel free to share what's on your Pre-Raphaelite wish list!
Victorian trading Company has this gorgeous night light featuring Millais' Autumn Leaves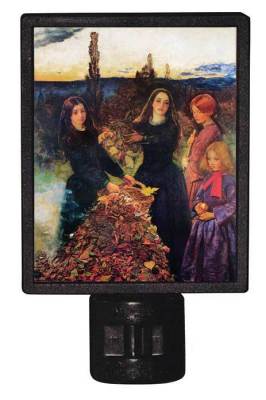 (mentioned on this site in this post). $24.95 and comes gift boxed. Also, they have the most delightful Christmas crackers free with an online purchase of $49. Click image for details: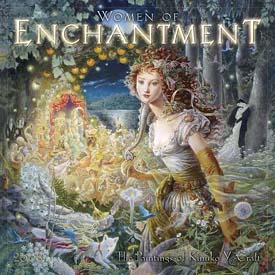 Midnight Muse has this Women of Enchantment calendar for 2008 that I have my eye on. The trouble is, there are too many calendars that I have my eye on.
If you're looking for Pre-Raphaelite prints, browse their art gallery, they seem to have a nice selection available.
If you're searching for a unique gift for that special someone, browse through the handcrafted jewelry at Parrish Relics. It is breathtaking, to say the least.
If Waterhouse is your passion, visit johnwilliamwaterhouse.com's bookstore: Waterhouse Essentials, Handpainted Oil Reproductions, and the 2008 Waterhouse Calendar (I told you! There are too many beautiful calendars available! I can't make up my mind!).
Supa Card Maka, who is on the Pre-Raphaelite Sisterhood myspace friends list, makes lovely embossed vintage cards. Check her out! It's not too late to send out your Christmas cards, and these are fabulous!

And on eBay, I've found:
This porcelain cameo style necklace featuring a Waterhouse Ophelia. I think I would prefer it on a ribbon, though. Click image to view auction. The seller has more than one listed, I believe: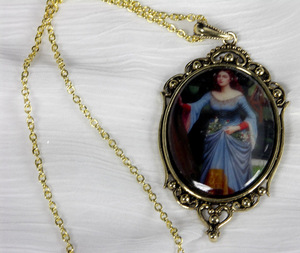 And this one is simply to die for! Handcrafted. Click image to go to the auction, or visit the sellers eBay store The Medieval Muse.
Sparkletime Art Glass Pendants has a number of interesting necklaces that I would love to have. One featuring Isabella and the Pot of Basil (seen here) and The Lady of Shalott (in this post)
If you've seen something online that you think would be a good addition to this list, post a comment and share a link. (Shameless self promotion is always welcome.)