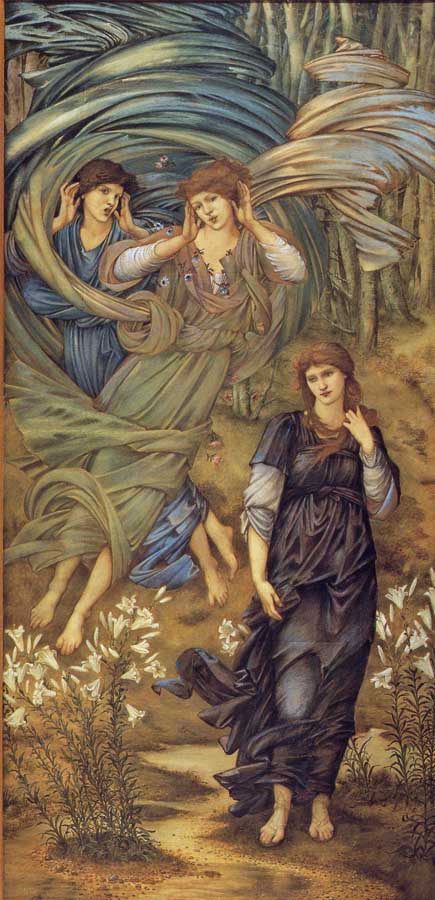 'Awake O North wind; and come then south; blow upon my garden that the spices thereof may flow out.'  (Song of Solomon 4:16)
"I drew the South wind one day and the North wind the next.  Such a queer little model I had, a little Houndsditch Jewess, self-possessed, mature and worldly, and only about twelve years old.  When I said to her, 'Think of nothing and feel silly and look wild and blow with your lips,' she threw off Houndsditch in a moment, and thousands of years rolled off her and she might have been born in Lebanon, instead of the Cockney which she was.  I will shew you the pictures." –Sir Edward Burne-Jones in a letter to Lady Rayleigh, quoted from The Memorials of Sir Edward Burne-Jones, vol. II
The North and South winds, seen in the detail below, remind me of Botticelli's works The Birth of Venus and Primavera.  This is neither a great surprise or a great discovery, as it is well documented that Burne-Jones was inspired by Botticelli.
Zephyrus, the god of the west wind, blows Venus toward dry land.  Embracing him is Flora, goddess of flowers.  Together they encourage the growth of new life.
I find a section of Primavera similar to Sponsa de Libano as well, although I have to admit that this connection is a more of a stretch since both the composition and subject matter are different than The Birth of Venus and Sponsa de Libano.  Instead of two figures blowing wind toward the main figure of the painting, Botticelli's figures are facing each other as Chloris is abducted by Zephyrus.
Interestingly, they are the same characters as seen in The Birth of Venus. In the detail above, Flora is on the right.  She is next to her previous incarnation, Chloris, being abducted by Zephyrus.
An upcoming exhibition at the Victoria and Albert Museum will explore Botticelli's influence and enduring impact on artists from the Pre-Raphaelites to present day.  See Botticelli Reimagined.
I've posted about Zephyrus before. You might enjoy the post The Winds of Waterhouse.