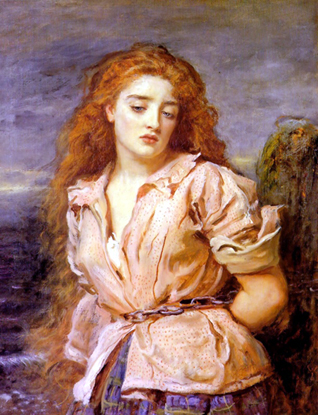 The Martyr of Solway is one of my favorite Millais paintings. She was originally nude, which in my mind would further capture the severity of her plight. But Millais added clothes in order not to offend the Victorian public. (Scroll to the bottom of this page at the Liverpool Museum to see x-rays of the painting that shows her to be originally nude.)
Loving this painting as I do, I have been thrilled to encounter it unexpectedly online a couple of times this week. Grace at The Beautiful Necessity shares a link to Martin Beek's work at Flickr. His hard work and photographs give a unique perspective into the works of Millais.
At Unusual Historicals Anita Davison shares the true story behind The Matyr of Solway (whose name was Margaret Wilson). It is a sad tale of a young Scottish girl who refused to swear an oath declaring the King of England as Head of the Church. She and a friend were chained to stone stakes in Solway Firth, forced to drown in the tide.
Other links:
The Solway Martys @ executedtoday.com
The Martyr of Solway @ ArtMagick
Women in History of Scots Descent: Women in Covenanting Times: @ electricscotland.com