The weather has been unusually cold and yesterday's snow made my little neighborhood look like a different and more enchanting place.   I loved yesterday.  It was a day filled with exhilarating romping in the snow with my children until night fell and we literally tumbled indoors feeling exhausted and content.   Then the night became one of those glorious winter nights where everything is so cold and beautiful outside while I was cozy and comfortable within.  Cuddled in my favorite quilt (made by my grandmother) I read some of Rossetti's poetry.  I've decided to share some of my favorites: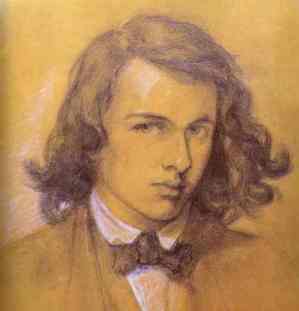 Sudden Light
I have been here before,
But when or how I cannot tell:
I know the grass beyond the door,
The sweet keen smell,
The sighing sound, the lights around the shore.
You have been mine before,—
How long ago I may not know:
But just when at that swallow's soar
Your neck turned so,
Some veil did fall,—I knew it all of yore.
Has this been thus before?
And shall not thus time's eddying flight
Still with our lives our love restore
In death's despite,
And day and night yield one delight once more?
The Card-Dealer
Could you not drink her gaze like wine?
Yet though its splendour swoon
Into the silence languidly
As a tune into a tune,
Those eyes unravel the coiled night
And know the stars at noon.
The gold that's heaped beside her hand,
In truth rich prize it were;
And rich the dreams that wreathe her brows
With magic stillness there;
And he were rich who should unwind
That woven golden hair.
Around her, where she sits, the dance
Now breathes its eager heat;
And not more lightly or more true
Fall there the dancers' feet
Than fall her cards on the bright board
As 'twere an heart that beat.
Her fingers let them softly through,
Smooth polished silent things;
And each one as it falls reflects
In swift light-shadowings,
Blood-red and purple, green and blue,
The great eyes of her rings.
Whom plays she with? With thee, who lov'st
Those gems upon her hand;
With me, who search her secret brows;
With all men, bless'd or bann'd.
We play together, she and we,
Within a vain strange land:
A land without any order,—
Day even as night, (one saith,)—
Where who lieth down ariseth not
Nor the sleeper awakeneth;
A land of darkness as darkness itself
And of the shadow of death.
What be her cards, you ask? Even these:—
The heart, that doth but crave
More, having fed; the diamond,
Skilled to make base seem brave;
The club, for smiting in the dark;
The spade, to dig a grave.
And do you ask what game she plays?
With me 'tis lost or won;
With thee it is playing still; with him
It is not well begun;
But 'tis a game she plays with all
Beneath the sway o' the sun.
Thou seest the card that falls,—she knows
The card that followeth:
Her game in thy tongue is called Life,
As ebbs thy daily breath:
When she shall speak, thou'lt learn her tongue
And know she calls it Death.
The Dark Glass
Not I myself know all my love for thee:
How should I reach so far, who cannot weigh
To-morrow's dower by gage of yesterday?
Shall birth and death, and all dark names that be
As doors and windows bared to some loud sea,
Lash deaf mine ears and blind my face with spray;
And shall my sense pierce love,—the last relay
And ultimate outpost of eternity?
Lo! what am I to Love, the lord of all?
One murmuring shell he gathers from the sand,—
One little heart-flame sheltered in his hand.
Yet through thine eyes he grants me clearest call
And veriest touch of powers primordial
That any hour-girt life may understand.