Art Inspired Flash Fiction: The Beacon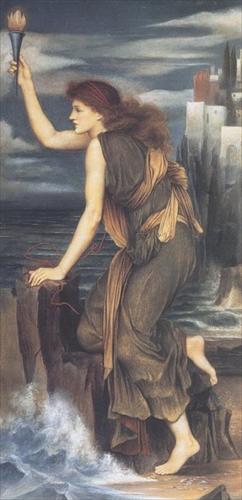 She waits. Her eyes dart from wave to wave, hoping to catch a glimpse of him. He will come– as he does nightly–braving the turbulent sea for his love. She imagines him swimming with long powerful strokes. His arms must surely ache and burn, but it will be of no consequence to him, for he is resolute in his goal.
She does not know that as the water stings his eyes, he pictures her face. He thinks of their last embrace and tries to remember all of the things he wants to tell her tonight. He is often so in awe of her presence that he forgets trivial things, daily occurrences that he wants to impart. He dreams of a future in which he will not have to make this watery sojourn to spend brief moments with his betrothed. He has pictured their life together in minute detail, not the fanciful daydreams of young lovers, but a strong passion with force that will not easily fade. With each push through the water, he is willing himself to her side. He propels himself forward with a mixture of sheer physical strength and emotions too strong for him to name.
He still sees her face in his mind's eye as the water pulls him downward. He begins to choke, not out of panic, but out of fury and anger. He is aware of what this means. He has encountered the one fight that he knows he cannot win. There will be no more victory.
She will continue to wait until the sun begins to rise and her beacon, which had symbolized a light of hope for him, is extinguished. She tastes her own bitter tears and they remind her of the salt that she has tasted nightly on his lips, the mark of the sea.