Pre-Raphaelites and Shakespeare: Romeo and Juliet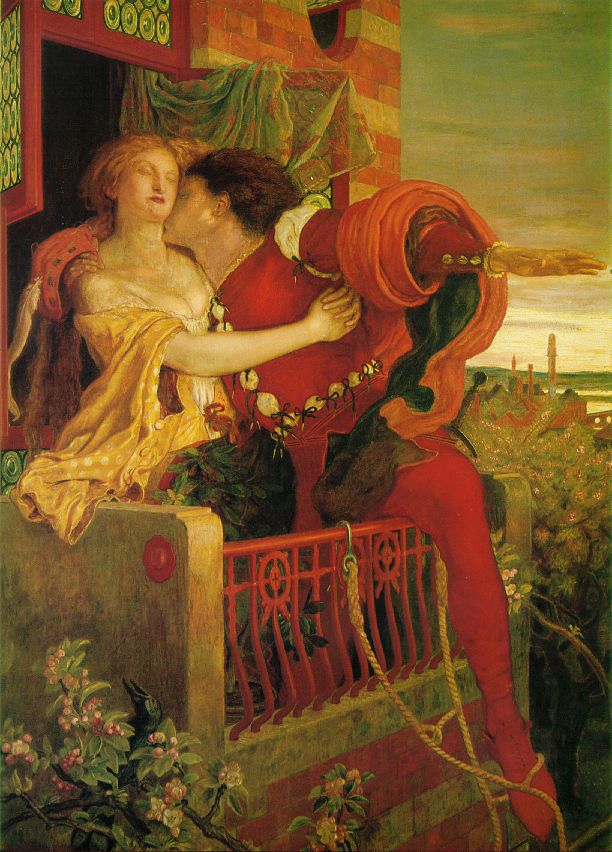 "Romeo and Juliet's description of the frantic haste of the rash lovers blends together humor, irony, poignancy, and disapproval, but Shakespeare conveys above all a deep inward understanding of what it feels like to be young, desperate to wed, and tormented by delay." — author Stephen Greenblatt in his book Will in the World: How Shakespeare Became Shakespeare
I've previously posted about another of Ford Madox Brown's Shakespearean works, King Lear. In Cordelia at the Bedside of Lear, the artist used his wife as a model for Cordelia and she appears again in Ford Madox Brown's painting Romeo and Juliet.
Not quite the young ingenue, Emma Madox Brown had been married to Ford for some time, was a mother, and sadly, an alcoholic.
Emma began modeling for Brown in 1848, the year the Brotherhood was formed. Romance blossomed and eventually the two unmarried lovers conceived a child. Instead of marriage, the two opted for secrecy. Brown cared for Emma throughout her pregnancy. Their daughter Catherine was born November 11, 1850. Since they were not married, Catherine was baptized with her parents names appearing as 'Ford and Mathilda Hill' –Mathilda was Emma's middle name, Hill was her surname. So, it was not a complete lie. Just a little Victorian fudging of the truth.
The couple did eventually marry and had another child, Oliver, and a second son, Arthur Gabriel, whose godparents were Dante Gabriel Rossetti and Elizabeth Siddal.
We also see Charles Augustus Howell posing as Romeo. Howell is a bit of a notorious figure. At one time he was John Ruskin's secretary and Lucinda Hawksley describes him in Lizzie Siddal: Face of the Pre-Raphaelites
as "an inveterate liar, at times perhaps even convincing himself of the lies." Charles Augustus Howell was present at Elizabeth Siddal's exhumation and is in part responsible for persuading Rossetti to have his wife exhumed in order to retrieve the poems that he had buried with her. Howell is even guilty of having faked his death to avoid paying debts, the result of this was that when he actually did die, a large number of people were skeptical. Sir Arthur Conan Doyle used Howell as the basis for the slimy blackmailer whom Sherlock Holmes calls "the worst man in London" in the story The Adventure of Charles Augustus Milverton.  If you are a fellow Sherlock Holmes fan, my favorite adaptation of this stars Jeremy Brett (info at IMDB, you can see a clip on youtube, or watch the full episode via Netflix, or purchase Sherlock Holmes – The Master Blackmailer from Amazon
.)  More on Howell in my post The Worst Man in London.
But, to return to the subject of Romeo and Juliet.
Ford Madox Brown chose to depict the famous balcony scene, with Romeo apparently giving Juliet a hasty goodbye.  I like this picture– the body language is employed well and I can sense that Romeo is in a hurry to depart and yet he does not want to go without his last embrace.  The artist conjures up the image well.  I can almost hear Juliet's nurse calling within and the harried embrace as Romeo must make his escape.  I hear some noise within; dear love, adieu! /Anon, good nurse!/Sweet Montague, be true. /Stay but a little, I will come again.