Rossetti's Lilith and Kaballah Bracelets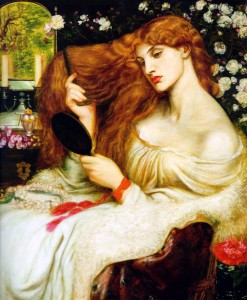 Of Adam's first wife, Lilith, it is told
(The witch he loved before the gift of Eve,)
That, ere the snake's, her sweet tongue could deceive,
And her enchanted hair was the first gold.
And still she sits, young while the earth is old,
And, subtly of herself contemplative,
Draws men to watch the bright web she can weave,
Till heart and body and life are in its hold.
The rose and poppy are her flowers; for where
Is he not found, O Lilith, whom shed scent
And soft-shed kisses and soft sleep shall snare?
Lo! as that youth's eyes burned at thine, so went
Thy spell through him, and left his straight neck bent
And round his heart one strangling golden hair.
The model for Rossetti's Lilith was Alexa Wilding.
Read the scholarly commentary at the Rossetti Archive
One thing that stands out is the red thread bracelet that is so significant a symbol of Kaballah…we (especially here in the United States) have seen many a celebrity wear the same bracelet as a symbol of their new found religion that is rooted in ancient Jewish mysticism. But what does it really mean?
According to kaballah.com (the kaballah center) A person possessed of an evil eye carries with him the eye of the destroying negative force; hence it is called "destroyer of the world," and people should be on their guard against them and not come near them so that they should not be injured by them! [Zohar I, p.68b]
The Evil Eye
The Red String protects us from the influences of the Evil Eye. Evil eye is a very powerful negative force. It refers to the unfriendly stare and unkind glances we sometimes get from people around us. Envious eyes and looks of ill will affect us, stopping us from realizing our full potential in every area of our life.
According to Kabbalah, the critical need to confront the problem of negative influences cannot be underestimated. People who fail to understand this and activate a protective shield through positive and proactive behavior will eventually become victims. Kabbalah teaches us that we can remove intrusive negative influences and, more importantly, that we have the potential to eradicate negativity forever! The power of the eye, when understood from a Kabbalistic perspective, becomes as powerful a healing instrument as it can be a devastating channel of destruction.
Rachel and The Red String
The Red String has been used as a tool of protection for centuries. The practice, developed by the sages, involves winding the red string around the tomb of the great Matriarch, Rachel located in the Land of Israel. The string is then cut it into pieces and worn on the left wrist. The left hand is considered by Kabbalah to be the receiving side for the body and soul. By wearing The Red String on our left wrist, we can receive a vital connection to the protective energies surrounding the tomb of Rachel. It also allows us to take Rachel's powerful protective energy with us and draw from it anytime.
Kabbalists believe that by seeking the Light of holy persons, such as Rachel, we can use their powerful influence to assist us. According to Kabbalah, Rachel represents the physical world in which we live. Her greatest desire is to protect and defend all of her children from evil. When we tie The Red String to our left wrist, while reciting the powerful Ana Be'Co'ach prayer on this card, we seal her powerful protective energy within as it intercepts negative influences intended to cause us harm.
Instructions
Have someone you love to tie the Red String to your left wrist. First, have them tie the string closely around your wrist with a simple knot. Repeat by knotting the string six more times for a total of seven knots. Now make a promise to yourself that you will refrain from negative thoughts or talk about others. This harmful behavior will interfere with your effort to gain personal fulfillment and protection. Then have the person finish by saying the Ben Porat Prayer (read from right to left) which prevents others from giving us the evil eye.