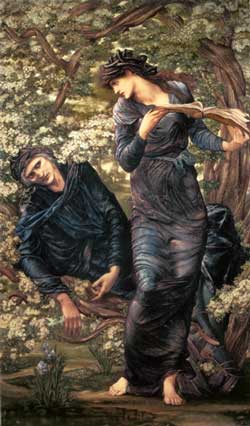 The term "Pre-Raphaelite" is now used so frequently that many people seem to think it is just an adjective for any piece of Victorian art. To further understand the term, I direct you to What Makes a Pre-Raphaelite (via The Earthly Paradise) and Pre-Raphaelites: An Introduction (via Victorian Web). Having said all of that, I confess I'm guilty of including artists on the site who are not technically Pre-Raphs. But I am sure you will forgive me.

There are many websites about the members of the Pre-Raphaelite Brotherhood and their art. My goal for this site is not to revisit the PRB, but to shine light on the women involved in their lives and who helped to create their art. But, since many who stumble upon this site may not be familiar with the Pre-Raphaelites, here's a brief overview:
The Pre-Raphaelite Brotherhood began in 1848 as a secret group of artists: Dante Gabriel Rossetti, William Michael Rossetti (his brother), Thomas Woolner, William Holman Hunt, Frederic George Stephens, James Collinson, and John Everett Millais. They were revolting against the current art establishment (mainly the British Royal Academy and their formulaic approach to art instruction). Though the Pre-Raphaelite's goal was to remain secret, the meaning of the initials "PRB" inscribed on their paintings became public (probably leaked by Dante Gabriel Rossetti).
The Brotherhood's early doctrines were expressed in four declarations:
To have genuine ideas to express;
To study Nature attentively, so as to know how to express them;
To sympathise with what is direct and serious and heartfelt in previous art, to the exclusion of what is conventional and self-parodying and learned by rote;
And, most indispensable of all, to produce thoroughly good pictures and statues.
The Pre-Raphaelites created art that is known for its brilliance and vividness of color. They achieved this by painting white backgrounds that they would later paint over in thin layers of oil paint. Their work was meticulous and their subject matter drew inspiration from myths, legends, Shakespeare, Keats, and lovely long haired damsels that we now equate with Victorian beauty.
There are a few artists that were not members of the PRB, but who are often described as "Pre-Raphaelite" because of the pre-raphaelite influence seen in their work, or because of their close association with certain members of the PRB, namely Dante Gabriel Rossetti. These artists include William Morris, Sir Edward Coley Burne-Jones, Sir John William Waterhouse, Evelyn De Morgan, Arthur Hughes, Ford Madox Brown, and Frederic, Lord Leighton to name a few.
A Few Pre-Raphaelite links:
The Pre-Raphaelites: An Introduction at Victorian Web
ArtLex on the Pre-Raphaelite Brotherhood
Pre-Raphaelite Painting and Design
For more links, check out my bookmarks at del.icio.us: