There are several things I'd like to share with you today:
I've been reading some of Rossetti's notes in The Collected Works of Dante Gabriel Rossetti and I like this insight on his opinion of color:
Thinking in what order I love colours, found the following:–
1. Pure light warm green.
2. Deep gold-colour.
3. Certain tints of grey.
4. Shadowy or steel blue.
5. Brown, with crimson tinge.
6. Scarlet.
Other colours (comparatively) only lovable according to the relations in which they are placed.
And then there's Rossetti's notes on poetry. Reading them, I can not help but nod in agreement:
Poetry should seem to the hearer to have been always present to his thought, but never before heard.
Poetry is the apparent image of unapparent realities.
As I have mentioned, I am participating in the Magic4Terri fundraiser to benefit Terri Windling. There are so many wonderful things on auction, so please go take a look. Many authors and artists that I admire have offered signed books and original artwork. I am offering three months of advertising space on both of my sites (preraphaelitesisterhood.com and lizziesiddal.com) The link to my auction is here and there are currently three bids, which is much more than I ever expected.  Auctions end tomorrow!
If you're not familiar with Terri's work, visit her website terriwindling.com.
You'll be interested in this wonderful piece she's written regarding Pre-Raphaelite art: On the Pre-Raphaelites and Writers of Fantasy
Christmas is approaching and Kirsty Stonell Walker has been creating a 'blogvent' calendar that you should visit.  I adore Kirsty.  I always seem to learn something new from her and she makes me laugh.  You can also follow her on twitter:  @boccabaciata
Now, here's something you simply can not miss.  A couple of weeks ago, there was an impromptu conversation between myself, Dinah Roe (I am LOVING her blog) and Valerie Meachum.  Valerie is a talented actress and a darn good writer, too.  I enjoy her blog.  Come to think of it, I enjoy it for the same reasons I enjoy Kirsty's.  She makes me think, she makes me laugh.  If you can do both, then I love you.  Anyway, in this conversation the idea of recording poetry was mentioned.  Which Valerie then did and she did it so beautifully and perfectly that I was awestruck and grateful to hear Elizabeth Siddal's words given life.
 Listen to it at Soundcloud:  Valerie Meachum recites poems by Elizabeth Siddal
Valerie shares my interest (obsession?) in Lizzie and is also working on a one-woman show based on her life.  Trust me, she is one to keep your eye on and she's delightful.  Follow her on twitter:  @valeriemeachum
I am enjoying Raine Szramski's Pre-Raphaelite cartoons.  They are hilarious and full of life. Raine has been posting them on her Pre-Raph Sketchbook Cartoons Facebook page and Grace has shared several at The Beautiful Necessity.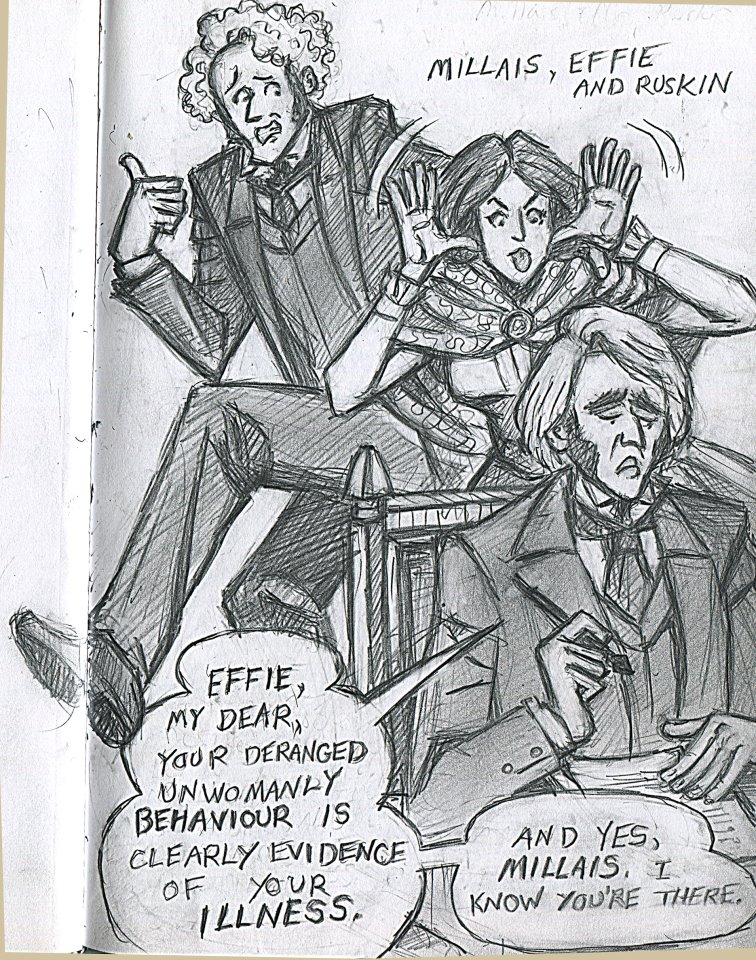 Finally, I'd like to mention that this coming February will mark 150 years since Elizabeth Siddal's death.  Highgate Cemetery will be hosting an event to commemorate this.  Lucinda Hawksley, author of the most recent Lizzie Siddal biography, will be giving a talk.  I will post more details as I receive them.
Happy Holidays!  I want you to know that I am grateful for every person who regularly visits and reads this blog.  It means so much to me and over the past year, my readership has grown to be much more than I ever anticipated when I started this project.  I am touched by every comment and email I receive.  Thank you.
My wombat Dante thanks you too: