I confess that Clare Mackail, youngest granddaughter of Pre-Raphaelite artist Sir Edward Burne-Jones, had previously been a mere blip on my radar.
That is, of course, until Tim McGee channeled his fascination for her into Barely Clare: The Little-Known Life of Clare Mackail.
Of Burne-Jones' three grandchildren, Clare has been overshadowed by the accomplishments of her siblings – both her sister Angela Mackail Thirkell and her brother Denis Mackail were successful novelists. As the youngest and least-known sibling, Clare is largely treated as a supporting cast member in most biographies of the Burne-Jones/Mackhail family.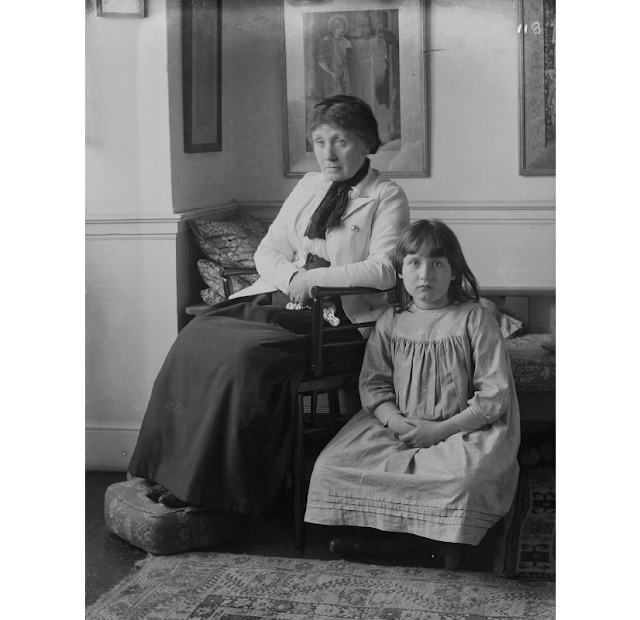 Enter Tim McGee. An avid collector of Pre-Raphaelite-related manuscripts, books, and ephemera, Tim is also editor of the U.S. version of The Review, newsletter of The Pre-Raphaelite Society.
As Tim traveled, pursued, and built his collection, slight references to Clare piqued his interest. Who was this little-known child of Burne-Jones' daughter Margaret?
As I read the preface of Tim's book, I sensed I was witnessing the genesis of an artist's rendering, a preliminary study of an amorphous girl. My imagination laid down a few whimsical impressions on the sketch pad of my mind. An likeness, perhaps, of a Pre-Raphaelite child, a Burne-Jones cherub.
Tim took that artist's sketch version of Clare and filled in the colors of her life with a narrative that intertwines her experiences with anecdotes of his endeavors to learn more about her.
His desire to truly understand Claire resonates with me deeply; I've spent years delving into the life of Elizabeth Siddal, and the initial flicker of interest that can swell into a consuming flame – that is something many of us can easily identify with.
I'm profoundly curious about Clare's inner world: what must it have been like to be the younger sibling of not just one, but two notable writers? Adding to that, growing up as the granddaughter of famed Pre-Raphaelite Sir Edward Burne-Jones, as well as the daughter of biographer John William Mackail, puts Clare firmly (and possibly uncomfortably) in the middle of an incredibly artistic family tree.
One wonders if Claire felt pressure at all, or if she thoroughly enjoyed the creative world in which she was a part. I sense that she did. Tim's in-depth descriptions of her friendships show a leaning towards an artistic and spiritual world.
Despite years of ill-health, Clare seems to have been content with her life, which gives me a feeling of benevolent respect as I read some of the struggles Clare endured. Among them, her survival of a Blitz attack in World War II that left a number of her closest friends dead. Clare barely escaped with a broken back and leg. In this sense, the phrase Barely Clare implies a different meaning entirely.
Barely Clare is not a lengthy volume, but it's compelling nonetheless. I probably could have read it in one sitting, but Tim slyly drops so many intriguing tidbits that I found myself frequently pushing the pause button so I could delightedly explore new rabbit holes his writing stirred in me.
For example, I was fascinated to learn of Claire's friendship with renowned pianist Myra Hess. Tim ignited my curiosity in Myra and, in seeking more information about her, I was ecstatic to find actual recordings of her performances on YouTube.
Though the details of Clare's life are sparse, Tim's work does a great service to the scholarship of Sir Edward Burne-Jones and his descendants. This glimpse into her life rounds out our view, and most crucially, helps preserve knowledge of this talented, artistic clan.