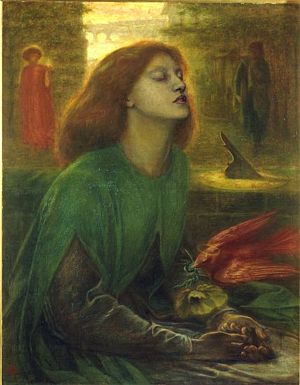 Dante Gabriel Rossetti painted Beata Beatrix as a tribute after the death of his wife Elizabeth Siddal. DGR had always idolized Dante, the author of Vita Nuova. In Vita Nuova, Beatrice is Dante's unrequited love. In Beata Beatrix, Rossetti paints Elizabeth Siddal as Beatrice, merging his love and Dante's into one. Rossetti painted several versions of this painting and there are subtle changes in each version. In one version, there is a white dove bringing Beatrice a red poppy. In another version the bird is red and the flower white. The poppy is significant due to the fact that Lizzie died of a Laudanum overdose. Laudanum is an opiate which is derived from poppies. I'll share more than one image of Beata Beatrix here, but I'd like to direct your attention to some interesting conversations about this painting at LizzieSiddal.com:
Let's discuss Beata Beatrix and A Later Version of Beata Beatrix. As mentioned at LizzieSiddal.com, Rossetti glamorizes Lizzie a great deal in the later version, giving her the same bow-lips he gives to Jane Morris in many of his paintings of her.
Also at The Victorian Web: Supernatural Reality in Beata Beatrix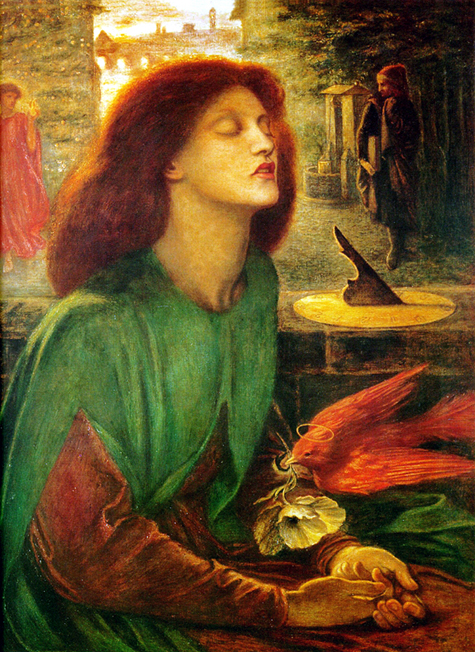 Also see Beata Beatrix at ArtMagick!