We all need a bit of magic in our lives. Some of us have more than others. Part of it may be influenced by our personality.  If we have a natural flair for seeking that particular kind of beauty, we can usually find it.
But another part of savoring magic is paying attention to ourselves and knowing what works for us. Learning how to envision flowers blooming, whether they are actually there or not, can be seen as an act of self-love. We need to give ourselves permission to hang on to the sense of wonder that enchanted us as children.
I happen to be pretty good at that. It involves a mixture of tapping into memories and surrounding myself with art and literature that both feed and challenge me.
Eleanor Fortescue Brickdale's painting Natural Magic illustrates a poem by Robert Browning. Written from a man's point of view, the poem describes a private moment with his beautiful young love. When they are together, the room suddenly becomes enchanted and is filled with flowers and foliage. It's a sweet and simple poem that celebrates the magic she has brought into his life.
Natural Magic
All I can say is–I saw it! 
The room was as bare as your hand.
I locked in the swarth little lady,–I swear,
From the head to the foot of her–well, quite as bare!
'No Nautch shall cheat me,' said I, 'taking my stand
At this bolt which I draw!' And this bolt–I withdraw it,
And there laughs the lady, not bare, but embowered
With–who knows what verdure, o'erfruited, o'erflowered?
Impossible! Only–I saw it!
All I can sing is–I feel it!
This life was as blank as that room;
I let you pass in here. Precaution, indeed?
Walls, ceiling, and floor,–not a chance for a weed!
Wide opens the entrance: where's cold, now, where's gloom?
No May to sow seed here, no June to reveal it,
Behold you enshrined in these blooms of your bringing,
These fruits of your bearing–nay, birds of your winging!
A fairy-tale! Only–I feel it!
His room is simple. We can see straw on the floor and part of the patchwork quilt on his bed. Juxtaposed with this austerity, miraculous flowers, birds, and butterflies flow through the window and encircle the couple. Perhaps the act of crowning him means that he is her chosen one. I see it as a painting that symbolizes the effervescence of young love.
What brought this painting to mind recently were not thoughts of love, but magic itself. In Natural Magic, Brickdale shows us the supernatural blooms exactly as they are described in Browning's poem. We can see them, and get a sense of their wonder.
But what if they are only products of his imagination? Would that make them less magical?
Here's The Blush, another piece by Eleanor Fortescue Brickdale. The cherub brushes its wing lightly against her face. In the context of the painting, it could be a supernatural occurrence, or it could just be a figment of her imagination. Honestly, I don't think it matters. Reality resides in the moment, the feeling, the sweet sensation.
Feelings can come and go in an instant, yet we can find a way to hang on to them. When I look at both paintings, my feeling is that magic is something we can search for, but it is also something we can cultivate.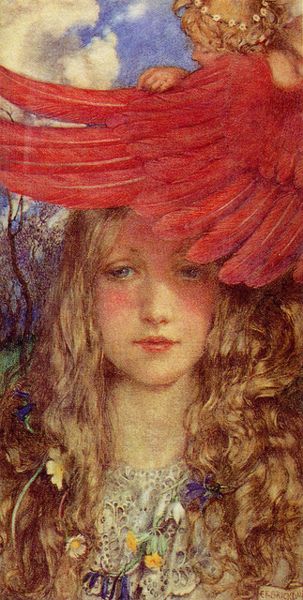 I seek magic and when I find it,  it is mine. I use it as inspiration and fuel for life, so that no matter what comes my way, I know that by nurturing that sense of delight, I have a pretty decent shot at handling trouble.
I never own the thing that created the magic. I didn't conceive the song or book or movie that elated me. The brushstrokes in Ophelia are not mine, the cinematography in  Hitchcock's films isn't my vision. I didn't write Rebecca or Possession. Nor did I participate in the production of The Last Unicorn, or pen the lyrics to The Rainbow Connection. Yet they are all ingredients in my recipe.
Those works, and countless others, revealed a magic to me, a palpable feeling that is as real as anything any human has ever felt. And it's not as ephemeral as you may think, because I can tap into it anytime I want. It's magical muscle memory. It just needs to be exercised.
So that's my super power. I know what my own magic feels like. I know how to structure my life in a way that allows me to experience it as much as possible.
If cultivating your own magic is something you struggle with, my message to you is this: start small and take a moment each week to spend time with yourself and for yourself. Reread a book you love, watch a movie that's important to you, seek out art that makes you feel something indescribable and gushy.
That's the real natural magic, and it gives our souls nutrition.
Have you been half asleep?
And have you heard voices?
I've heard them calling my name
Is this the sweet sound
That called the young sailors?
The voice might be one in the same
I've heard it too many times to ignore it
It's something that I'm supposed to be
Someday we'll find it
The rainbow connection
The lovers, the dreamers and me
Rainbow Connection lyrics © Sony/ATV Music Publishing LLC, Walt Disney Music Company