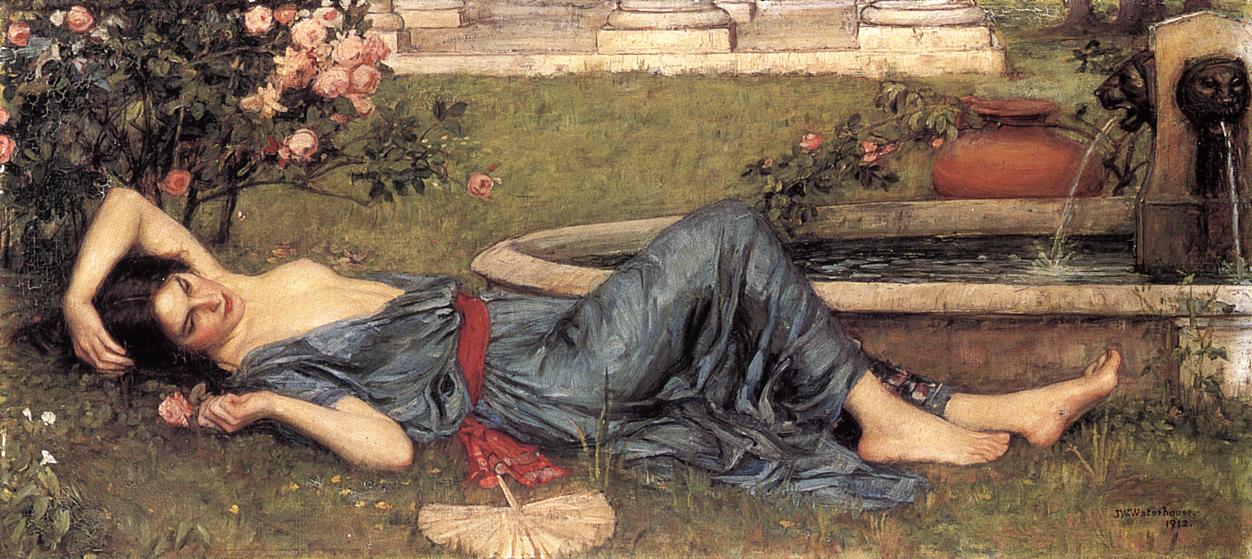 Since it is now the beginning of Summer, Sweet Summer by John William Waterhouse seems a fitting painting to contemplate.  Reclining in the grass, a beautiful woman relaxes next to a cool fountain on what is a presumably hot summer day. Her fan lies unused next to her while her hand lightly holds a rose.  Like the works shared in my post Nature as Feminine, Waterhouse's painting associates the female form with seasonal changes.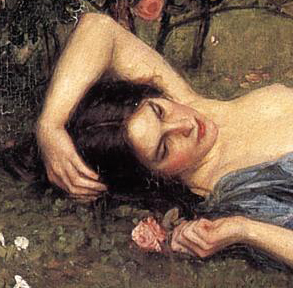 Her face is expressionless, making it impossible to discern her feelings.  She could be sad or exhausted from the heat.  Or it could be that she feels nothing and only exists for the pleasure of the viewer.  I've included the detail above because what I'd really like to talk about is the rose.
Sweet Summer was completed in 1912, but in 1908 Waterhouse painted several paintings where women and roses are the focal point.  That's not unusual for an artists inspired by the Pre-Raphaelites, of course. And it's certainly not unusual for the time period, given the Victorian interest in the language of flowers (see my previous post Ophelia's Flowers).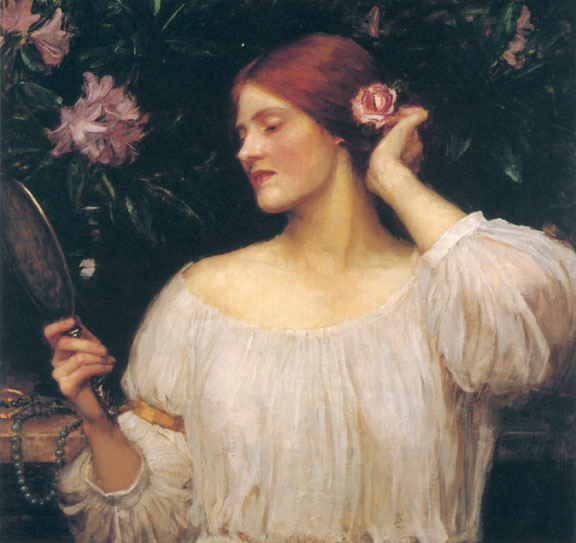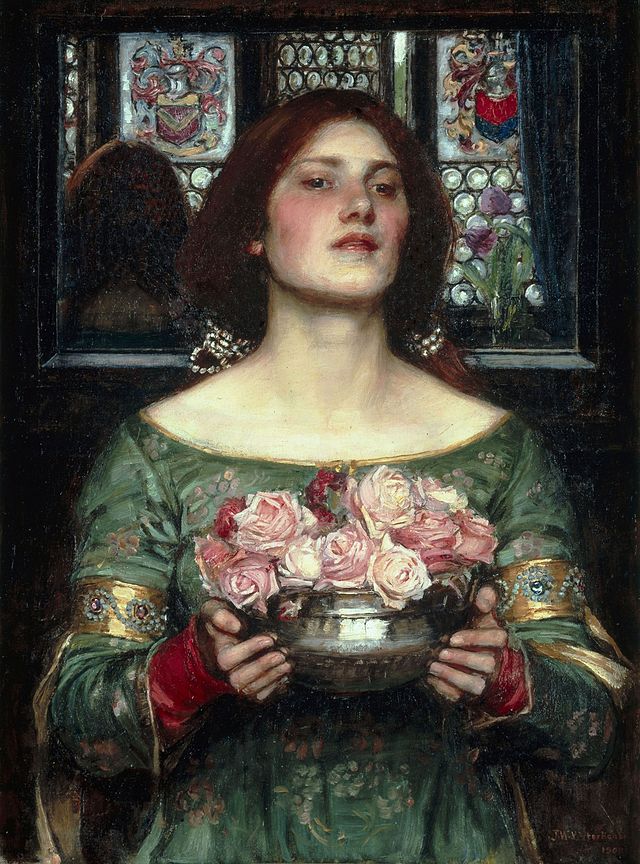 The Soul of the Rose hangs over my kitchen sink, which is perhaps an incongruous location but it reminds me to seek beauty even while performing a mundane task such as washing dishes.  Which brings me to the title of this post.
Find something beautiful has become my life's mantra.
In 2011, my husband was hospitalized for a time. I snapped a photo of our sons looking out of the hospital room window and posted the photo on twitter.   This phrase came to me at the last minute and I wrote it as a caption: Find something beautiful. Hang on to it.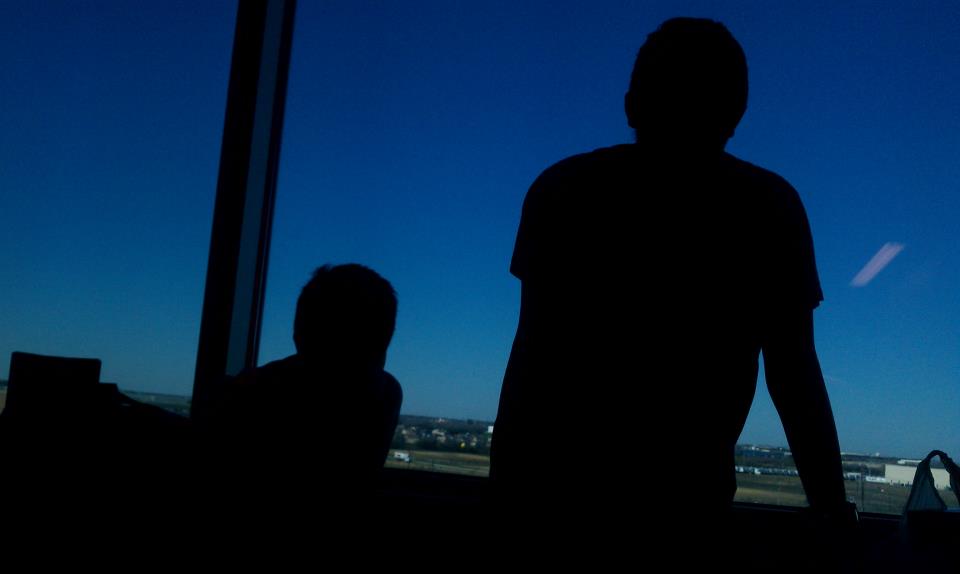 A seemingly simple caption became something I would repeat to myself often.  It became a challenge of sorts, to find one lovely thing on any given day, no matter what. The concept of finding something beautiful fueled the idea behind my Beauty in Melancholy post. And after my cancer scare and recent surgery, I shared the phrase again in Love is a Place. 
It has become the thing that drives me, this belief that no matter what happens I can find one beautiful thing and that thing will carry me through. It is usually simple. A perfect cup of coffee.  An unexpected yet profound passage in a book. Laughing with a friend.  A pure smile. Clouds. Perfume.  And, quite often, a rose.
A week before my recent surgery, I posted this photo on Facebook with the following words: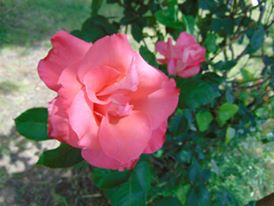 Spent some time outside with my son. My roses are blooming and this one made me think of two quotes that have been important to me for years: "The true secret of happiness lies in the taking a genuine interest in all the details of daily life" (William Morris) and "I like living. I have sometimes been wildly, despairingly, acutely miserable, racked with sorrow; but through it all I still know quite certainly that just to be alive is a grand thing." (Agatha Christie) Life is never perfect, yet I always find small, perfect moments. Build on that. That's happiness.  Find something beautiful. Hang on to it.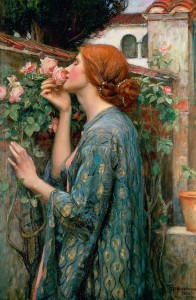 Since The Soul of the Rose has no specific narrative, that's how I choose to interpret it. Within her walled garden, she's found something beautiful. And one blissful moment to breathe it in and hang on to it. A brief golden moment. Sometimes that's all we need.