Jane Morris: An Enigmatic Muse
In 1857, Rossetti and a small group of artists that included William Morris and Edward Burne-Jones were working in Oxford, painting the Union Murals.  One night, they attended a performance put on by actors from the Theatre Royal Drury Lane.  Seated in the gallery below were Jane Burden and her sister.  Rossetti, struck by Jane's appearance, asked her right away to pose for the murals.  She did not show up, probably being wary of Rossetti's proposal.  After later seeing Burne-Jones by chance,  she agreed to model and a  Pre-Raphaelite star was born.
Jane posed mainly for Gabriel at first as his main model and muse, Lizzie Siddal, was away at the time.  Gabriel was soon called away to join Lizzie, who was often ill and had possibly heard through the grapevine about Rossetti's new model.  Jane then began to sit for William Morris.  Morris was a great admirer of Rossetti's – he looked upon him as a mentor and it seems hero worship may have been a dynamic of their friendship.
The home of William and Jane Morris, The Red House,  is famous for its architecture and for the collaborative efforts used to decorate it –decorations which led to the Arts and Crafts movement.  Both William and Jane, as well as Rossetti, Burne-Jones, Elizabeth Siddal and others worked together painting murals, creating furniture, tapestries, and other artistic masterpieces.
Jane and William had two children, Jenny and May.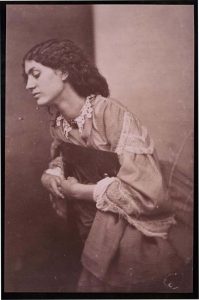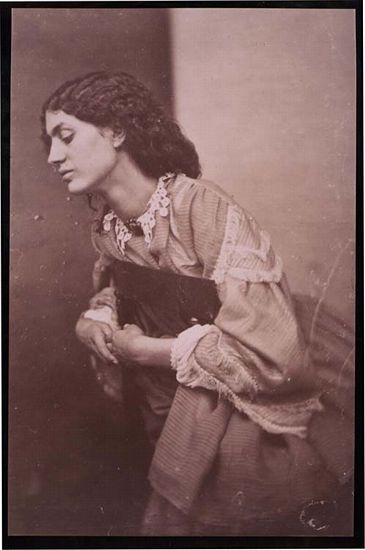 Her affair with Dante Gabriel Rossetti after his wife died is infamous.  She began to pose for Rossetti again in 1865, which began a series of Rossetti masterpieces familiar to many Pre-Raphaelite enthusiasts. He painted her repeatedly until his death.  Due to Rossetti's possible hydrocele, their affair may not have been as physical as many believe, however, the physicality is immaterial.  They were definitely intimate emotionally and it was incredibly painful for William Morris.  In order to keep the affair a private matter, Morris and Rossetti entered into a joint tenancy of Kelmscott Manor.
Rossetti captured something in his paintings.  Was it her?  Or some element in his own mind that her face inspired?  She appears enigmatic and brooding with an almost inscrutable quality.  The works are not to everyone's taste and I frequently read criticism of Jane's features on canvas.  I happen to love them.  She's strong and fierce and beautiful.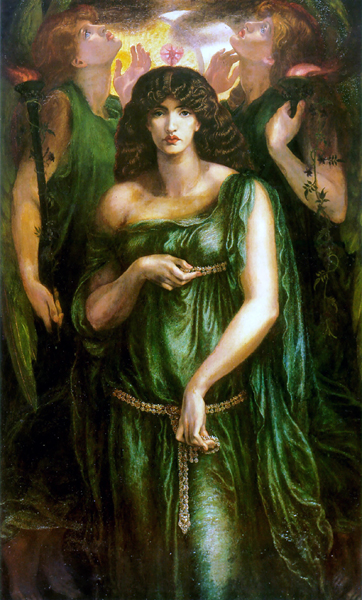 In viewing actual photographs of Jane, it is obvious that Rossetti glamorized her a great deal.   I have to wonder how she felt about this.  How did she feel when she saw a painted version of herself? On canvas, she seems quiet and contemplative.  A mystery.  Perhaps she was a mystery even to Rossetti.
'I cannot say that Rossetti's presence was enlivening [in his later years]. My most representative recollection of him is of his sitting beside Mrs. Morris, who looked as if she had stepped out of any one of his pictures, both wrapped in a motionless silence as of a world where they would have no need of words. And silence, however poetically golden, was a sin in a poet whose voice in speech was so musical as his – hers I am sure I never heard.'
R.E. Francillon, Mid-Victorian Memories


More Jane Morris posts:
The Hour Glass:  On Jane Morris and Aging
100 years after her death, Jane Morris continues to inspire
The Handwriting of Jane Morris
What is the 'Pre-Raphaelite Woman'?
External links:
Writing Jane Morris via The Kissed Mouth by Kirsty Stonell Walker
Jane and the Wrongs of Women via The Kissed Mouth by Kirsty Stonell Walker
Portraits by Rossetti and photographs at the Liverpool Museum
POSSESSED, A musical about the life of Jane Morris