In 1868, Dante Gabriel Rossetti painted Jane Morris as La Pia de Tolomei, who appears in Canto V of Purgatorio in the Divine Comedy.
Pia's story is a heartbreaking. Dante encountered her during his journey through Purgatory, where she remains since she has died without absolution.
She says to Dante "remember me, the one who is Pia;
Siena made me, Maremma undid me:
he knows it, the one who first encircled
my finger with his jewel, when he married me"
The one who "first encircled my finger with his jewel" refers to her husband, Nello, who was responsible for her death so that he could marry a Countess. Nello imprisoned her in Pietra Castle, which is the scene we see in Rossetti's painting. Rooks, omens of death, are flying in the background.
Exiled by her husband, Pia died imprisoned and neglected. Strip away the ancient castle and pervasive air of Dantean tragedy and you have the all-too familiar tale of a woman trapped within a marriage based on cruelty instead of love.
As Pia, Jane Morris' face is meditative as she fingers her wedding ring.  She sits in isolation and, like the Lady of Shalott and Mariana of the moated grange, she is no longer part of the world.  She exists separate and apart.
When Pia meets Dante in Purgatory her only request is that she be remembered.
To be remembered is to be known. I existed. I laughed, I cried, I felt.  I mattered.
Pia longs to be remembered and understood. So do we all.
I see La Pia de Tolomei as a painting that can be an inspiration to anyone, male or female, who feels trapped. Looking upon Pia can be an awakening for anyone who realizes they've been isolated.
Metaphorical exiles can happen so gradually that you can become imprisoned before you realize what's happened. This is when Pia's request to be remembered can be the jolt needed to wake up, refuse to be forgotten even by yourself, and fight your way out of whatever symbolic Purgatory you may be in.
Pia languished but we can be empowered with choices she did not have.
Refuse to be forgotten. Discover yourself. Remember yourself.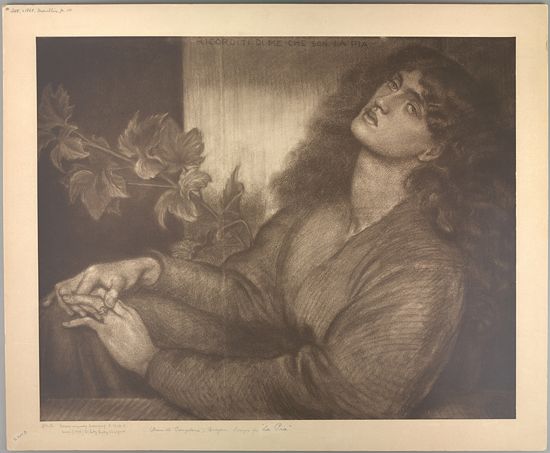 The castle where Pia was exiled still stands. You can explore it online here. 
I first posted this painting on this blog several years ago and a visitor left a comment that I will share it to end this post.  Synchronicity is important in my life, so his story resonates.  I'm sorry I don't know his last name so I can credit him properly, but thank you to Martin for posting this comment in 2012. I hope you saw La Pia de Tolomei. 
I have to share this story about this painting:

I am currently driving across the United States from with my daughter. She is beginning grad school in a few weeks, and we are driving her car from California to New Jersey.
One of our stops along the nation-spanning Interstate 70 is Salina, Kansas.
After settling into our hotel next to the Interstate, we drove into the town for dinner.

After meal of Italian food, I was snapping a picture of the classy Art Deco theatre across the street, when an old woman came up to us and starting bragging about the beauty of the theatre, asking where we were from…she was originally from Laguna Beach, California…and where we were going. This soul, who looked like she had had a pretty rough life, finding out I teach Art History and what Coco will be studying (English Literature at Princeton), she starting speaking in excited tones about her favorite period in English Literature, the 19th century. When she learned how much I admired the architecture of the theatre she shared her favorite art period, the Pre-Raphaelites, which is also my favorite group of painters. " There's a book," she told us with a sparkle in her eye. "in a little bookstore in Baltimore…it's William Morris' News of Nowhere. It's signed by Morris to his daughter." She got a faraway look. "One day I'm going to get that book." She smiled broadly, showing a few teeth she still had.
Then she dropped the bombshell, "You have to go to Lawrence, to the Spencer Art Museum at the University. That's where La Pia de' Tolomei by Dante Gabriel Rossetti is."
You could have knocked me over with a feather. I love that painting. I teach that painting. I adore Rossetti. And here we would be in the middle of Kansas, tearing down the Interstate, and we would've driven right past it. Thank God for this sweet woman. Tomorrow, we are swinging by and checking out Rossetti. I'm so excited.