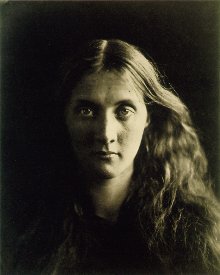 When Julia Margaret Cameron was given a camera on her 48th birthday, a passion was born.  The images she created are breathtaking, their composition is quite similar to the portraits painted by Rossetti and Burne-Jones.  Tennyson asked Cameron to photograph a series of photos to illustrate his Idylls of the King.  There is currently an exhibit of these images at the Fox Talbot Museum in Lacock.
This exhibit will run until June 29, 2008.  It included the 24 images that Cameron took in 1874 for Alfred, Lord Tennyson.
For more on Julia Margaret Cameron, visit The Julia Margaret Cameron Trust.