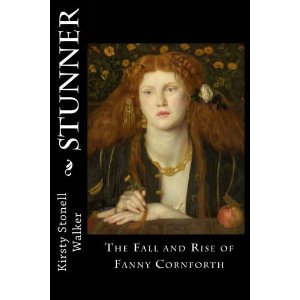 I am excited to share that you may now purchase Kirsty Stonell Walker's biography of Pre-Raphaelite model Fanny Cornforth.  This is by far one of the best Pre-Raphaelite biographies I have ever read and it needs a home on your shelf.
This is technically the second edition of Stunner, but even if you already own and enjoy the first edition, I encourage you to buy the second.  Kirsty has outdone herself and she has done Fanny proud.
In Kirsty's own words:
Why the second edition?  Well, there was so much more I wanted to say about Fanny Cornforth, in light of Desperate Romantics and countless exhibitions that have occurred since 2006 when I self-published the first edition.  I also wanted to correct any spelling issues that occurred in the first edition.  I also wanted to include actual images of Fanny (thanks to the generosity of the museums and galleries involved) and I can show you a tiddy cheque (thank you Lila) and a graphic novel version of Fanny (thank you Raine).  I can now tell you what I think happened to Fanny in the end, and show you her letters to Samuel Bancroft Jnr.  I can show you a gorgeous and little seen image of her from the Lyman Alleyn Gallery.  I can show you where she lived at all of the different points in her life, from Steyning to Kensington.  In short, I wanted to do Fanny justice, once and for all, and I hope I have done that now.
UK residents may purchase from Amazon here
US residents may purchase from Amazon here
But, don't just take my word for it. Here's a ringing endorsement: