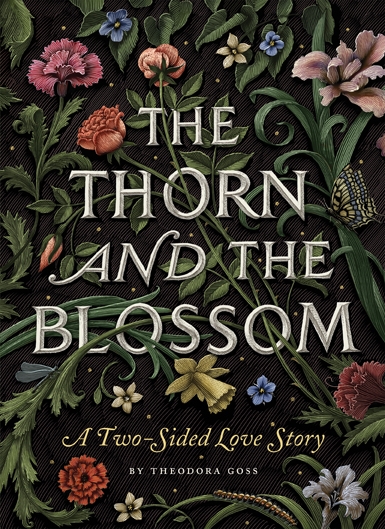 This post is a departure for me, I've never recommended a book on this blog that was not strictly Pre-Raphaelite.  However, I believe that readers of my blog will appreciate this beautiful new book by Theodora Goss.
The Thorn and the Blossom is one of the most unique books I have ever seen.   It is literally two books in one, the same love story told from two different perspectives.  Before owning it, I had seen numerous pictures online of the book and the slipcover that contains it.  Even knowing what to expect did not prepare me for how physically pretty this book is.  It's gorgeous.  The slipcover features a design that I find reminiscent of  a William Morris pattern. And the covers of the book are simple and elegant.  Quirk books is known for their innovative books and The Thorn and the Blossom does not disappoint either in execution or content.
Like me, I'm sure you've had that experience familiar to all avid readers:  you arrive at the end of the book and you don't want the story to end.  This book is a reader's dream:  you choose which story you want to read first.  When you reach the end, you start over from the other side and read the tale anew from the aspect of another character.  It doesn't matter which side you start first.
I remember as a girl, looking at old reference books that belonged to my parents. I loved the areas of our internal human anatomy overlaid with transparent pages.  I could see the mechanisms of our circulatory system and then lay the next transparency on top of it and see the digestive system too.  That's what I thought of as I read the second half of the book.  Theodora Goss has taken her story and brilliantly given us another layer.  No matter where you start, reading the other half adds a depth to the narrative and I'm impressed by how well it was done.
From the publisher:
When Evelyn Morgan walked into the village bookstore, she didn't know she would meet the love of her life. When Brendan Thorne handed her a medieval romance, he didn't know it would change the course of his future. It was almost as if they were the cursed lovers in the old book itself . . .

The Thorn and the Blossom is a remarkable literary artifact: You can open the book in either direction to decide whether you'll first read Brendan's, or Evelyn's account of the mysterious love affair. Choose a side, read it like a regular novel – and when you get to the end, you'll find yourself at a whole new beginning
Apart from the book's unusual format, the characters of Brendan and Evelyn appeal to me.  I enjoy modern characters with an interest in history, poetry, beauty.  When one character purchases a notebook featuring Waterhouse's Lady of Shalott on the cover, it's not merely a mundane act.  It is symbolic, it represents potential and beginnings and the hope of something pursued.  There is a certain aesthetic that I am drawn to, my loves are rooted firmly in the past.  When I see artists incorporate that aesthetic in their modern works, I want to applaud.  Not only has Theodora achieved this, but she has done it masterfully and seamlessly and it has resulted in a book with a beauty that is only rivaled by its construction.
Well done.