This page is a work in progress.  If you have a sighting to add, please post a comment or post on the Pre-Raphaelite Sisterhood Facebook page, send me a tweet on twitter to @preraphsister, or email stephanie@siddal.net.
I love Inspector Morse mysteries.I first saw them in the 90s on PBS Mystery! and later on the A&E network. My father, a fellow mystery lover, first introduced me to the curmudgeonly Morse (who drinks too much and has a passion for both opera and crosswords). It had been years since I'd seen a Morse episode, so I bought several DVD's online.  Imagine my surprise when in the first few minutes of the first episode I saw Rossetti's Proserpine!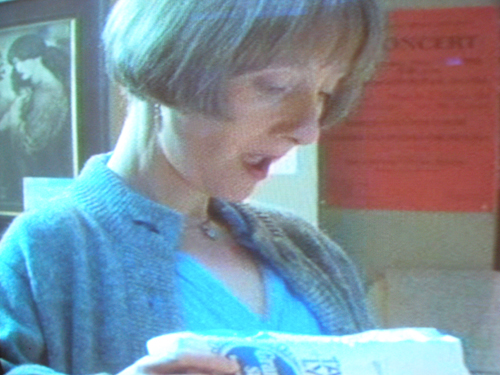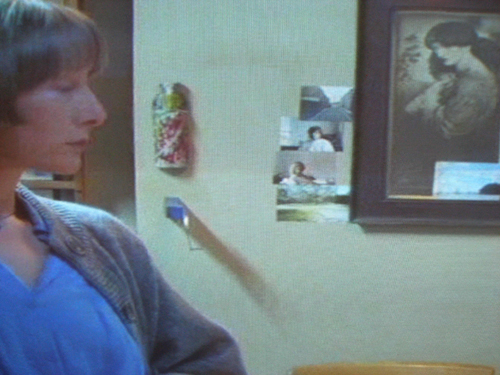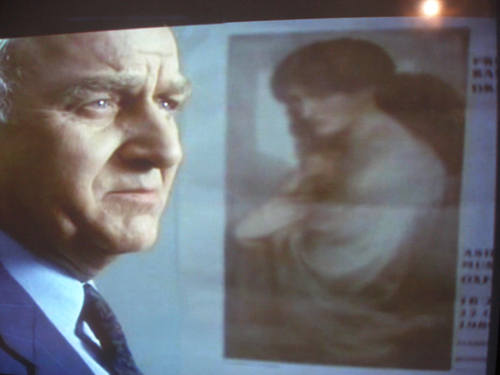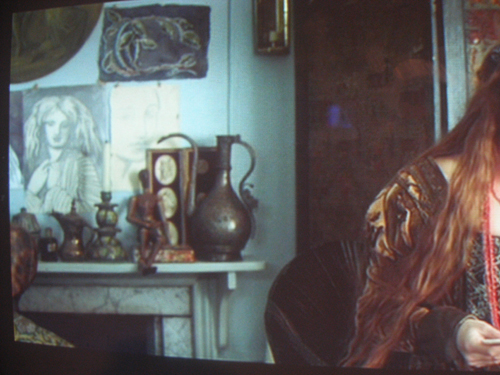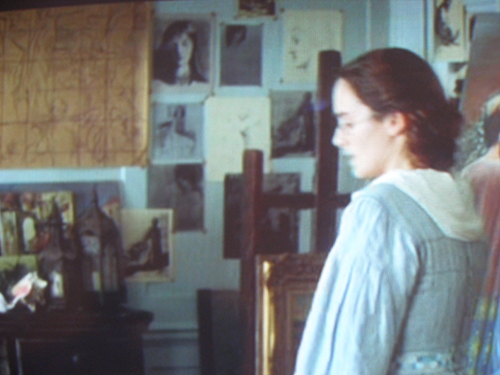 The painting on the easel is not Pre-Raphaelite, it was created for the film. But it is identical to Monna Vanna, by Dante Gabriel Rossetti. If you watch closely, you can see this painting several times in the movie.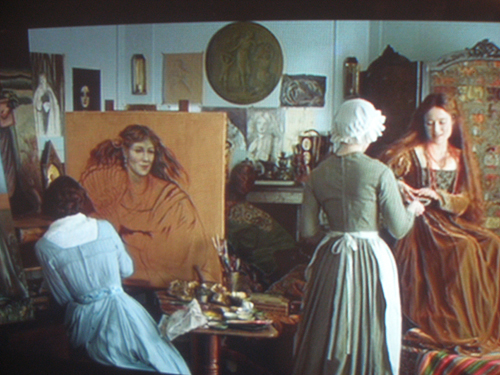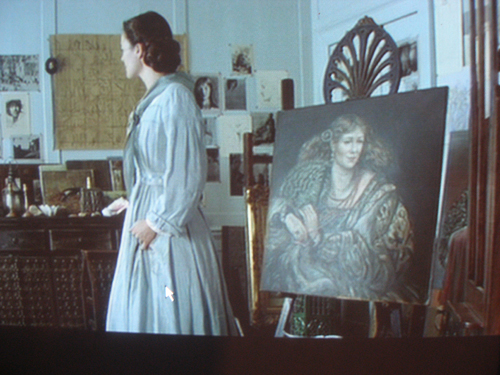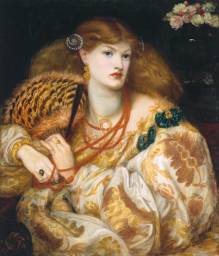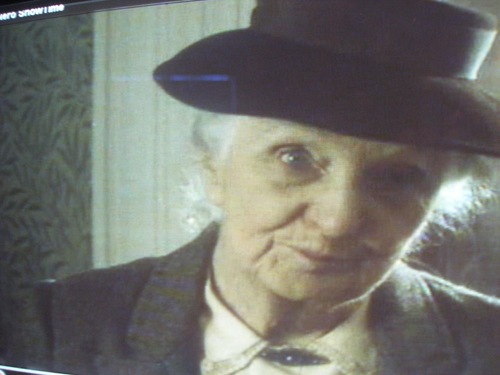 Now, this sighting surprised me the most given that I have seen this movie hundreds of times and I never noticed that Solitude by Frederic, Lord Leighton hangs in the hallway in My Fair Lady! I'll share Leighton's image first: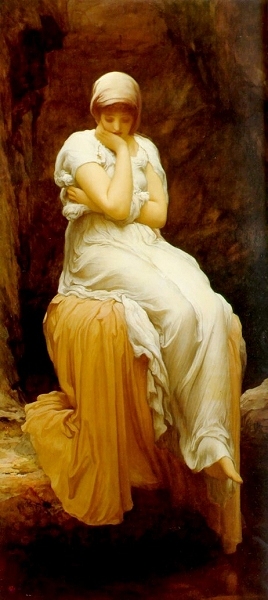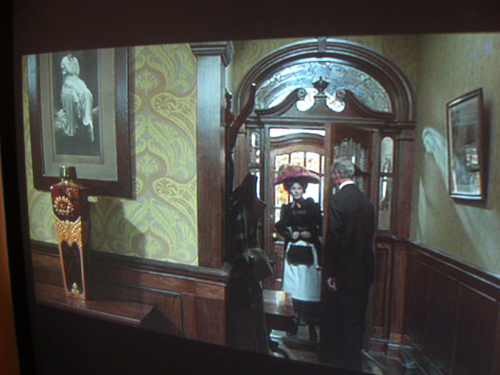 More William Morris wallpaper?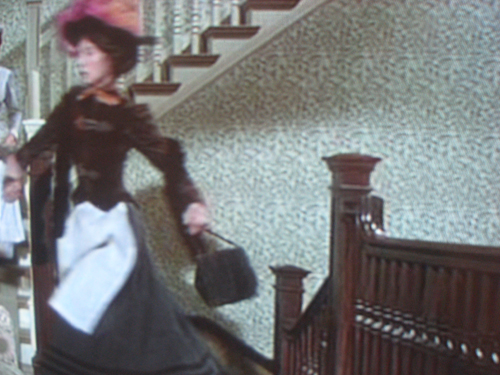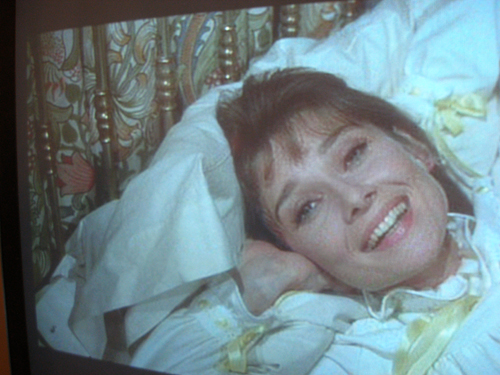 Added Sept. 2, 2008: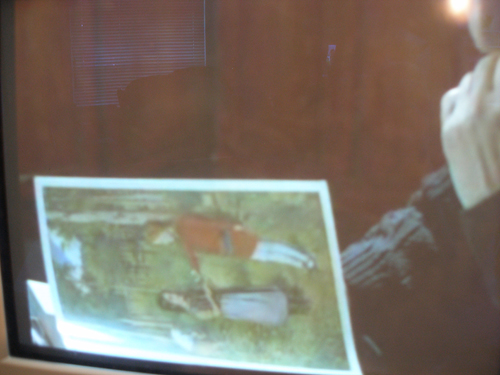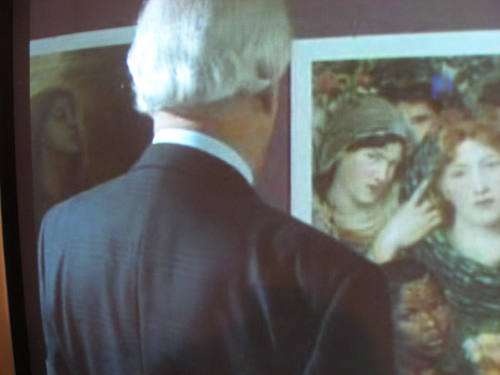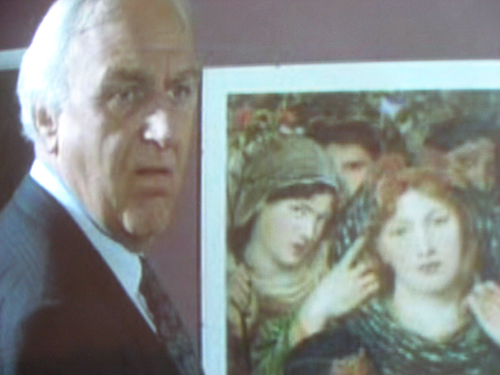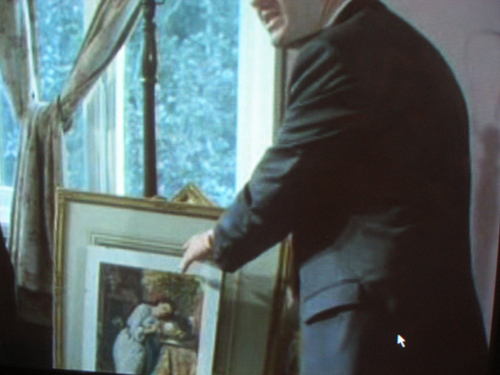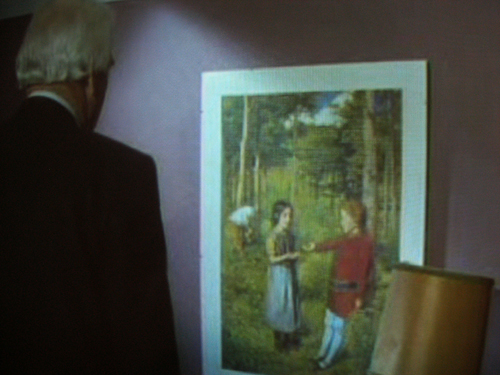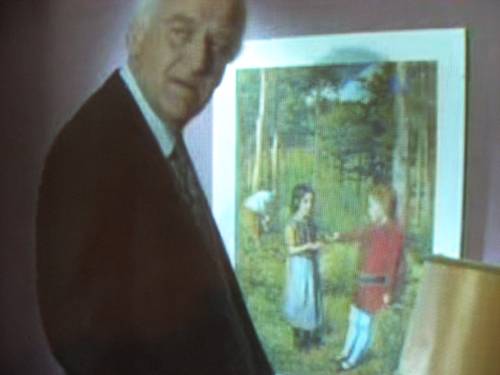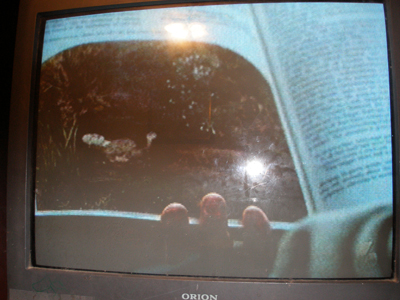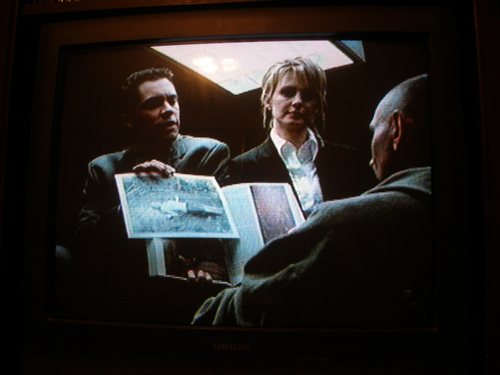 On the same evening, I find that Grace of The Beautiful Necessity has posted some wonderful sightings from a BBC miniseries Daniel Deronda:
Update October 12, 2008: Last night I was watching Inspector Lewis Series II on Masterpiece Mystery. Lewis is a sequel to my beloved Inspector Morse mysteries. I was ecstatic to see this Pre-Raphaelite poster advertising an exhibit at the Tate. The painting is Monna Vanna by Dante Gabriel Rossetti.
This episode of Inspector Lewis is titled The Quality of Mercy and you can watch it online here.
William Morris Wallpaper in The Spiderwick Chronicles (please click for Grace's full post)
Another image with possible William Morris wallpaper from The Spiderwick Chronicles (thanks Alex!)
Pre-Raphaelite Works in The Importance of Being Earnest (Reese Witherspoon)-please click for Grace's full post
Pre-Raphaelite Gowns in Movies (please click for Grace's full post)
William Morris' Guinevere, or La Belle Iseult in Snow White The Fairest of them All
Waterhouse's The Soul of the Rose in Perfume: The Story of a Murderer
Burne-Jones Sidonia Von Bork in Sleepy Hollow. Grace also allowed me to share this image in my Sidonia Von Bork post.
Dorian Gray and the PRB (click to read full post, she has several screen caps of this delicious movie)
Leighton's God Speed in Dorian Gray
Added November 10, 2010:
This production of The Woman in White was actually in transit to me (from Netflix) when someone mentioned it in the comments of this post! I was excited to watch it. If you've read the book, you should know that there are a number of changes. Dante Gabriel Rossetti's painting Beata Beatrix is not only mentioned, but discussed. So is the exhumation of his wife Elizabeth Siddal.
Added January 11, 2011: I was watching an episode of Wire in the Blood on Netflix and I was happily surprised that Ophelia by Sir John Everett Millais made an appearance. The episode Sharp Compassion is from season 2 of Wire in the Blood. It is a dark drama with adult subject matter and is based on the series of books by Val McDermid –I've read three of them and enjoy the television adaptation. But beware, it can be a bit grisly. Wire in the Blood is a psychological crime drama whose main character, Dr. Tony Hill, immerses himself in a case to create a profile of the killer. In this episode, the painting of Ophelia sparks an idea about the positioning of the victims bodies — all of the victims are hospital patients killed by an "angel of mercy" type of killer.

Tony Hill then compares the crime scene photo to Ophelia. Although the painting plays an interesting part in the plot development, it is never mentioned and never enters into any dialogue.
Added February 28, 2010: On the Pre-Raphaelite Sisterhood Facebook Page, Alexandrion Drallipo kindly shared images discovered from The Uninvited. I've never seen The Uninvited, but the synopsis at IMDB says "Anna Rydell returns home to her sister (and best friend) Alex after a stint in a mental hospital, though her recovery is jeopardized thanks to her cruel stepmother, aloof father, and the presence of a ghost in their home."
Once again, a big thank you to Alexandrion Drallipo for sharing this siting from Russian Dolls (2005). Brief synopsis via IMDB: " Five years after their summer together in Barcelona, Xavier, William, Wendy, Martine and Isabelle reunite." (Stars the always wonderful Audrey Tatou) You can see Leighton's famous painting The Accolade in the jigsaw puzzle: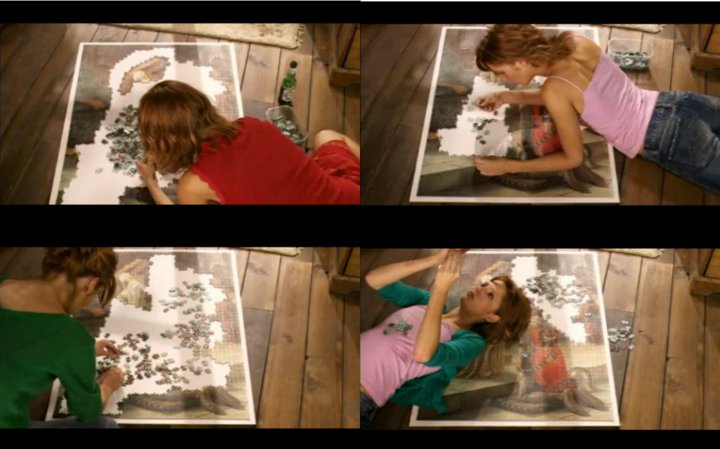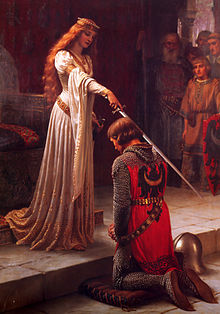 Added April 23, 2010:
My dear friend Grace, who also writes one of my favorite blogs, spotted Dante Gabriel Rossetti's Proserpine in the Voyage of the Dawn Treader, the latest Narnia movie:
Added July 14, 2010: Alexandrion Drallipo has sent me two screen caps from An Education, a movie that several people have recommended to me. I haven't seen it yet, but it's languishing in my Netflix queue. I hope to watch it soon.
I also want to thank Alexandrion for sharing — I'm sorry it has taken so long for me to post them! The first image shows The Tree of Forgiveness by Burne-Jones in the background. And in the second we can see a painting I have quite strong feelings for: The Beguiling of Merlin (also Burne-Jones):
Added July 25, 2011 Kirsty Stonell Walker sent me a treasure trove of sightings! First, from the movie Cashback (recommended by our mutual friend Grace) IMDB describes Cashback : "After a painful breakup, Ben develops insomnia. To kill time, he starts working the late night shift at the local supermarket, where his artistic imagination runs wild. "
The Bridesmaid by Millais is in the opening scene!
Kirsty's next siting is from Me Without You. Here's a description (again from IMDB): "Growing up in the 1970s on the Isle of Wight, Holly and Marina make a childhood pact to be friends forever. For the troubled, unpredictable Marina, with her seemingly glamorous father and her Valium-addicted mother, Holly stays the only constant in a life of divorcing parents, experimental drugs and fashionable self-destruction. Meanwhile, Holly buries herself in books out of feelings of frustration with her over-protective mother and a nagging insecurity around her beautiful and possessive best friend. She holds just one secret from Marina, her increasing passion for Marina's brother Nat. As the years roll by, the girls experience everything life has to offer, sex, love, loss and rock 'n roll. But eventually for Holly, a friendship which has never been equal gradually begins to feel like a trap. "
I would love to know who designed this set and what other projects they've worked on, because it's filled with Pre-Raphaelite goodies in what looks like a pretty accurate portrayal of a 1970s teenage bedroom:
Notice the Alma Tadema painting just behind her.
In the left corner, we can see Rossetti's Astarte Syriaca. And to the right, on the opposite wall, we see not one, but two Ophelias! One by Hughes, the other Millais.
On the door we can see Rossetti's posthumous tribute to his wife, Beata Beatrix.
Pasted collage-style on her mirror are two images from Rossetti's The Bower Meadow. I think the lower cut-out of Jane Morris is also Astarte Syriaca.
There is no Pre-Raphaelite painting in the screen cap above. But, come on! It's very Pre-Raphaelite, reminiscent of an Evelyn De Morgan dryad.
On the door is The Golden Stair by Sir Edward Coley Burne-Jones. To the right, on the wall, is another painting. There's a glare, so I'm not entirely certain, but it looks like it could be from the Briar Rose/ Sleeping Beauty series (also Burne-Jones).
Just above her is Waterhouse's Hylas and the Nymphs.
Below her, to the left, is Waterhouse's Lady of Shalott. Above her, to the right, is Rossetti's Proserpine.
Just behind her is Ophelia by Arthur Hughes.
On the bulletin board, we see an assortment of Pre-Raphaelite postcards (Monna Vanna, The Beloved, Beata Beatrix and Proserpine).
Another siting for the Unexpected Pre-Raphaelite Sitings list! Alexandrion Drallipo has noticed a William Morris wallpaper pattern in the movie Nim's Island. This is the Arbutus pattern, seen here in screen caps: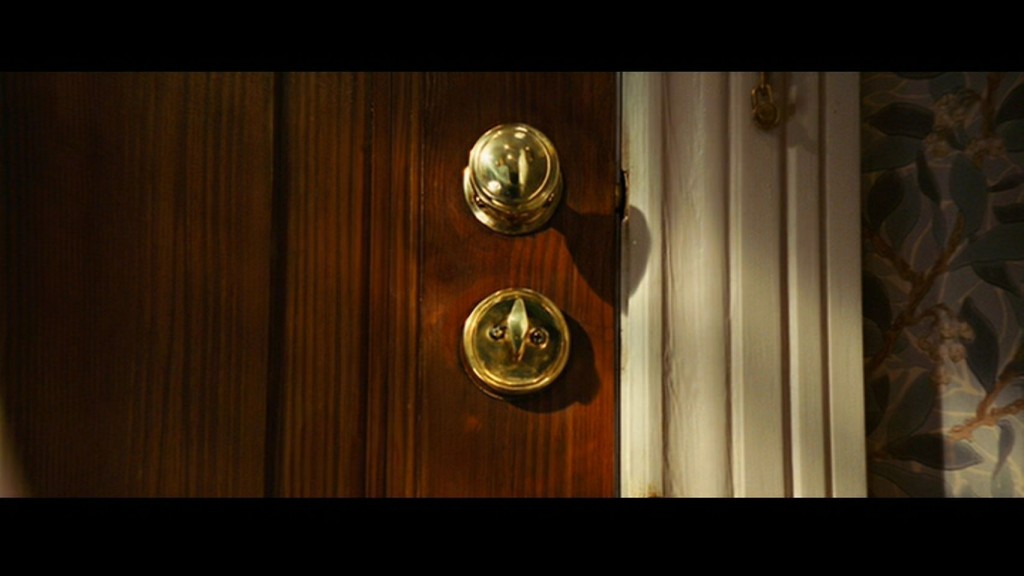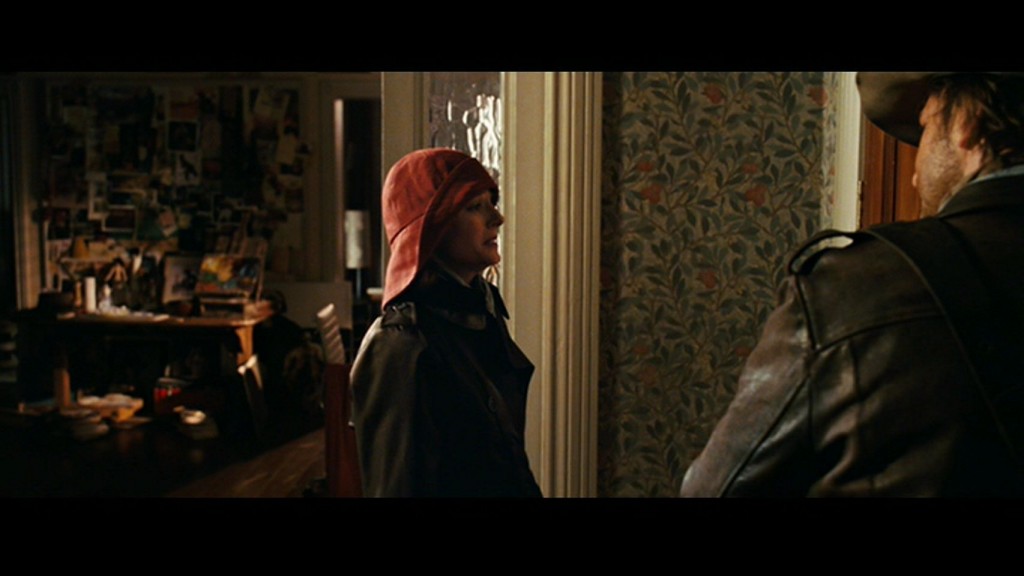 Added April 21, 2013:
Thank you to Alexandrion Drallipo for discovering these images. William Morris' Larkspur wallpaper in Finding Neverland: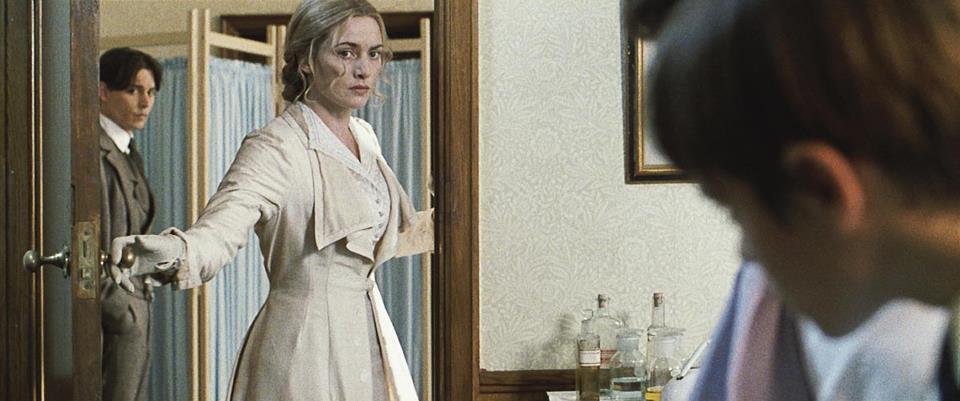 William Morris' Willow pattern wallpaper in the TV series Justified: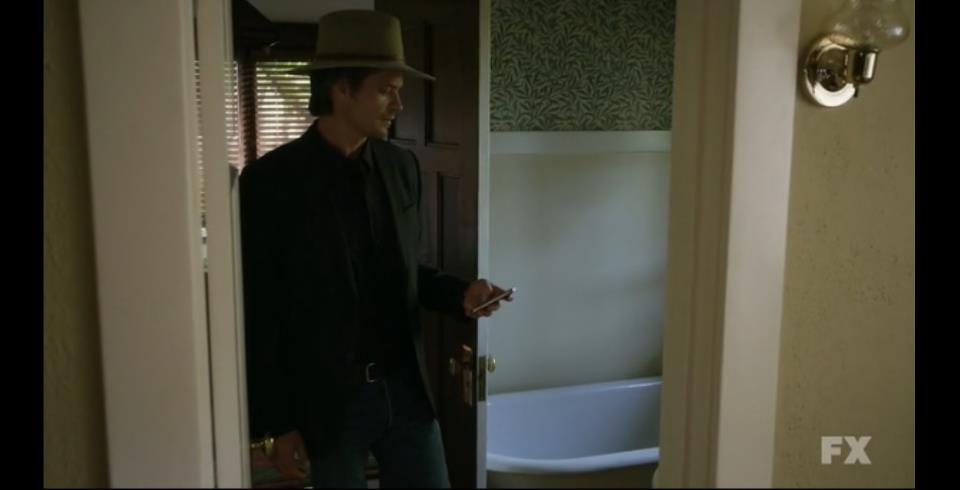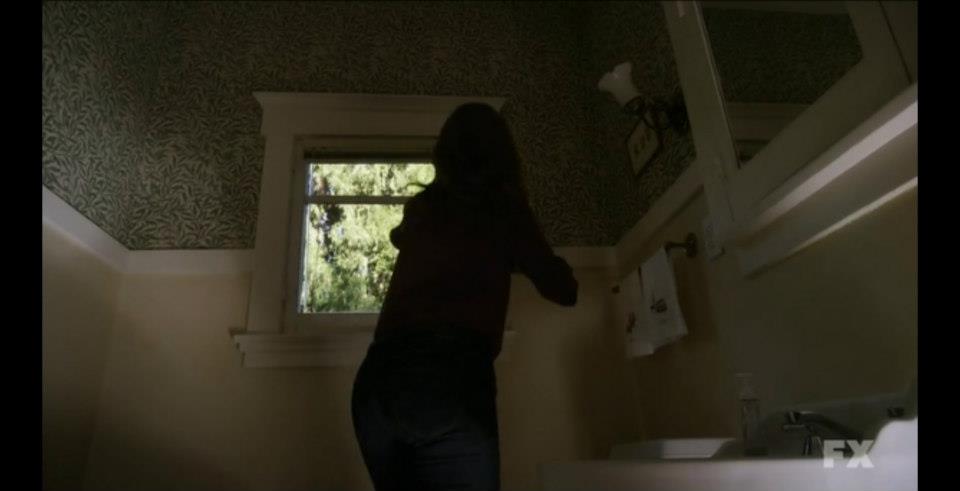 William Morris Windrush wallpaper in Django Unchained: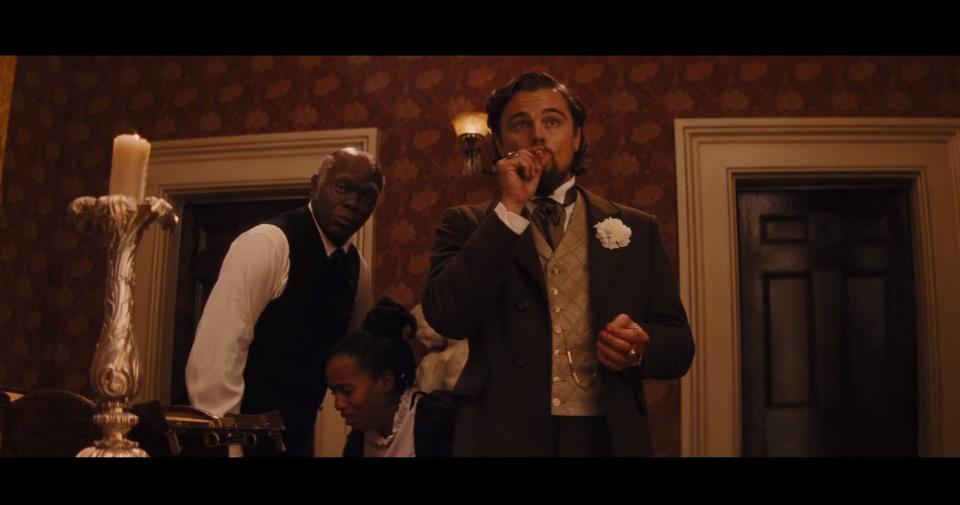 Thank you to Lisa Gill for noticing The Crystal Ball by John William Waterhouse in The Following: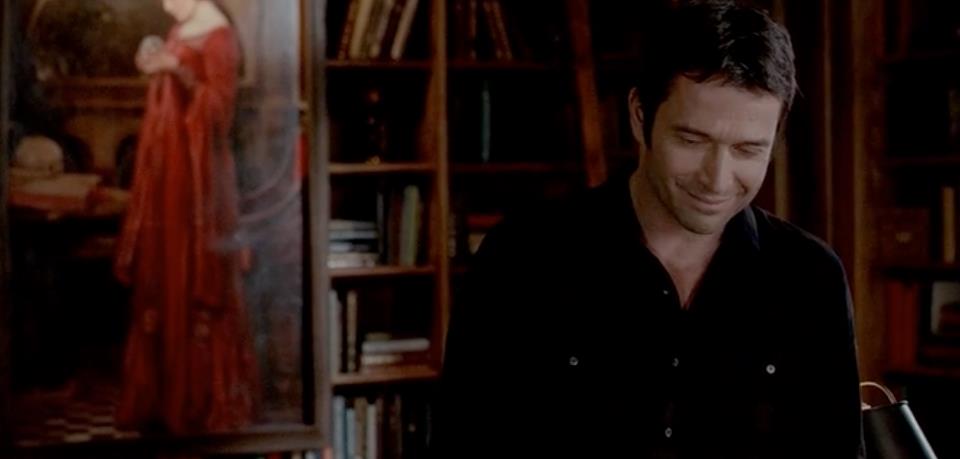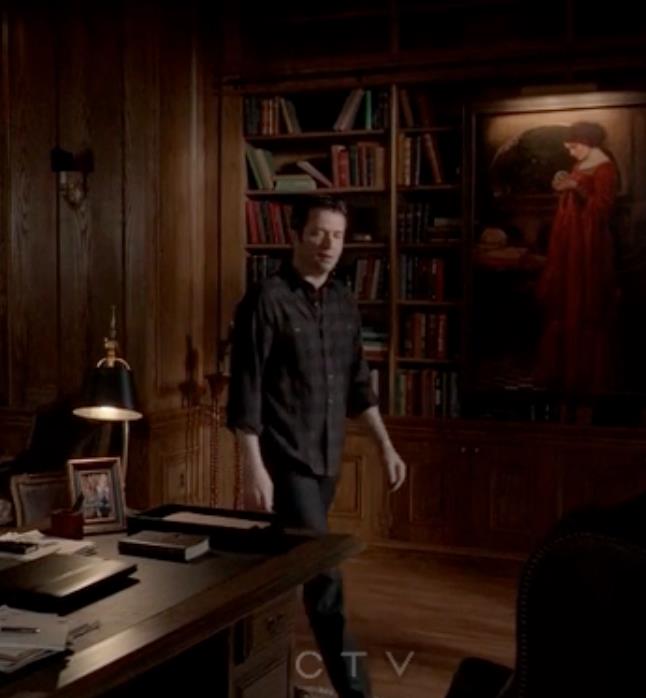 Added January 8, 2014: I was watching an episode of America Unearthed recently and was surprised to see Frederick Sandys' painting Mary Magdalene. I see Pre-Raphaelite images used all the time on television, but the use of Mary Magdalene was an unusual choice in this particular case.
Mary Magdalene was used to portray Tea Tephi, an Egyptian princess. Sandys' painting does not look very Egyptian, but for that matter she also does not look like the middle-Eastern that we know Mary Magdalene to have been.
Curious as to why the Sandys painting was chosen for the program, I googled Tea Tephi. Surprisingly, Mary Magdalene is the first image that appears in Google image search. For whatever reason, she appears on this ancestry page about Tea Tephi and I suspect that this is the source for America Unearthed's use of the painting.
Added January 9, 2014. More sightings, courtesy Alexandrion Drallipo:
Update 4/3/2016: I was able to get better screen caps of Seance on a Wet Afternoon. The movie is currently available on Hulu.
Added July 15, 2014: William Morris wallpaper in Monarch of the Glen
Monarch of the Glen: Archie MacDonald, a young restaurateur is called back to his childhood home of Glenbogle where he is told he is the new Laird of Glenbogle. —via IMDB
Thank you to Lisa Gill for sharing her screencaps of Monarch of the Glen. Lisa's keen eye spotted what appears to be the William Morris Honeysuckle pattern on the walls and the Blackthorn pattern in the stack of fabric:
Added January 9, 2015:
'Reverie' by Dante Gabriel Rossetti can be seen in the background of NBC sitcom Seinfeld. This is Mr. Pitt's apartment, where the character Elaine works as Mr. Pitt's personal assistant. Sixth episode of the sixth season of Seinfeld, titled 'The Gymnast'.
Added April 27, 2015:Thank you to Victoria Osborne for sharing. The 2013 thriller The Best Offer (Deception) stars Geoffrey Rush as an eccentric art auctioneer with a secret collection of portraits of beautiful women – including Burne-Jones' Vespertina Quies and one of Birmingham Museums' Rossetti drawings of Fanny Cornforth.
Pre-Raphaelite beauties aside, these is a magnificent collection of masterpieces on a film set. Just gorgeous. I spot one of my favorite Modiglianis as well.
September 10, 2015: Alex has even more delightful screen caps from the film!
Added July 13, 2015:
Episode 10 of the first season of Murder, She Wrote shows Aurora Triumphans by one of my favorite female Pre-Raphaelites: Evelyn De Morgan. Aurora Triumphans currently hangs in the Russell-Cotes Gallery.
In this episode, a villainous owner of an amusement park tries to blackmail Jessica Fletcher (Angela Lansbury, always fabulous in my opinion) into creating a horror attraction for the park. He is later found dead of an apparently self-inflicted gunshot wound. Jessica Fletcher suspects foul play and assists local police in their investigation. As always, Jessica's astute observation skills help her to solve the crime.
Added September 10, 2015: Singer Florence Welch of Florence + the Machine. Lizzie Siddal can be seen on the wall. (Thanks again to Alex for this.)
The Garden of Hesperides of Sir Burne-Jones hanging on the wall of Florence Welch's London home. (Vogue May 2013)
This Medieval Babes CD cover features a William Morris illustration (thanks again to Alex!)
The Railway Children (2000), a delightful movie based on E Nesbit's 1906 book, has some gorgeous examples of William Morris wallpaper (thank you Alex).
Also contributed by Alex, from The Bucaneers (1995, BBC). More William Morris wallpaper:
Below see Morris' pimpernel pattern in 2013 french movie VIOLETTE (about Violette Leduc and Simone de Beauvoir).
Below: Alice in Hell, Annihilator Video Clip, possible Pre-Raphaelite stained glass?
Below: William Morris Sunflower wallpaper in The Piano
Emma Watson in Ballet Shoes. William Morris Windrush wallpaper.
Another scene from Ballet Shoes:
William Morris Honeysuckle pattern in the French film "Un peu, Beaucoup, Aveuglément" (thank you Alex)
More Honeysuckle in "Un peu, Beaucoup, Aveuglément"
William Morris Arbutus pattern in the French film "INTOUCHABLES" with Omar Sy (thank you Alex).
William Morris Willow pattern on the outdoor furniture to the right. Seen in Boyhood (thanks Alex).
William Morris Fruit pattern seen in How I Live Now (thanks Alex).
Dicksee's Romeo and Juliet seen inthe French movie "Ne te retourne pas" with Sophie Marceau and Monica Belluci (thank you to Alex).
William Morris wallpaper in The Notebook (thank you again to Alex).
William Morris Pomegranate pattern in The Notebook ( a behind the scenes screen cap)
William Morris Willow pattern in The Notebook:
Added January 12, 2016: Season 17, episode 1 of Law and Order: SVU included Dante Gabriel Rossetti's Belcolore and Lady Lilith. It's not a spoiler to tell you that the art in the killer's home reflects his obsession with red hair.
Added May 26, 2016: William Holman Hunt's painting Isabella and the Pot of Basil spotted in Whitechapel.
Whitechapel is a British detective series. It's dark and atmospheric with most of the mysteries hearkening back to historic Whitechapel crimes like Jack the Ripper and the Kray twins. It's currently available to watch on Hulu.
Season 3, episodes three and four are inspired by the Thames torso murders of the 1880s. Isabella and the Pot of Basil can be seen in a chocolate shop whose owner is very suspicious indeed (especially if you already know the story behind the painting.)