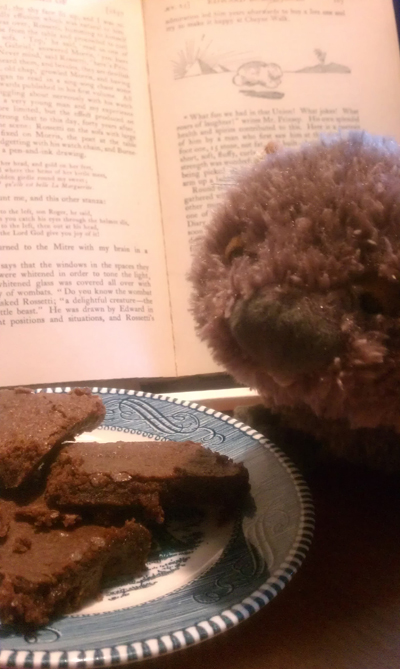 Happy Wombat Friday!  With brownies!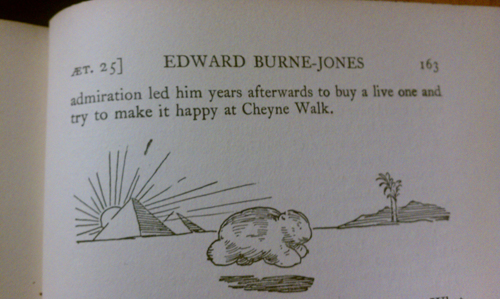 Georgiana Burne-Jones writes about Rossetti's interest in wombats in Memorials of Burne-Jones, vol. I:
"Mr. Prinsep says that the windows in the spaces they were painting were whitened in order to tone the light, and that the whitened glass was covered all over with sketches, chiefly of wombats.  "Do you know the wombat at the zoo?" asked Rossetti; "a delightful creature–the most comical little beast."  He was drawn by Edward in endless different positions and situations, and Rossetti's admiration led him years afterwards to buy a live one and try to make it happy at Cheyne Walk"
By the way, would you like my brownie recipe?  I wish that I could say that these are Pre-Raphaelite brownies, a recipe handed down within the Millais or Rossetti family.  But, alas, no. I'm pretty sure that brownies are American and I just happen to love them.
1/2 cup vegetable oil
1 cup white sugar
1 tsp. vanilla extract
2 eggs
1/2 cup flour
1/3 cup unsweetened cocoa powder (I use Hershey's)
1/4 tsp baking powder
1/4 tsp salt
Mix sugar, oil and vanilla well.  Then beat in your two eggs.  In a separate bowl, combine flour, baking powder, salt, and cocoa powder (I sort of eyeball the cocoa powder, so sometimes I may have more than 1/3 cup. Huzzah!  More cocoa!). Now stir into your oil-sugar-eggs mixture.
Pour into a greased pan (I usually use a rectangular pan, although sometimes I use a cupcake pan).  After pouring, lick the spoon well.  This is non-optional for me.
Bake 20 minutes at 350 degrees.