Inspired by artist Dante Gabriel Rossetti's passion for wombats, every Friday is Wombat Friday at Pre-Raphaelite Sisterhood. "The Wombat is a Joy, a Triumph, a Delight, a Madness!" – Dante Gabriel Rossetti   You can follow #WombatFriday on Facebook .
This week I have been rereading The Woman in White by Wilkie Collins.  It has long been one of my favorite books. Not only is it a must-read for anyone interested in 19th century literature, it's a complex thriller that will delight mystery fans of any era.
There is a doppelganger aspect to The Woman in White, which makes this a perfect opportunity to look at Dante Gabriel Rossetti's painting How They Met Themselves.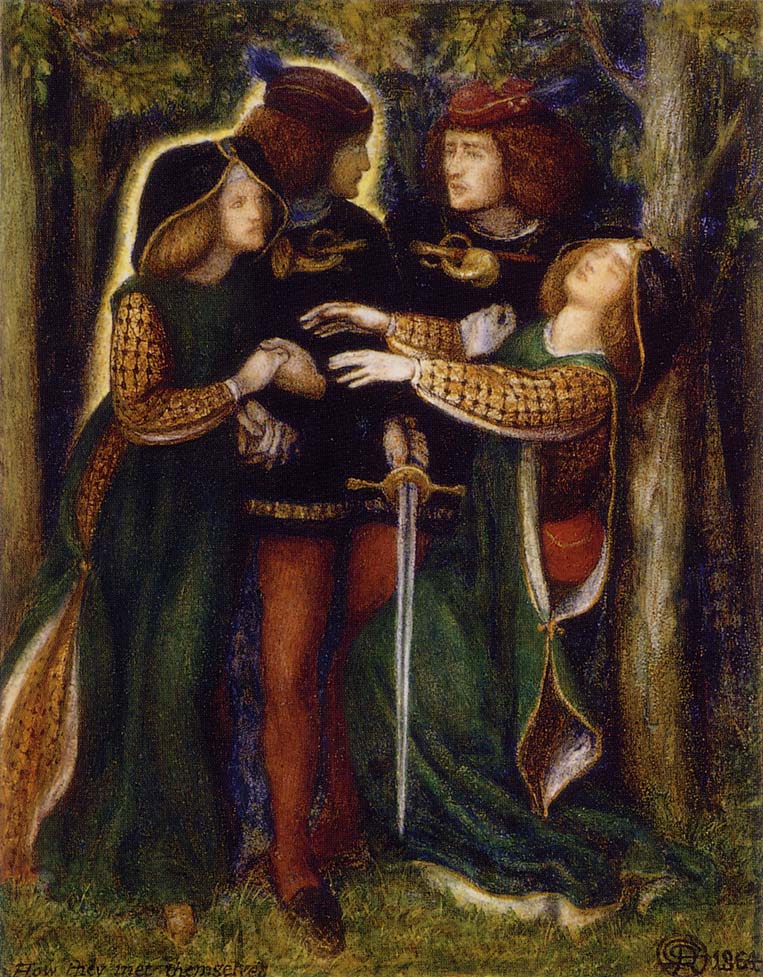 In 1860, while on his honeymoon with Elizabeth Siddal, Rossetti explored the supernatural theme of doppelgangers in his work How They Met Themselves.  It is a curious image that he referred to as his 'bogie' drawing.
A pair of Medieval era lovers take a romantic walk in the woods, only to encounter themselves.  According to lore, to see your doppelganger is a foreshadowing of your death.  The original version of How They Met Themselves was inscribed with the dates 1851 and 1860, 1851 being the early days of his relationship with Siddal.
Rossetti and Siddal married in May of 1860 and she died two years later of a laudanum overdose.  Her life was quite sad towards the end because of their stillborn daughter and her struggle with addiction.  Images such as Rossetti's 'bogie' drawing and Millais' Ophelia, which Siddal posed for, cement her in the public eye as being a death-like figure. The fact that Rossetti later had her exhumed doesn't help.   Upon her death, he had buried his manuscript of poems with her. She was exhumed seven years later so that he could publish them. This morbid act adds to her mystique, but overshadows her own work.  (See Elizabeth Siddal: Laying the ghost to rest)