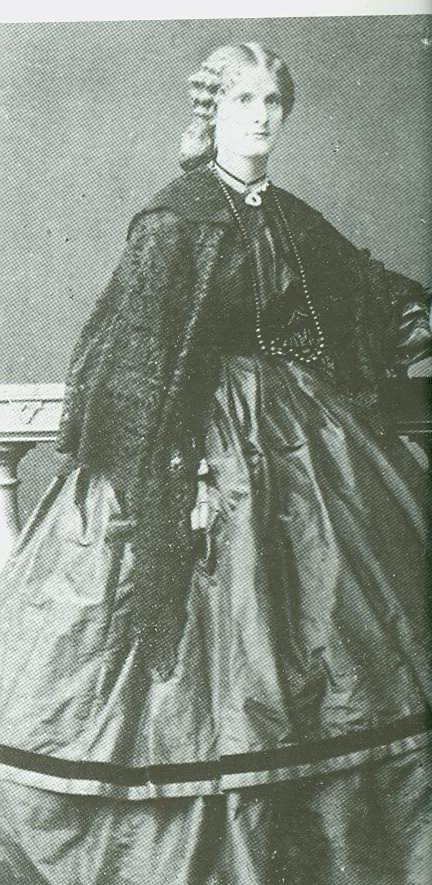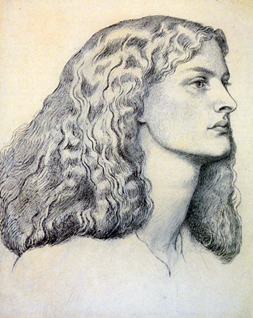 Jan Marsh
briefly describes Annie Miller's childhood in Pre-Raphaelite Sisterhood
(not associated with this website) as horribly poor and unhygienic, saying that a neighbor had described Annie and her sister as "dirty and covered with vermin"…and that Annie's hair was particularly "wild and filthy".  Annie's mother had died some time after her birth, leaving Annie and her sister to be raised by their father, an ex-soldier. Later, when his health declined, the girls lived with their uncle and aunt — a poor couple who made their meager livings as a cobbler and a washerwoman.
Artist William Holman Hunt was the first to use Annie as a model. It is possible that he had seen her grow up in the streets.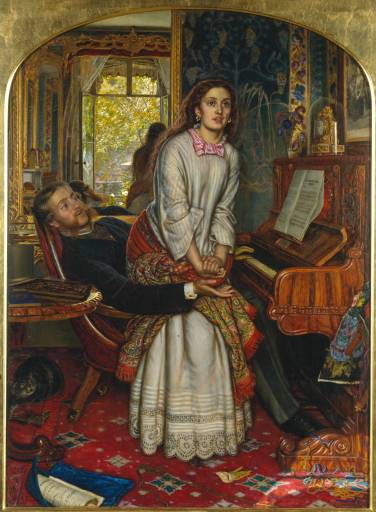 Annie first appears in The Awakening Conscience (previous post about this painting). We can no longer see her face in it, though, as Holman Hunt repainted it after their relationship soured.
Perhaps Hunt viewed himself as her rescuer, scooping her up from the slums and giving her a new life. Stepping up the social ladder was not easy in Victorian England. Speech, manners, and social skills were impediments that would forever keep you from the desired inner sanctum of the higher classes. Hunt arranged lessons for Annie to improve her deportment. He had discovered a young, poor beauty and rescued her from poverty like a knight in shining armor. Did he truly love her – or was he in love with his role as her savior? He was the man who immortalized her on canvas and made her education possible. And who knows what her feelings were? In that era, love was not the first priority if the opportunity to make a good match arose. But we can not judge either party with our modern eyes. They lived in a time where the social structure was completely foreign to our own and womens' needs were vastly different.
Hunt's desire was to travel to the Middle East to paint scenes from the Bible in an authentic setting – leaving Annie alone to continue her education.  Hunt's plan was that Annie would be the faithful, dutiful, good girl and he would return from his travels to find her  suitable for marriage. However,  they were never formally engaged.
Absence may make the heart grow fonder, but it did nothing to strengthen Annie Miller's love — if indeed she was in love with Holman Hunt.
Annie continued to sit for other artists (with Hunt's permission) while he was away. He had made a list of acceptable artists to sit for. Not on the list? Dante Gabriel Rossetti (whom she sat for) and George Boyce (who she also sat for).  Apparently, Annie had a mind of her own.
Hunt did not propose to Annie after he returned. In fact, he did not seem to be concerned with her at all. He was aware that Annie had been seen out socially with different men during his travels, including both the Rossetti brothers (Dante Gabriel & William Michael) and the aforementioned George Boyce.  He seemed somewhat ambivalent towards her, at times referring to himself as her "guardian".  Rossetti's attentions  did seem to somewhat renew his interest (as well as anger Elizabeth Siddal).
Hunt convinced Annie to attend a school, after much discussion and cajoling. It seems that Hunt and Annie argued a great deal, usually about money and her bookkeeping. He described her often as 'willful'. He had invested – and continued to invest – a great deal of time and money into Annie's education. He even approached George Boyce and requested that Boyce give him the portrait that he had painted of Annie — saying that he wanted to marry Annie after her "education of both her mind and manners" was completed and he wanted to "destroy as far as was possible all traces of her former occupation." In other words, he wanted to erase or "clean up" her past and destroy evidence that she had ever sat for any other artist.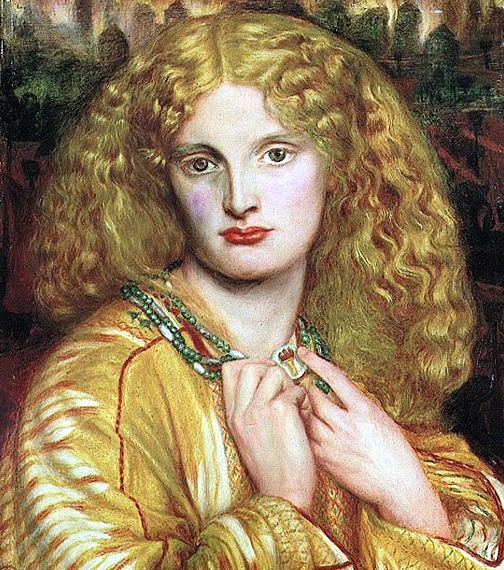 Hunt and Annie never married and due to their constant rifts,  it is difficult to say what exactly caused them to break off the relationship. At some point in time, Annie met and became friendly with Lord Ranelagh, who was probably much more exciting than the solid William Holman Hunt.
Hunt was very controlling of Annie's finances (she had to call upon him several times to pay her landlady). But when Annie suggested that she could train to be a milliner, Hunt rejected the idea. Eventually, ties between them were severed.
After Rossetti's wife died, Annie posed for Rossetti as Helen of Troy (see this post) and Woman in Yellow. She was in a relationship with Captain Thompson (cousin to the previously mentioned Lord Ranelagh). They married on July 23, 1863. The couple had children — Annie Helen (1866) and Thomas James (1867). If there were more, I have not found a record. Hunt married his wife, Fanny, who appears in his painting Isabella and the pot of Basil. She died soon after.
From a difficult Victorian childhood of poverty to posing as the face who launched a thousand ships as Helen of Troy. Annie may have had a rocky relationship with William Holman Hunt, but in the end she stood her ground and lived life on her own terms. Well, as much as any woman in her circumstances could in such a stifling time period.