What is Pre-Raphaelite Art?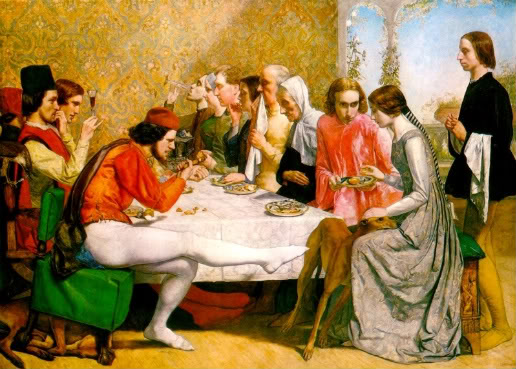 The term "Pre-Raphaelite" is now used so frequently that many people seem to think it is merely an adjective for any piece of Victorian art.  No, darlings, no.  Every painting of a maiden with voluminous hair is not a Pre-Raphaelite work (you see this a lot on eBay. Long hair, antiquated clothing? PRE-RAPHAELITE PRINT!)
While it can seem to be an umbrella term, it actually refers to art created by members of the Pre-Raphaelite Brotherhood and their followers. On this website, I often include artists like Waterhouse, Burne-Jones, and De Morgan. They were not members of the PRB but they are definitely adherents in style, principle, or subject matter so in my posts I describe them  as  Pre-Raphaelite followers.  To further understand the term, I direct you to Pre-Raphaelites: An Introduction (via Victorian Web).
What was the Pre-Raphaelite Brotherhood? The Pre-Raphaelite Brotherhood began in 1848 as a secret group of young artists: Dante Gabriel Rossetti, William Michael Rossetti (his brother), Thomas Woolner, William Holman Hunt, Frederic George Stephens, James Collinson, and John Everett Millais. They were rebelling against the current art establishment, mainly the British Royal Academy and their formulaic approach to art instruction. Though the Pre-Raphaelites' goal was to remain secret, the meaning of the initials "PRB" inscribed on their paintings became public (possibly leaked by Dante Gabriel Rossetti).
They were a group of  idealists drawn together by youthful rebellion and their goals were sincere. In character and temperament, the members of the Brotherhood were vastly different. Millais, Rossetti, and Holman Hunt each had his own distinctive style, but one thing they all agreed on was their displeasure with the way artists were instructed at the Royal Academy.  Training there was formulaic and dry; they longed to rebel against the first president of the RA, Sir Joshua Reynolds (they referred to him as Sir Sloshua).  This instruction led to generations of British art that the Pre-Raphaelites saw as dark and unimaginative.
At the home of Millais' parents, the young artists studied early Italian frescoes and marveled at the difference between them and the current norms in the art world.  The believed that for the art world to be revived, it needed to return to the time before Raphael, and thus, the name Pre-Raphaelite was born.  In the midst of the Industrial Revolution and scientific discovery, these artists looked backward and created works that celebrated a distinct Medieval aesthetic.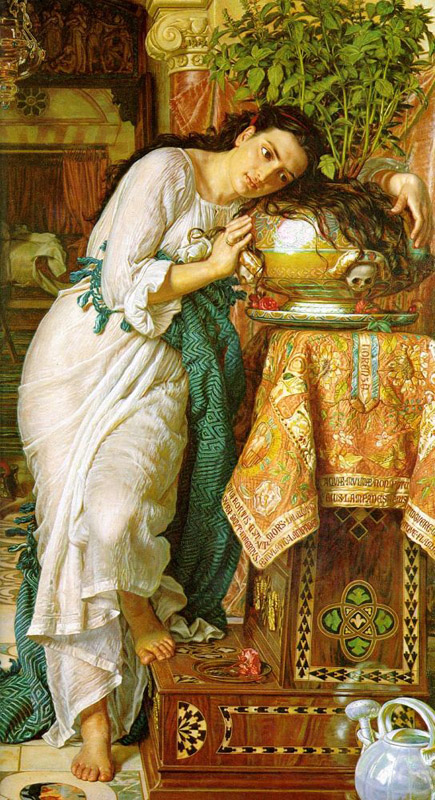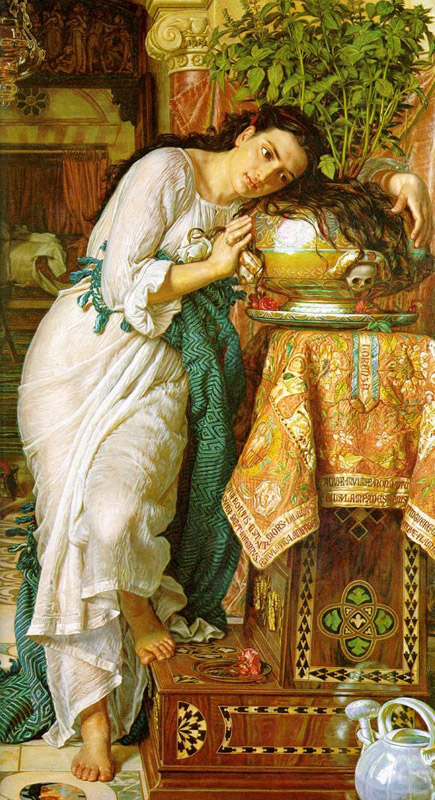 Inspired by late Medieval and early Renaissance works, the Pre-Raphaelites created  paintings that were vibrantly different than the art of their contemporaries. Their efforts to stay true to nature resulted in botanical details that were painstakingly reproduced.  The doctrines they followed resulted in paintings with an almost photographic realism. They had their critics, however, and their work was not easily accepted. (Hint: Charles Dickens did not approve. Later, though, he became good friends with Millais.)
The Brotherhood's early doctrines were expressed in four declarations:
To have genuine ideas to express;
To study Nature attentively, so as to know how to express them;
To sympathize with what is direct and serious and heartfelt in previous art, to the exclusion of what is conventional and self-parodying and learned by rote;
And, most indispensable of all, to produce thoroughly good pictures and statues.
The Pre-Raphaelites created art that is known for its vivd and colorful brilliance. They achieved this by painting white backgrounds that they would later paint over in thin layers of oil paint. Their work was meticulous and their subject matter drew inspiration from myths, legends, Shakespeare, Keats, and lovely long haired damsels that we now equate with Victorian beauty.
The Brotherhood itself did not last very long.  The artists grew in different directions and their styles changed. For the most part, they stayed true to the principles that guided them in 1848 (in their own individual ways).  The members of the Pre-Raphaelite Brotherhood and the artists they influenced had a profound effect on 19th and early 20th-century art. In fact, once you are familiar with them, you can easily spot their influence in popular culture today.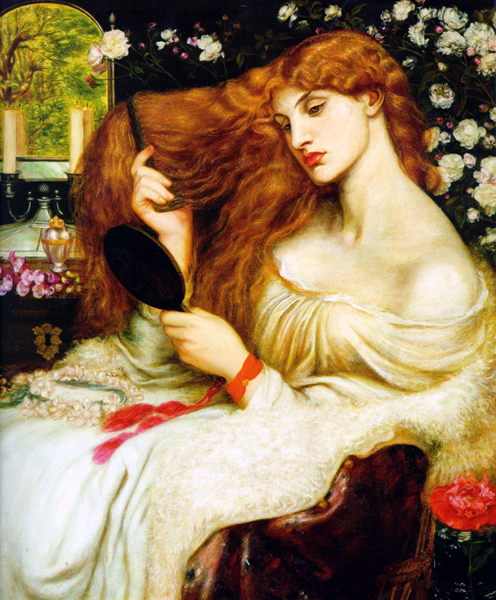 Though they were a brotherhood, there were many women in their circle that were  crucial to their work. These are the women that inspired the creation of this website. You'll find I write about Lizzie Siddal a great deal. (I also own LizzieSiddal.com.)
Elizabeth Siddal was discovered in a milliner's shop and she began to model for Walter Deverell, William Holman Hunt, and, notably, for Millais' Ophelia.  Eventually, she would pose only for Rossetti. Lizzie became his muse and her features are an important part of his work at this time. She went on to become an artist and poet herself, although her life was punctuated with sadness and ended in a laudanum overdose at age 32, two years after her marriage to Rossetti.
I recommend Lucinda Hawksley's biography of Siddal  and Jan Marsh's The Legend of Elizabeth Siddal if you have not yet read them.  Jane Burden Morris and Georgiana Burne-Jones were also integral figures in the Pre-Raphaelite circle.  In later years, many female Pre-Raphaelite artists would emerge, such as Evelyn De Morgan, Eleanor Fortescue Brickdale, Marie Spartali Stillman and more.  There are also many models that I write about on this site, including Fanny Cornforth and Alexa Wilding,  They are the faces of the movement and their contributions should never be overlooked.
You can follow Pre-Raphaelite Sisterhood on Facebook, Twitter, and Instagram.


A Few Pre-Raphaelite links:
The Pre-Raphaelites: An Introduction at Victorian Web
ArtLex on the Pre-Raphaelite Brotherhood
Pre-Raphaelite Painting and Design