Inspired by artist Dante Gabriel Rossetti's passion for wombats, every Friday is Wombat Friday at Pre-Raphaelite Sisterhood. "The Wombat is a Joy, a Triumph, a Delight, a Madness!" ~ Dante Gabriel Rossetti
Rossetti has been on my mind for Halloween, which is why I wrote Dante Gabriel Rossetti and the Supernatural.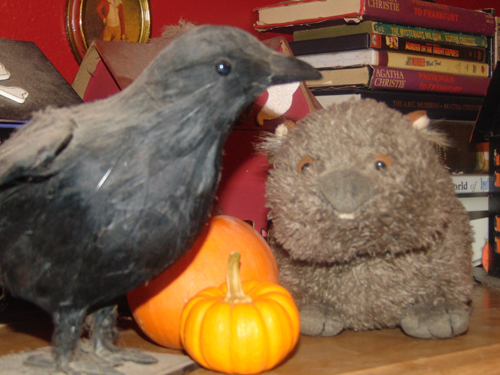 It's almost time for All Hallow's Eve and the wombats and I are ready to celebrate.  What will you do?  Let us jump into marathons of Hammer Horror films with the late, great Christopher Lee. Revel among pumpkins. Gorge upon candy. Live life to the fullest. Indulge in Edgar Allan Poe, Vincent Price, Boris Karloff, and Alfred Hitchcock. Embrace this holiday where you can literally be anything.  Let us enjoy ghost stories by Victorian authors, especially M.R. James.  There is nothing like a Victorian haunting.  Nothing.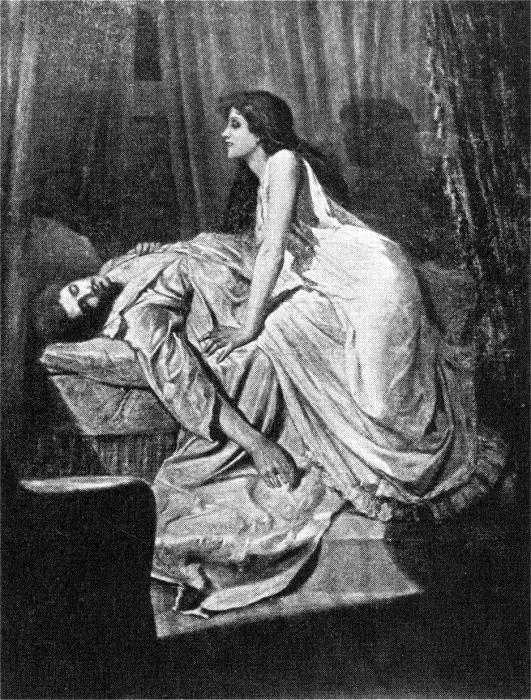 Since I recently read Hide Me Among the Graves, Tim Powers' vampire story featuring Pre-Raphaelite Dante Gabriel Rossetti and his family, my interest in vampires has been rekindled.  PBS recently broadcast a vampiric episode of Secrets of the Dead that I loved and you probably will as well.  I've also reread Bram Stoker's Dracula, partly because of thoughts I had while reading Powers' book but also because I feel that it is high time I write a proper blog post about Elizabeth Siddal's exhumation and the persistent myths that surround that macabre act.  One of those myths is that 1) Stoker was present when the deed occurred (he wasn't) and 2) that Stoker was inspired by the exhumation when he wrote about Lucy Westenra. (I will tell you all about that) So stay tuned for that post.
In revisiting Dracula, I was struck by this passage in Chapter 1, Jonathan Harker's Journal:
 'You are early tonight, my friend,' The man stammered in reply:–

The English Herr was in a hurry, to which the stranger replied,–

That is why, I suppose, you wished him to go on to Bukovina.  You cannot deceive me my friend; I know; I know too much, and my horses are swift.' As he spoke he smiled, the lamplight fell on a hard-looking mouth, with very red lips and sharp-looking teeth, as white as ivory,  One of my companions whispered to another the line from Burger's 'Lenore':'Denn die Todten reiten schnell. ' — (For the dead travel fast)–The driver evidently heard his words, for he looked up with a gleaming smile.  
What stood out to me was the line Stoker quoted from Burger's 'Lenore', which was a poem that Dante Gabriel Rossetti had translated himself.  In Rossetti's translation, the line reads "Bravely the dead men ride through the night."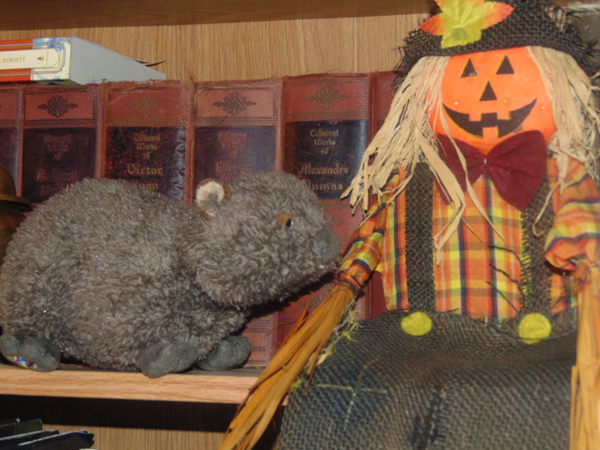 The gothic film Crimson Peak is in theaters now, I have not seen it yet, but I was thrilled to see director Guillermo del Torro's tweets indicating a Pre-Raphaelite influence on the film.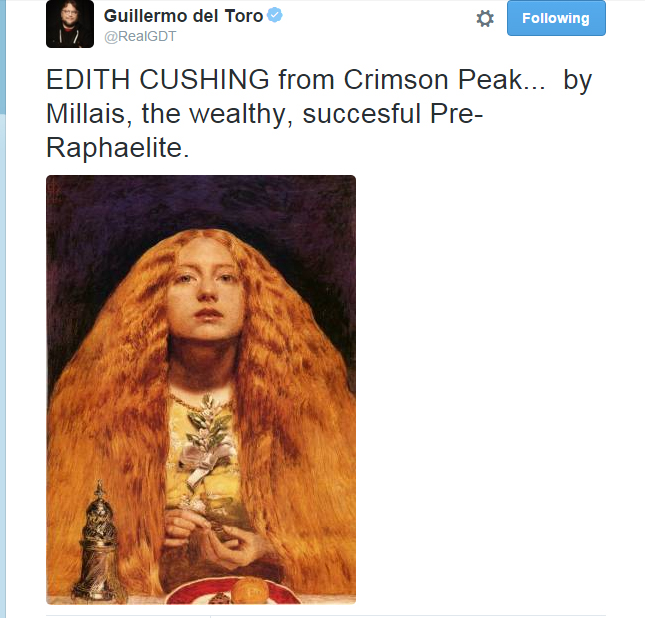 The painting he tweeted is The Bridesmaid by Sir John Everett Millais.  The silver pillar that appears quite prominently on the left side of the painting can also be seen in the background of Millais' painting Mariana.  Oh Mariana, the vivid blue of her dress slays me every time.  (Requiescat In Pace for the wee mouse that gave his life for that painting.)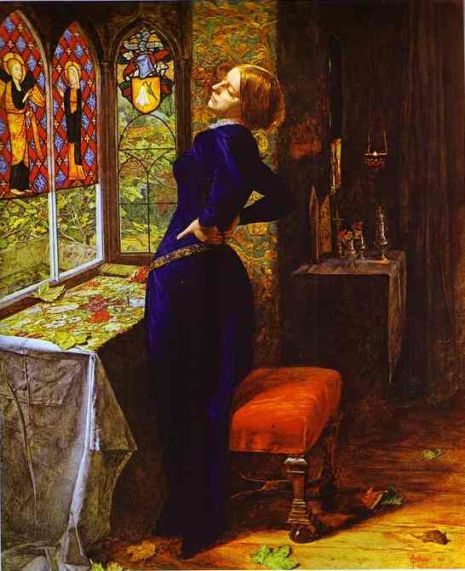 I love Halloween-themed reading.  I know it's not Pre-Raphaelite, but may I recommend Agatha Christie's Hallowe'en Party?  I've read it many times over the years.  As much as I love Poirot, I think Ariadne Oliver shines in this book.  Oliver is a sort of alter ego for Christie and she's a delightful character to read. Christie uses her to poke fun of herself, but she also gives us a glimpse into the author's personality.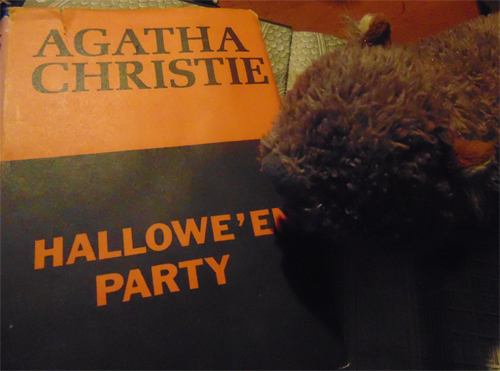 If my fellow Pre-Raphaelite enthusiasts are in a Hallowe'en mood, here's a few posts that may fit the bill:
Love, death, and potted plants.  You may have never associated Isabella and the pot of basil with Halloween, but it has strange and deathly elements and was depicted gloriously by the Pre-Raphaelites.