As mentioned in my previous post, I am making an effort to start archiving my web interactions that are related to this site.
I recently posted How They Met Themselves, Rossetti's painting of medieval doppelgangers (I also mentioned this work in Pre-Raphaelites, Doctor Who and how you see the world).
So, with doppelgangers on the brain, I asked on Twitter if anyone could recommend doppelgangers in fiction:
@Tomcat_Redroom tweeted: "There's a book by Nabokov called 'Despair' – it's about a man who goes mad after meeting his double. And it's awesome."
@HorribleSanity: "My favorite dopplegangers are found in 2 short stories, Poe's "William Wilson" & Alfred Noyes' "Midnight Express."
@kathleenoneill:  "Wilkie Collins' 'The woman in white' is a great one. And I have to mention the Buffy episode 'Doppelgangers', it's perfect."
@Robert_Parry who also tweets as TweetsbyWriter and is the author of The Arrow Chest tweeted:  "By Schubert/Heine: the full-Gothic Doppleganger hairs on the back of neck standing"  and then, he took it a step further and created a blog post about it.  The Doppelgangers are spreading!
@HelenaBrors: " Dostoevsky's "Dvojnik" and James Hogg's "The Private Memoirs and Confessions of a Justified Sinner". "
@_MelindaBelle:  "Frankenstein was one."  and then added "ETA Hoffman wrote one. I don't know if I have it in the house. But now I want to look. ;>"
Then, @valeriemeachum sent me a link to a book in which she appears as her own Doppelganger.  I can't link to the specific page, but you can flip through.  It's excellent.  And I can think of no better setting for a Doppelganger photo than in a beautiful cemetery:  Cemetery People
I appreciate all the Doppelganger suggestions, so thank you. After my twitter conversation, my friend Grace (of The Beautiful Necessity) posted this striking doppelganger photo on my Facebook page that she found via Tumblr (R is for Raven). I'll link the photo to the original Tumblr page: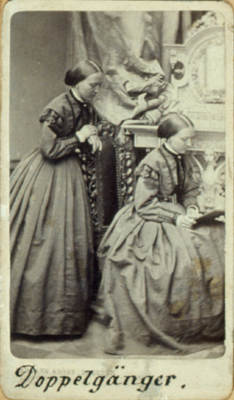 If you have any more interesting Doppelganger references, let me know. I'm on several different social networks, so feel free to add me or follow me. If you know me through this site, mention it so I can add you back. Be warned: if we have a Pre-Raphaelite related interaction, it will probably make it's way into a blog post!
Twitter
Google+
Facebook