If you are reading Mortal Love along with us, you may have noticed that part one of  the book is titled The Green Girl.  It strikes me as such a perfect phrase when dealing with anything that even remotely alludes to the Pre-Raphaelites.
This post isn't really about Mortal Love, I'll save that for later.  This post is about that particular phrase, the green girl, and the ideas it conjures in my mind.
Obviously, when green and Pre-Raphaelite are mentioned it is Rossetti's paintings of Jane Morris that are usually thought of first.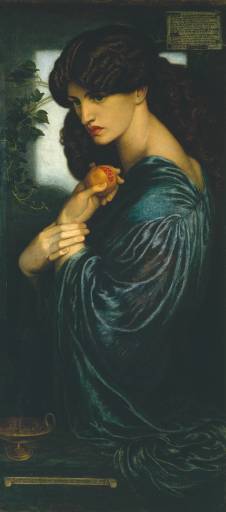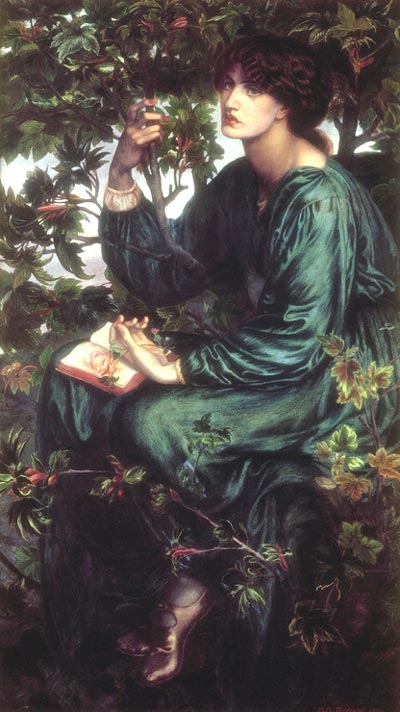 Jane Morris is seen more than once in Rossetti's work, clad in flowing green robes while surrounded by foliage. He mentioned green in this letter to F. R. Leland, where he discusses Veronica Veronese:
"The girl is in a sort of passionate reverie, and is drawing her hand listlessly along the strings of a violin which hangs against the wall, while she holds the bow with the other hands, as if arrested by the thought of the moment, when she was about to play. In color, I shall make the picture a study of varied greens."
When Rossetti uses green, he does it sumptuously. It's as if we can reach out and touch those velvet robes and feel its texture. I could swim in that sea of green, willingly losing myself in his work.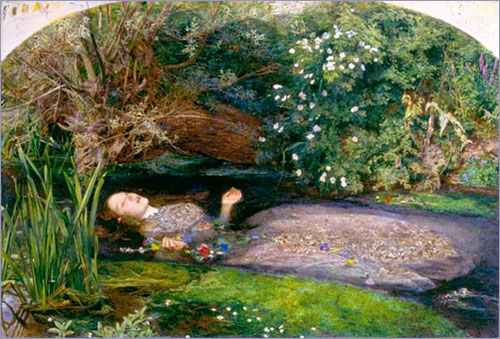 Based on Hamlet, the green in Millais' Ophelia is all about nature, growth, and life. It is an example of opposites, as Ophelia is dying or has already died.
 Drown'd, drown'd, said the Queen. To which Ophelia's brother Laertes replies "Too much of water hast thou, poor Ophelia, and therefore I forbid my tears."  
One of the Pre-Raphaelites' maxims was "Truth to nature". Millais depicts each twig, each flower with fidelity.
There is verdant growth and life everywhere.  Water is life.  In the midst of it floats the dying Ophelia.  Perhaps Ophelia is the perfect example of a "green girl" if we use the word green in the sense of someone innocent and inexperienced.  Ophelia, sheltered and unworldly, was ill prepared to cope with the madness of the adults around her.
Even the flowers that she mentioned in the text of the play are shown as they float away from her hand. They are dying as well, severed from their roots.
Look at the flower close to the hand of Ophelia, modeled by Lizzie Siddal.  One is a poppy.
In Ophelia, a poppy floats away from Lizzie's hand.
In Beata Beatrix, the dove brings a poppy to place in Lizzie's open hand, a tragic nod to the fact that Lizzie Siddal died of an overdose of laudanum, an opiate derivative that is made with poppies.
Death, death everywhere.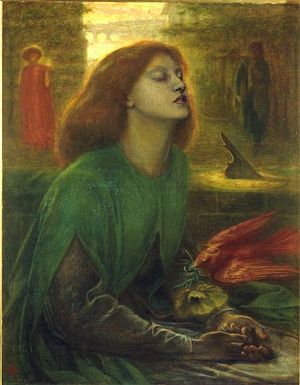 Another example of a brilliant use of green is Burne-Jones' Green Summer.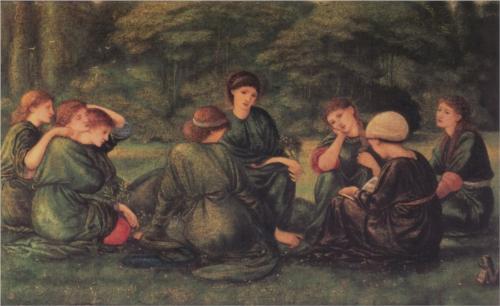 I think that Green Summer also accomplishes what Rossetti set out to do with Veronica Veronese. It is a study of varied greens.  
 For me, this painting invokes twilight in a secluded wood and perhaps a secretive camaraderie among the women. We see them from the perspective of an outsider, maybe we can eavesdrop. But I don't think that we could be invited to become one of them. There is something otherworldly about them–you do not want to intrude or interrupt.
All of the previous examples are uses of green either in nature or related to human women. In Mortal Love, I think the author's intention is to show that the green girl in question is supernatural and set apart, not human.  
Forgive me for jumping to the beauty of the Pre-Raphaelites to the commercialism of Disney, but I can't help thinking of this green girl.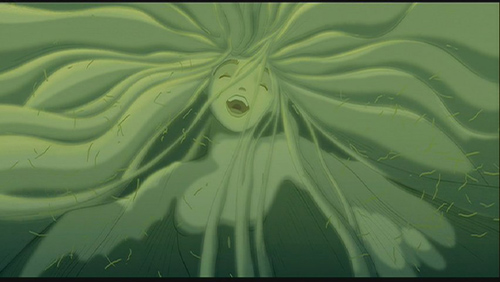 The image above is from Disney's Fantasia 2000.  Stravinsky's Firebird Suite is one of my favorite pieces of music and I like the way it was animated in Fantasia 2000.  
The forest, destroyed by fire, is given new life by the spirit pictured above. I'm not sure if she's intended to be Mother Nature, or a fairy, or a physical embodiment of renewal, but as I have mentioned before, when I see things, I always find a way to relate it to Pre-Raphaelite art.  You won't be surprised when I tell you that the green girl in Fantasia made me think of  Ferdinand Lured by Ariel.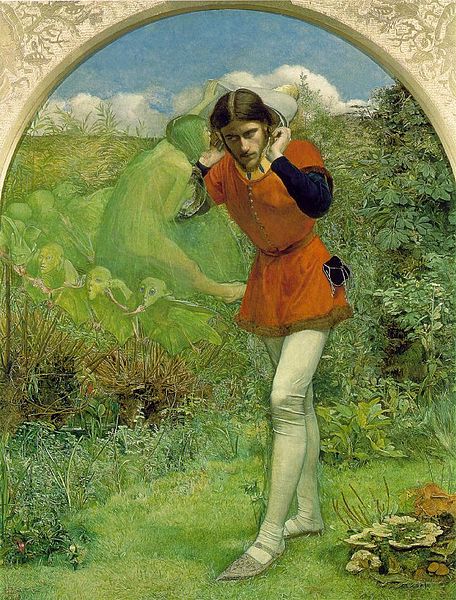 Ferdinand Lured by Ariel was painted by Millais and depicts a scene from The Tempest.
Ariel is a fairy who leads Ferdinand to Prospero. Ferdinand hears Ariel's song, not quite sure where exactly the music is coming from: "Where should this music be? i' the air or the earth?".  
Ariel leads him, tugging his hair, but he does not see Ariel. It is another example of Millais works using contrasts.  
Ophelia is a contrast of life and death, Ferdinand has such a painstakingly depicted background of nature, showing us a contrast of natural and supernatural.  
Again, a completely unrelated painting brings me back to the themes of Mortal Love: natural and supernatural, life and death.
I'll end this post with the Rossetti painting shown on the cover of Mortal Love.
La Ghirlandata
The colors are so vivid, the green contrasting with her gorgeous red hair creates an intense effect.The main model in this piece is Alexa Wilding, a model Rossetti used so frequently at this point in his career that he had her on retainer. The angels were modeled by May, the ten-year-old daughter of Jane and William Morris.
La Ghirlandata was painted at Kelmscott Manor after a period of great difficulty for Rossetti — he had attempted suicide earlier that year (1872).
Here's a brief synopsis of the painting, courtesy of City of London:
"Rossetti painted this picture while he was staying at Kelmscott Manor, the Oxfordshire house he part-owned with his friend William Morris, following his breakdown and suicide attempt in 1872. Morris stayed away, but his wife Jane – with whom Rossetti was in love – was there. The honeysuckle and roses around the top of the harp in this picture indicate sexual attraction, while the harp itself represents music – a common metaphor for love and lovemaking. However the model for the picture was not Jane Morris but a model, Alexa Wilding, 'a really good-natured creature', who arrived at Kelmscott in June 1873.
The angel heads at the top were painted from Jane's ten-year-old daughter May, who was said to dislike Alexa intensely. La Ghirlandata is one of several paintings of women playing musical instruments which Rossetti painted between 1871 and 1874. His intense use of colour creates a brooding, melancholy mood, while the picture's symbolism – though unclear – may reflect his emotional condition at this time. Rossetti's brother later claimed that he had intended 'a fateful or deathly purport' by painting the dark blue poisonous monkshood in the foreground, but by mistake he had painted its harmless relative the larkspur instead."
The paintings in this post represent but a small sample of the impressive botanical features in Pre-Raphaelite works. Their commitment to representing natural elements with accuracy was a novel concept at the time, and their meticulous efforts certainly resulted in breathtaking work that is startling in both its beauty and fidelity.