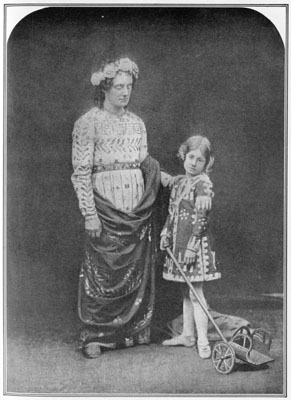 My interest in Dame Ellen Terry takes me to a period a bit later than the Pre-Raphaelite Brotherhood.  Born into an acting family, Terry married painter George Frederic Watts when she was sixteen which introduced her to the likes of Dante Gabriel Rossetti, Tennyson and other luminaries of the Victorian era.
I recently read her memoirs, available for free at Project Gutenberg.  Her life was dramatic on stage and off, although the more scintillating details are left out or glossed over in her autobiography.  This didn't bother me as it is an enjoyable read, especially if you enjoy Shakespeare. Her perspective on certain roles is interesting.  But I am incredibly curious about many of her personal relationships and would like to learn more.
Terry's parents were both actors and her childhood was spent onstage where she  played several roles in Shakespeare and in repertory theatre. The acting gene must be coursing through their DNA; Sir John Gielgud was her great-nephew.  
At age sixteen, she married Watts.  Thirty years her senior, the marriage lasted a brief ten months.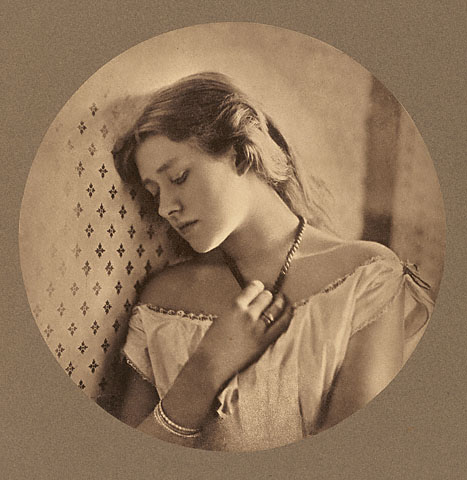 This photograph is believed to have been taken during Terry's  honeymoon stay at Freshwater on the Isle of Wight.  Poignant and forlorn, Julia Margaret Cameron titled it Sadness.  Dramatic effect or was she making a comment on their marriage?
Whatever happened between Watts and Terry, the images he created of her are lovely indeed: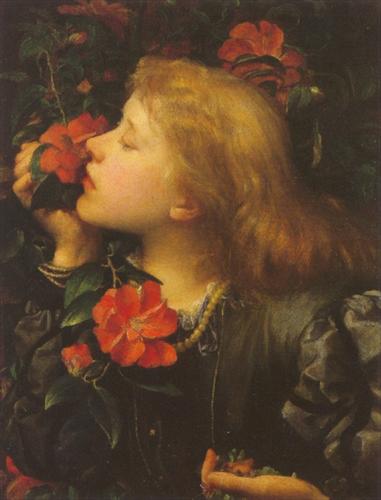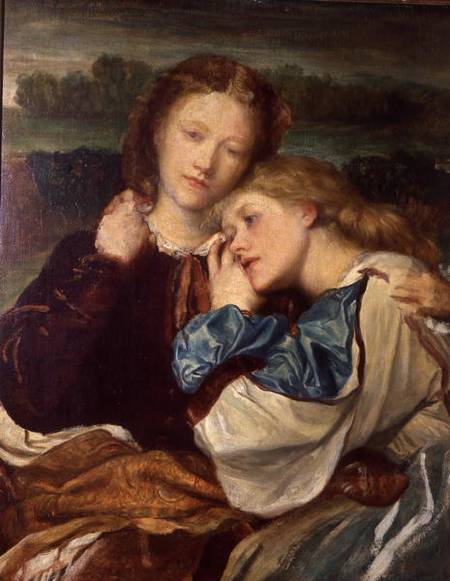 Artist Anna Lea Merrit captured Terry in her role as Ophelia: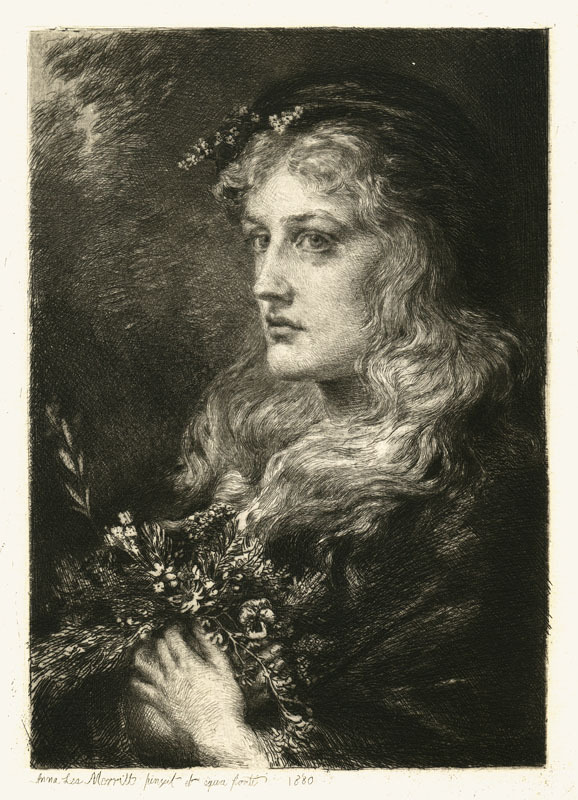 She was reluctant to return to the stage after her unhappy marriage.   In 1867 she performed with Sir Henry Irving as Katherina in The Taming of the Shrew.  But by 1868 she was living with her lover, architect and theatrical designer Edward Godwin.  Godwin was the father of her son and daughter, both of whom were given the surname 'Craig' due to their illegitimacy.  Her relationship with Godwin eventually ended, however he still continued to design costumes for her.
In the 1870s, she began a long collaboration with Sir Henry Irving:
When Terry joined Irving, she was 31 and he 40. It was the beginning of a close association with a man whose life and resources were to be dedicated to the theatre and who was to make the Lyceum a centre for new, striking interpretations—of Shakespeare in particular. His approach to sponsorship of new plays was that of a great stage visualizer and star actor who required a scenarist to assemble a script that would give him a framework for compelling performance and spectacular stage effects. As part of his mise-en-scène, he needed a beautiful woman to lend her own glamour to his productions. Terry responded to his needs with selfless dedication, playing many great Shakespearean parts—Portia (1879), Juliet and Beatrice (1882), Lady Macbeth (1888), Queen Katharine (1892), Imogen (1896), Volumnia (1901), Ophelia (1878), Desdemona (1881), and Cordelia (1892). She also willingly undertook such humble roles as Rosamund in Tennyson's Becket(1893). –Encyclopedia Britannica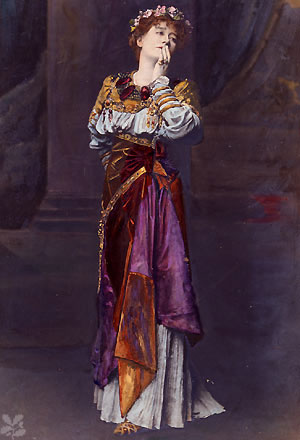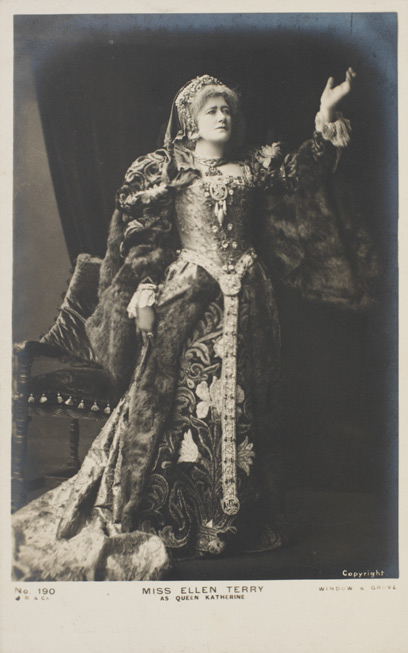 It is her role as Lady Macbeth that captures my attention though.  For one reason and one reason alone.  Her famous beetle-wing dress.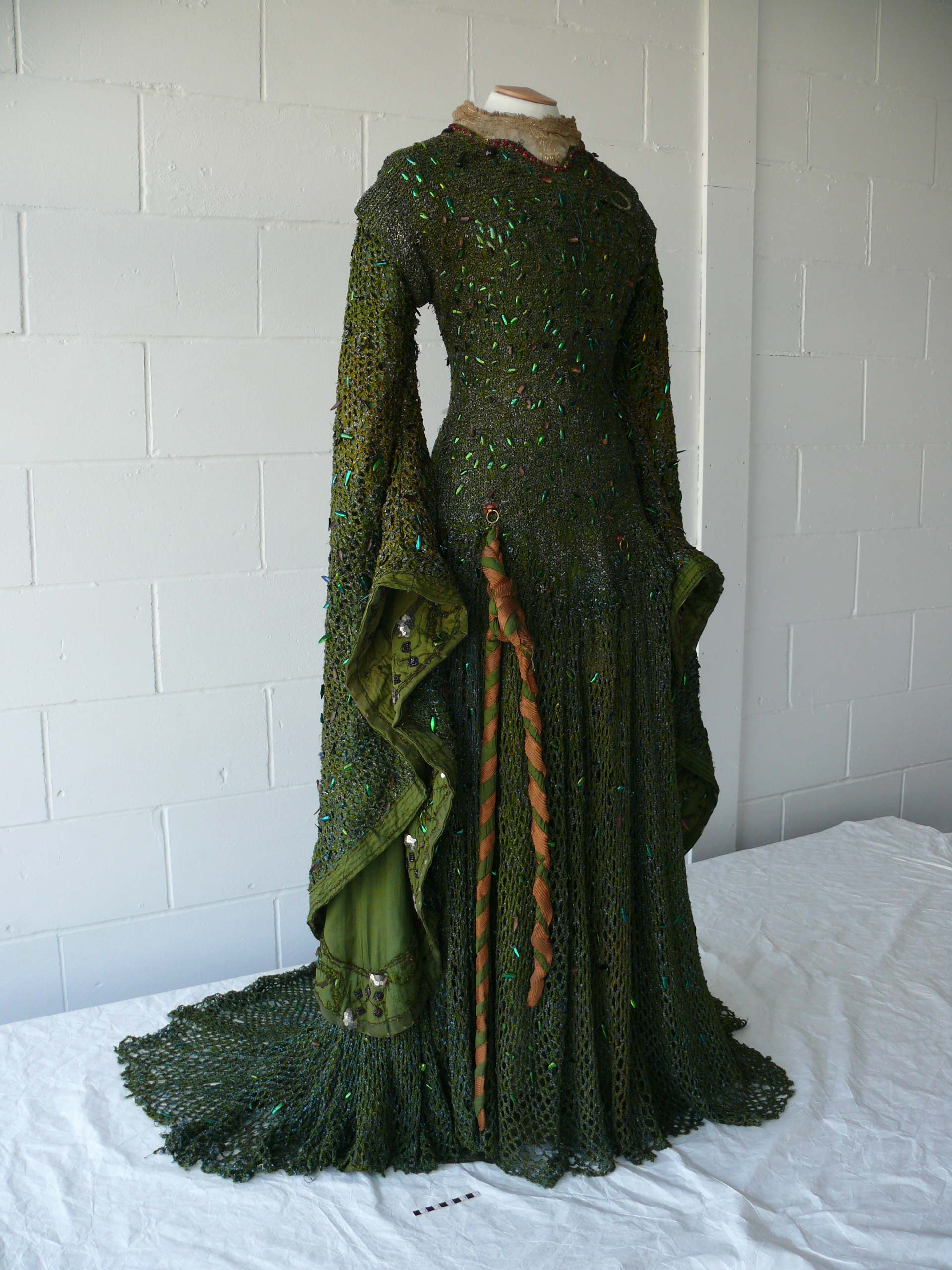 When it came to costuming, Dame Ellen Terry paid attention to the smallest detail.  Her desire to create a gown for Lady Macbeth that would have a shimmering, serpent like appearance led to the design of this gown.  It's iridescent green comes from thousands of beetle wings, a fragile affair that was recently restored.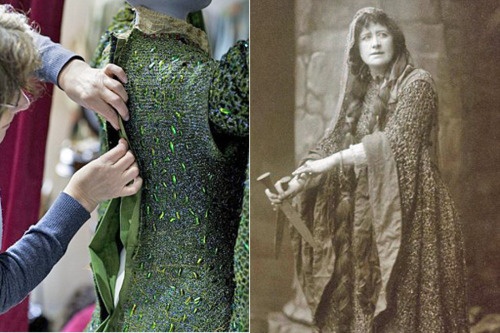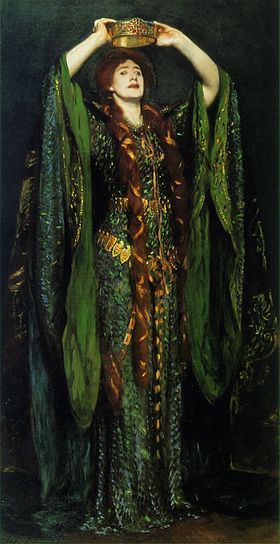 As I read her memoirs, I was excited when I reached her performance as Lady Macbeth.  The gown is so famous due to Sargent's painting of it and I was eager to see if she would mention it.  I was not disappointed.  Not just because of the mention of the dress, but because of a brief glimpse into the production.  Here is her description on Henry Irving as Macbeth:
"His  view of "Macbeth", though attacked and derided and put to shame in many quarters, is as  clear to me as the sunlight itself.  To me it seems as stupid to quarrel with the conception as to deny the nose on one's face.  But the carrying out of the conception was unequal.

When I think of his "Macbeth", I remember him most distinctly in the last act after the battle when he looked like a great famished wolf, weak with the weakness of a giant exhausted, spent as one whose exertions have been ten times as great as those of commoner men of a rougher fiber and courser strength.

"Of all men else I have avoided thee."

Once more he suggested, as only he could suggest, the power of Fate.  Destiny seemed to hang over him, and he knew that there was no hope, no mercy."
And the portion I was waiting for.  Ellen Terry on the 'Lady Macbeth' gown:
"I am glad to think it is immortalized in Sargent's picture.  From the first I knew that picture was going to be splendid.  In my diary for 1888 I was always writing about it:

"The picture of me is nearly finished, and I think it is magnificent.  The green and blue of the dress is splendid, and the expression as Lady Macbeth holds the crown over her head is quite wonderful."
Later, she continues:
Excerpt from Ellen Terry's diary:  "The picture is the sensation of the year.  Of course opinions differ about it, but there are dense crowds round it day after day.  There is talk of putting it on exhibition by itself."
It was satisfying to see that she mentions Burne-Jones, a favorite artist of mine:  "Sargent's picture is almost finished, and it is really splendid.  Burne-Jones yesterday suggested two or three alterations about the color which Sargent immediately adopted, but Burne-Jones raves about the picture."
Further on, she shares her correspondence with her daughter concerning the gown:
From a letter I wrote to my daughter, who was in Germany at the time:

"I wish you could see my dresses.  They are superb, especially the first one:  green beetles on it, and such a cloak!  The photographs give no idea of it at all, for it is in color that is so splendid.  The dark red hair is fine.  The whole thing is Rossetti- rich stained-glass effects, I play some of it well, but, of course, I don't do what I want to do yet.  Meanwhile I shall not budge an inch in the reading of it, for that I know is right.  Oh, it's fun, but it's precious hard work for I by no means make her a 'gentle, lovable woman' as some of 'em say.  That's all pickles.  She was nothing of the sort, although she was not a fiend, and did love her husband.  I have to what is vulgarly called 'sweat at it' each night."
The 'Lady Macbeth' gown has been mentioned online extensively:
Ellen Terry's beetlewing gown back in limelight after £110,000 restoration
The Archeology of a dress
More on THAT dress:  Victorian era dress, made with 1,000 beetle wings
And if the movie Brave is an indication, the 'Lady Macbeth' gown continues to inspire: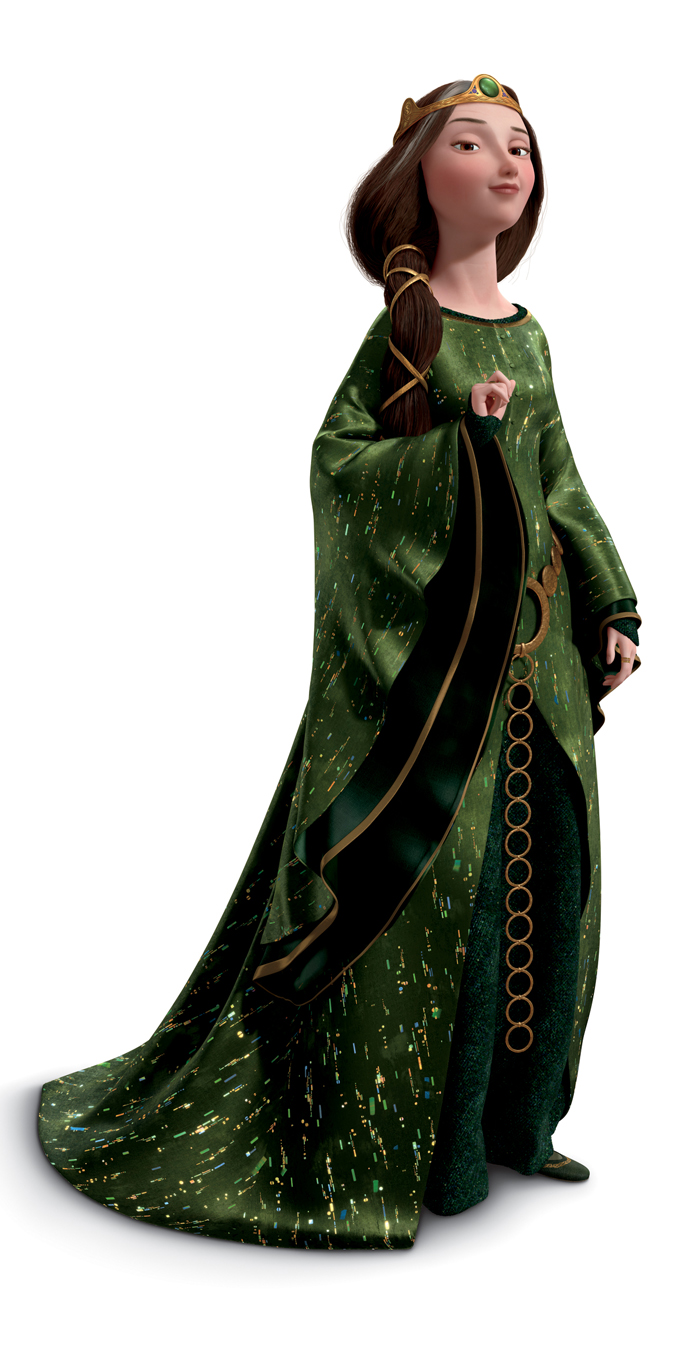 I will continue my Ellen Terry pursuits and hope to blog more about her in the future.  I'm incredibly interested in her correspondence with George Bernard Shaw.  You can read a bit about that here:  The Love Letters Project:  George Barnard Shaw and Ellen Terry.