Richard Dadd is a Victorian artist that both shocks and fascinates me.  He demonstrated a great talent for drawing early in life and entered the Royal Academy at age twenty. He founded The Clique with fellow artists Augustus Egg, Alfred Elmore, William Powell Frith, Henry Nelson O'Neil, John Phillip and Edward Matthew Ward. Which means that this post doesn't technically fit in with this site, since The Clique was opposed to the aims of the Pre-Raphaelite Brotherhood.
Dadd only exhibited a few works before 1842-3. Then he began to travel with Sir Thomas Phillips in the Middle East, Italy, Greece, France, Turkey and Egypt. What happened during his travels? Because this seemingly ordinary artist arrived home in the throes of madness. He heard voices and was under the delusion that he was under the direct influence of the god Osiris. Since Osiris is an Egyptian god, I assume that this belief and the onset of his mental troubles may have began during his stay there.  Years later, a few of his siblings also had troubles with insanity, so schizophrenia has been suggested. At the time, however, many people believed that sunstroke or an illness related to his travels set his madness in motion.
Whatever the roots of his troubles, the result was horrific.  He brutally murdered his own father while the two were on a leisurely stroll.  If you are so inclined, you can read details of the murder here.  Obviously insane, he spent the rest of his life incarcerated in both Bethlem Hospital (commonly referred to as Bedlam) and Broadmoor.  To their credit, the staff at Bedlam allowed Dadd access to painting supplies and this is where his most obsessive and haunting works were created.
He painted many paintings in Bedlam, including The Fairy Feller's Master-Stroke, a work that is  simultaneously beautiful and nightmarish.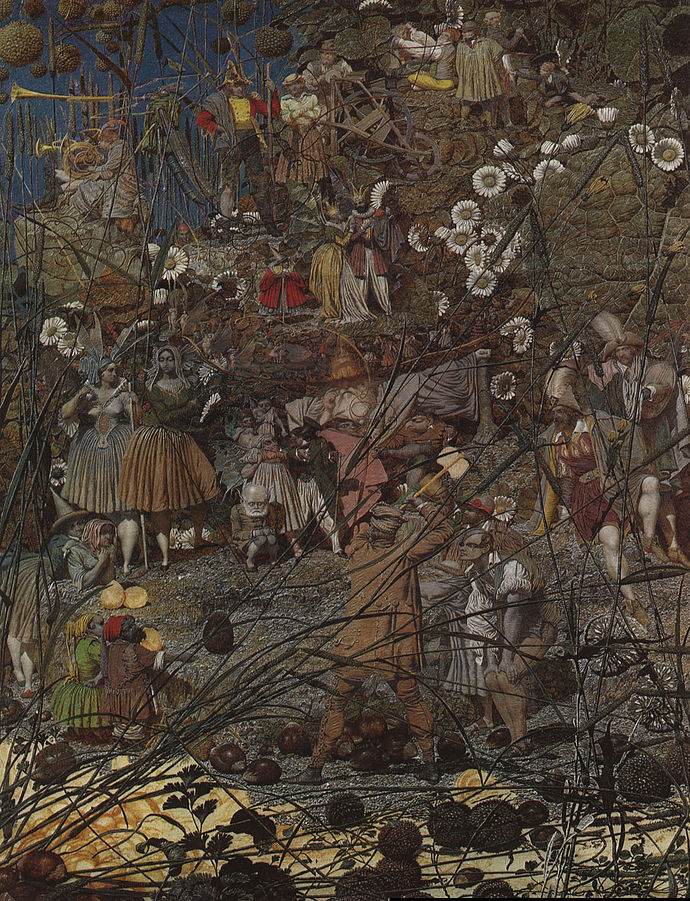 Dadd worked on The Fairy Feller's Master-Stroke for nine years and it  remains unfinished. It's a peculiar painting.  So small yet so busy. A mass of botanical elements and a crowd of detailed fairies, each of them unique and somewhat disturbing. Many claim that there is a hidden face in The Fairy Feller's Master-Stroke. Not everyone sees it and if is does exist, there's no way to know if it was purposefully put there by Dadd or if it is a bizarre coincidence.
The Fairy Feller's Master-Stroke is like a riddle. It doesn't pose a particular question but it challenges the viewer, daring us to scrutinize it. But for what?  Clues to Richard Dadd's psyche? Perhaps we look so closely in  a futile attempt to piece together his shattered mental state. Or perhaps we try to absorb the details of a mysterious fairy world that only the artist could see. The work is a puzzle. Author Elizabeth Hand wove it brilliantly into her novel Mortal Love, which I highly recommend.
Dadd wrote a poem to accompany the painting: Elimination of a Picture & its Subject–called the Fairy Feller's Master-Stroke.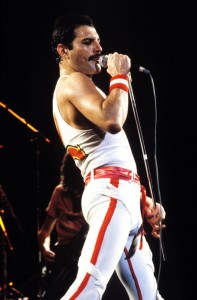 Freddie Mercury, lead singer of the iconic seventies band Queen, was so captivated by the painting that he composed a song based on it for the album Queen II.  Mercury included the characters mentioned in Dadd's poem and the lyrics are as detailed as the artwork itself. The song is so fast paced that it captures the same sense of surreal madness seen in the painting.  It's an intense frenzy of a song.
It's mad.
I love it.
The story goes that Mercury not only visited the painting at the Tate often, but he brought the other members of Queen to see it repeatedly as well.  This is exactly the kind of story that resonates with me, art inspiring art. I mentioned this when discussing Ford Madox Brown's paintings of King Lear. The artist was so inspired by a particular performance that he immediately sketched scenes of it, which later resulted in his paintings.  In Act 1, Scene1 of King Lear, Shakespeare wrote that "Nothing will come of nothing."  It is my firm belief that Art will come from Art.
When Queen II was released, the album included a fold-out cover with a reproduction of the painting. Author Neil Gaiman has talked about his love for the painting more than once and has mentioned the album in this blog post, saying:
Reason tells me that I would have first encountered the painting itself, the enigmatically titled Fairy Feller's Master Stroke, reproduced, pretty much full-sized, in the fold-out cover of a QUEEN album, at the age of fourteen or thereabouts, and it made no impression upon me at all. That's one of the odd things about it. You have to see it in the flesh, paint on canvas, the real thing, which hangs, mostly, when it isn't travelling, in the Pre-Raphaelite room of the Tate Gallery, out of place among the grand gold-framed Pre-Raphaelite beauties, all of them so much more huge and artful than the humble fairy court walking through the daisies, for it to become real. And when you see it several things will become apparent; some immediately, some eventually. – Neil Gaiman
Gaiman has written a lengthier piece about the painting at More Intelligent Life: Neil Gaiman's Fantasy Painting.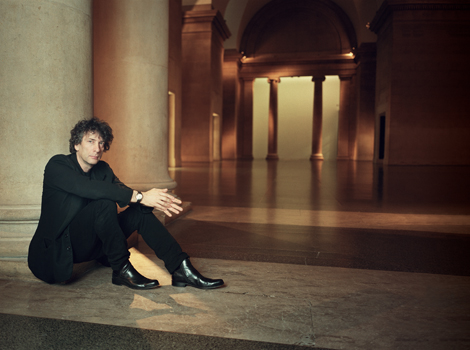 In this Youtube video, you can hear the song, see the lyrics, and see details from the painting The Fairy Feller's Master-Stroke: