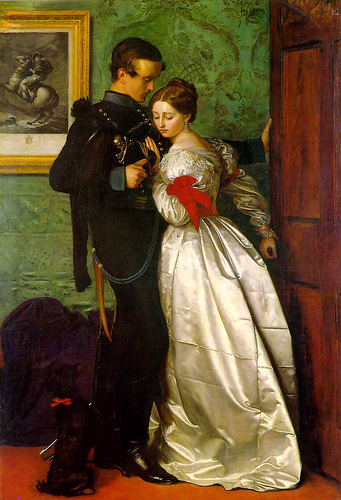 Kate Dickens Perugini, daughter of Charles Dickens, served as the model for The Black Brunswicker .  The Lady Lever Art Gallery has an extended study of this painting online.
Kate, one of the ten children of Dickens, married Pre-Raphaelite artist Charles Allston Collins.  Collins' brother, Wilkie Collins, was the author of The Moonstone and The Woman in White.  Her life has recently been captured in a vivid and poignant biography by Lucinda Hawksley, herself a descendant of Dickens.  Hawksley is also the biographer of another Pre-Raphaelite beauty, Elizabeth Siddal.
Here's a brief article Hawklsey has written about Kate, who later married Italian artist Carlo Perugini.
Her first husband, Charles Allston Collins, at ArtMagick
Valentine Cameron Prinsep, with whom Katey had an affair.
Her second husband, Charles Perugini, at ArtMagick