I recently saw an interview with Jane Campion on Charlie Rose and was interested as she discussed her latest film, Bright Star.    Based on the three-year romance between  John Keats and Fanny Brawne, which was cut short by Keats' untimely death at age 25.
Keats was an inspiration to the Pre-Raphaelites.   His poem The Eve of St. Agnes was the topic of paintings by Sir John Everett Millais and William Holman Hunt. My own favorite Pre-Raphaelite painting of a Keats subject is Isabella and the Pot of Basil, painted by William Holman Hunt. Also see Love, Death, and Potted Plants.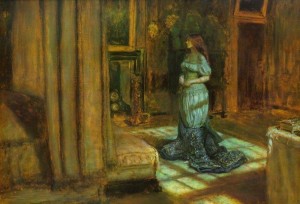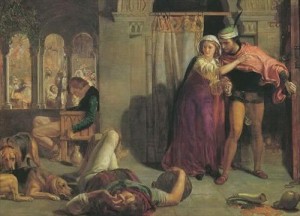 I have recently been reading William Morris by E. P. Thompson and would like to share this passage regarding Keats and his influence on Morris and on the Pre-Raphaelites:
We must look more closely at Keats than at any other forerunner of Morris, for his shadow falls most markedly upon Morris's youth, and the evidence of his influence may be found in every page of The Defence of Guenevere.  Within his work may be found the germ of The Pre-Raphaelite Brotherhood, the deepening influence of Medievalism, the first assertion of  the theory "art for art's sake" .  There is no wonder that Morris later recalled that  "our clique was much influenced by Keats, who was a poet who represented semblances, as opposed to Shelley who had no eyes, and whose admiration was not critical but conventional."
Dante Gabriel Rossetti appears excited by Keats in this letter written to his brother William Michael. Rossetti wrote this while reading Lord Houghton's biography of Keats. A biography that, interestingly, was published the year the Pre-Raphaelite Brotherhood was formed:
"I have not yet had time to get quite through the first volume of Keats, which is exceedingly interesting. He seems to have been a glorious fellow, and says in one place (to my great delight) that, having just looked over a folio of the first and second schools of Italian painting, he has come to the conclusion that the early men surpassed even Raphael himself!"
Romantic Echoes in the Victorian Era by Andrew Radford, Mark Sandy also mentions Rossetti's interest in Keats:
At this time (1846) Rossetti's intellectual ardour was very great.  He read Shelley and Keats with profound admiration.  Indeed, Rossetti's interest in Keats intensified as he got older, haunting his work as both a poet and a painter.  According to William Michael Rossetti,  ' in his last few years, the poetry of Keats was more constantly present than that of anyone else, hardly excepting Dante.'
Rossetti's letters expressed such a deep knowledge of Keats that they were gathered together and published in 1919 as John Keats: Criticism and Comment by D.G. Rossetti.
For more on Bright Star, visit the film's website http://www.brightstar-movie.com/

Also, this article at the Victorian Web is well worth a read:
Four Keats Poems and the Pre-Raphaelite Vision of the Middle Ages