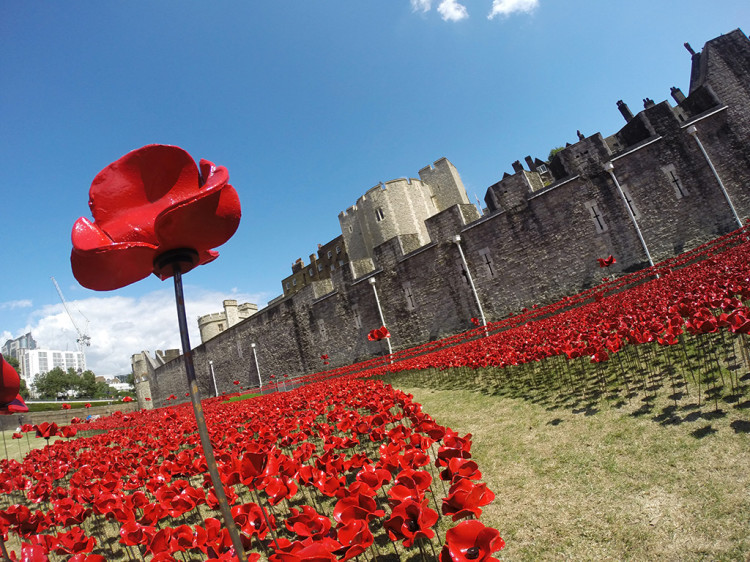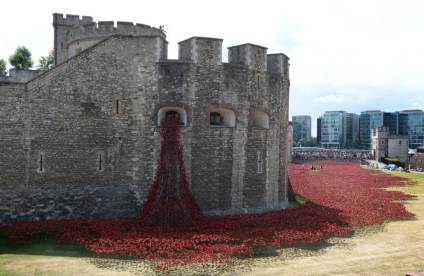 The Tower of London is marking the centenary of World War I with a breathtaking art installation called Blood Swept Lands and Seas of Red by artist Paul Cummins. The installation will include total of 888,246 ceramic poppies, each flower representing a British military fatality from WWI.  
The tradition of using poppies for remembrance of those slain in war began with John McCrae's poem In Flanders Field. See Valerie Meachum's post The Persistence of Poppies and Why the Poppy? on BBC.co.uk.
Since ancient times, the scarlet poppy has been associated with sleep and death.
In Greek mythology, the gods gave Demeter a poppy to help her sleep after her daughter Persephone was abducted. Afterwards, poppies sprang from Demeter's footsteps.
She also transformed her mortal lover, Mecon, into the sacred flower.
Poppies and other hypnotic plants were found at the cave of Hypnos, god of sleep.
Morpheus, god of dreams, is also frequently represented with poppies, as are Nyx (night) and Thanatos (death).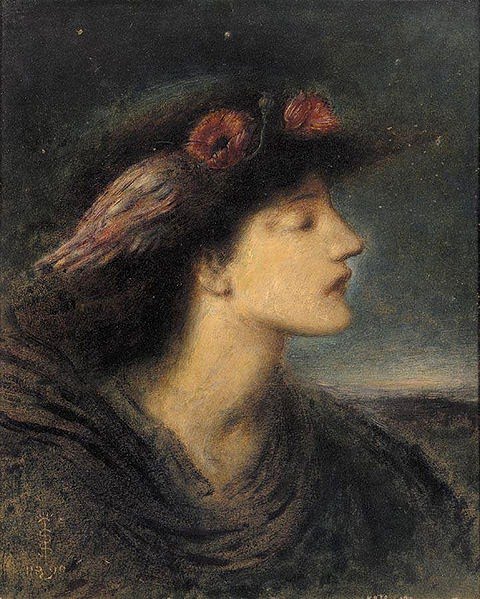 Dante Gabriel Rossetti painted Beata Beatrix as a tribute to his late wife, Elizabeth Siddal.
The dove delivering a poppy into her open hands is of personal significance — a symbol of Lizzie's death from an overdose of Laudanum, an Opium derivative (Opium is made from poppy seeds). Ill health plagued Lizzie throughout their courtship and marriage and her dependence on Laudanum may have caused the death of  her stillborn daughter a couple of years after their marriage.
Rossetti included death in many of his works even before Lizzie's untimely demise.  Death was a Victorian preoccupation, especially after the death of Prince Albert sent Queen Victoria into a state of perpetual mourning.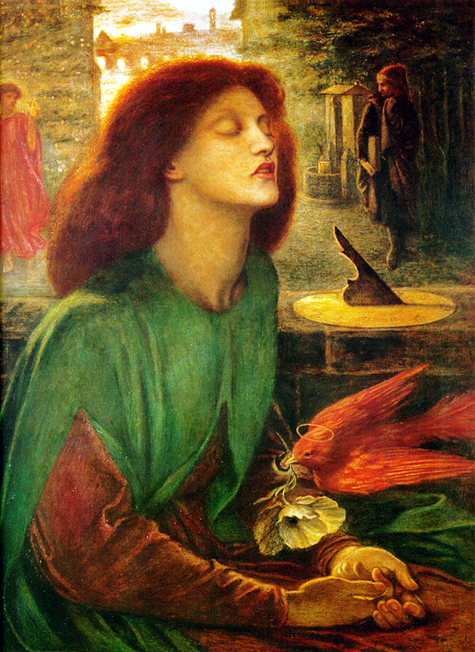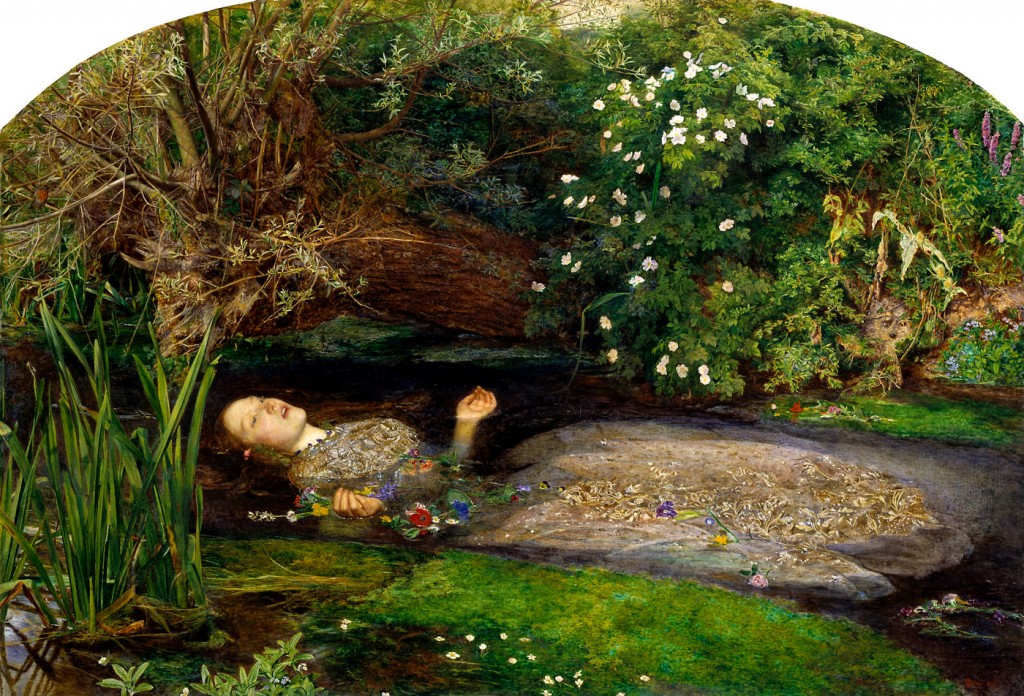 Lizzie Siddal also posed for John Millais' painting Ophelia, which shows a poppy floating close to her hand.  For more, read my post Ophelia's Flowers.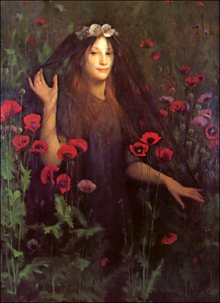 Thomas Cooper Gotch shows poppies as symbols of death in his painting Death the Bride, where death is personified as a beautiful yet morbid bride ready to embrace you for eternity.
Not all paintings of poppies embody death, though. Evelyn De Morgan's Night and Sleep shows the personification of Sleep sprinkling poppies to ensure a good night's sleep for everyone below.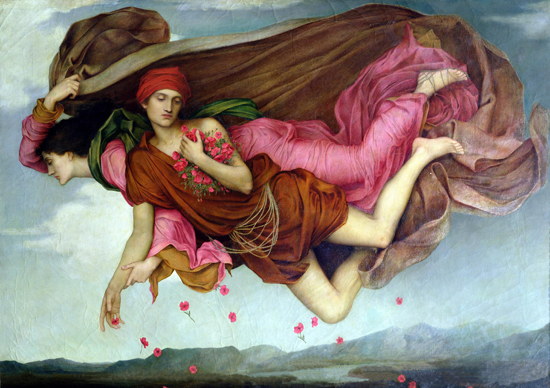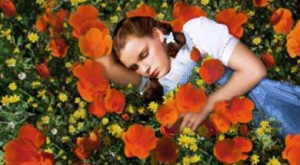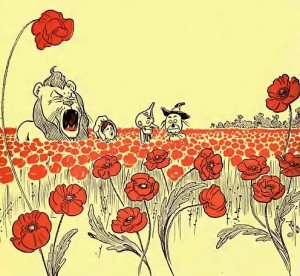 In the 1939 movie The Wizard of Oz, the Witch of the West casts a spell over a poppy field to make the main characters fall asleep.
In the book, the poppy field has its own enchanting and dangerous power and the witch is not involved:  "They now came upon more and more of the big scarlet poppies, and fewer and fewer of the other flowers; and soon they found themselves in the midst of a great meadow of poppies.  Now it is well known that when there are many of these flowers together their odor is so powerful that anyone who breathes it falls asleep, and if the sleeper is not carried away from the scent of the flowers he sleeps on and on forever.  But Dorothy did not know this, nor could she get away from the bright red flowers that were everywhere about; so presently her eyes grew heavy and she felt she must sit down to rest and to sleep." –L. Frank Baum, The Wizard of Oz
Poppies have long permeated our culture in a deep and meaningful way, they are more than mere symbols of death.  They also embody respect and remembrance.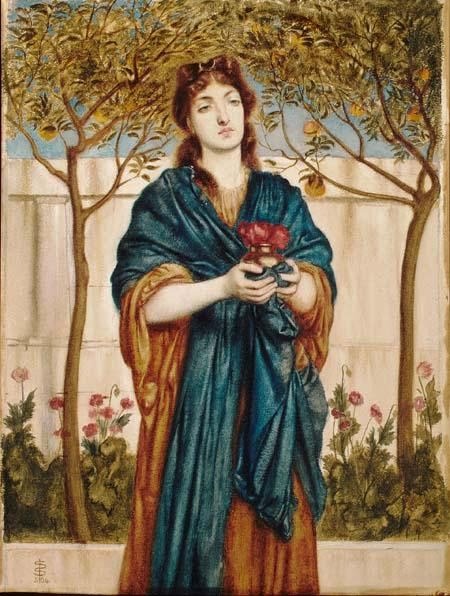 Through the dancing poppies stole a breeze most softly lulling to my soul. — John Keats