In order to delve deeper into my Pre-Raphaelite interest, I've decided to devote some time to reading works that inspired the Pre-Raphaelites.  If you'd like to read along with me, I'd be delighted.  I adore a good book discussion!
My first selection is Sidonia the Sorceress.  Unable to find a decently priced paperback, I've downloaded it from Project Gutenburg and will be reading it on my Nook.  I'm reading the version translated by Oscar Wilde's mother, Francesca Speranza Lady Wilde.

Here's my original post on the Burne-Jones painting of Sidonia, written in 2009: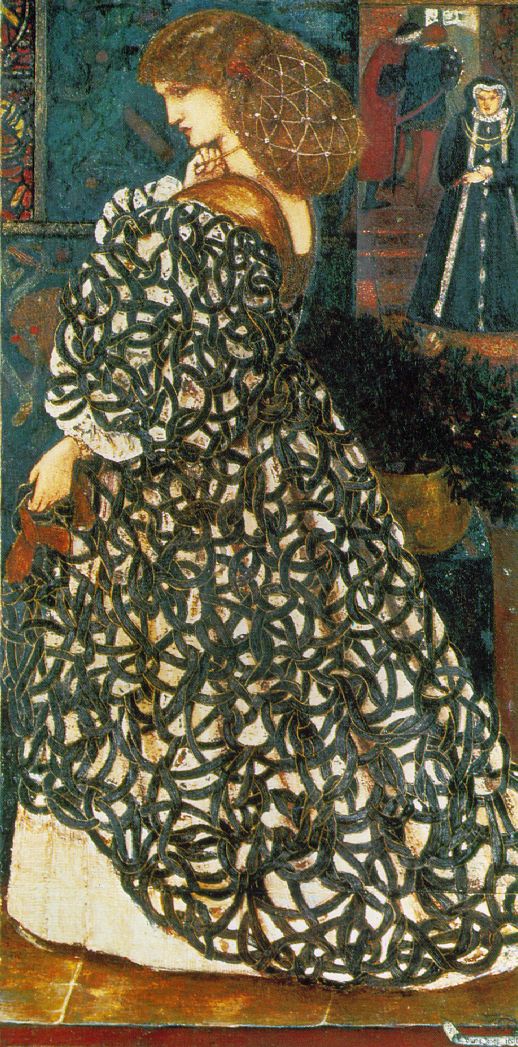 The intricate pattern of Sidonia's gown is amazing. Painted in 1860, Sidonia von Bork is an early watercolor by Burne-Jones and is based on the book Sidonia the Sorceress. Burne-Jones used model Fanny Cornforth (a Rossetti favorite) to portray Sidonia. We see her standing in profile, apparently lost in thought while plotting and scheming. In the background stands the Dowager Duchess of Wolgast, who has no control over the fact that she will soon be yet another victim of Sidonia's. But I have also read a quite different interpretation: that the woman in the back represents an older version of Sidonia at an age in which her fatal beauty has lost its power.
Sidonia the Sorceress is the tale of the wickedly beautiful Sidonia von Bork. She was a seducer and many men fell prey to her enchantments. I'm sure that it is no mistake or coincidence that the pattern of her gown seems like a snake-like trap that draws you in, ready to gobble you up.
Sidonia the Sorceress was a book that Rossetti and his friends admired. Interestingly, the book that they read was translated by Francesca Speranza Lady Wilde, mother of the decadent Oscar Wilde. (Other books by Lady Wilde
)
in 1893, William Morris's company Kelmscott Press
reprinted and published Sidonia the Sorceress. You can view a page of it here. The typeface is beautiful, as all of the Kelmscott works are.
Sidonia von Bork can be seen at the Tate.
You can read Sidonia the Sorceress at Project Gutenburg.
Now, I would like to direct you to a fun post over at The Beautiful Necessity that explores some wonderful examples of Pre-Raphaelite inspired gowns in film, one of which is based on Sidonia von Bork: