I was happily surprised this morning when a mundane trip to my local Wal-Mart resulted in a Pre-Raphaelite sighting: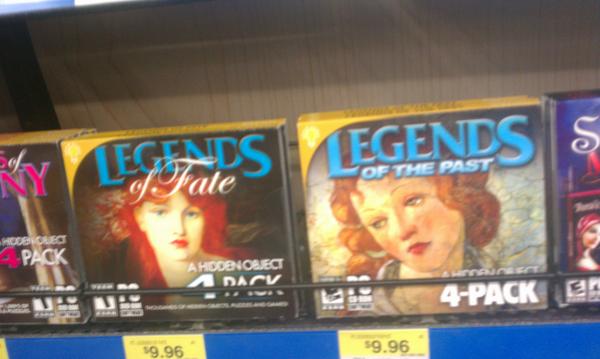 A portion of Dante Gabriel Rossetti's painting La Ghirlandata graces the cover of a computer game called Legends of Fate.  I'm tempted to go back and buy it just to see if there's any art in the game.
Here's the full version of La Ghirlandata: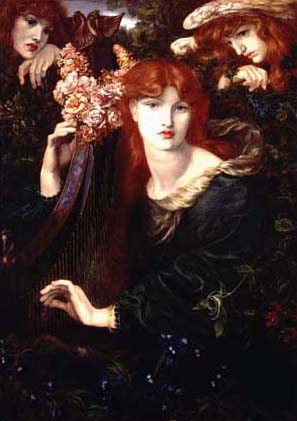 The main model in this piece is Alexa Wilding.  The angels were modeled by May, the ten year old daughter of Jane and William Morris.
La Ghirlandata was painted at Kelmscott Manor after a period of great difficulty for Rossetti — he had attempted suicide earlier that year (1872).
Here's a brief synopsis of the painting, courtesy of City of London:
"Rossetti painted this picture while he was staying at Kelmscott Manor, the Oxfordshire house he part-owned with his friend William Morris, following his breakdown and suicide attempt in 1872. Morris stayed away, but his wife Jane – with whom Rossetti was in love – was there. The honeysuckle and roses around the top of the harp in this picture indicate sexual attraction, while the harp itself represents music – a common metaphor for love and lovemaking. However the model for the picture was not Jane Morris but a model, Alexa Wilding, 'a really good-natured creature', who arrived at Kelmscott in June 1873.
The angel heads at the top were painted from Jane's ten-year-old daughter May, who was said to dislike Alexa intensely. La Ghirlandata is one of several paintings of women playing musical instruments which Rossetti painted between 1871 and 1874. His intense use of colour creates a brooding, melancholy mood, while the picture's symbolism – though unclear – may reflect his emotional condition at this time. Rossetti's brother later claimed that he had intended 'a fateful or deathly purport' by painting the dark blue poisonous monkshood in the foreground, but by mistake he had painted its harmless relative the larkspur instead."
I found a trailer online.  This is not a game series that I am familiar with, so if you've played it please let me know what you think.  It looks like a game my kids and I might like: