Christina Rossetti has the distinction of appearing not only in her brother Dante Gabriel's first painting to be exhibited, but it was also the first piece of work to bear the mysterious initials "PRB". At the time, the Pre-Raphaelite Brotherhood was still a secret group of young idealists and the meaning of the PRB inscription and their artistic goals had not yet been revealed.
Rossetti painted Christina as the virginal Mary in The Girlhood of Mary Virgin and its 'sequel' Ecce Ancilla Domini.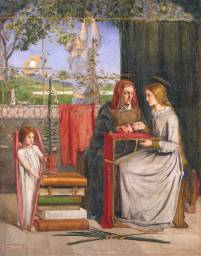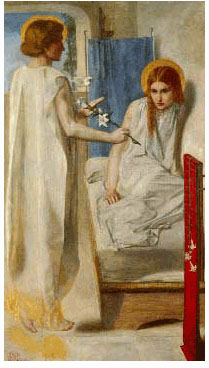 In true Pre-Raphaelite fashion, both paintings are filled with symbolism, obviously Christian. Ecce Ancilla Domini was not well received by critics, who did not appear to enjoy seeing Mary in her bedclothes.
Christina had her own success separate from the Pre-Raphaelites, she wrote poetry throughout her life. Her life, by the way, seems as virginal and chaste as her depiction of Mary did in 1848.
My favorite poems of Christina's are 'In An Artist's Studio' (obviously written about Elizabeth Siddal) and 'Remember'.