St. George and the Princess Sabra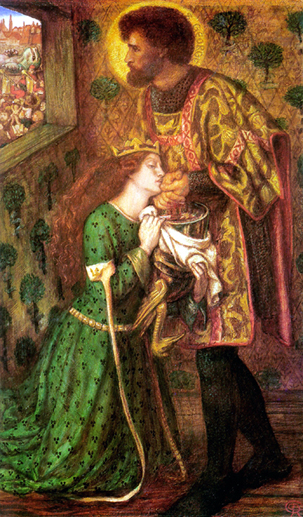 St. George and the Princess Sabra was painted by Dante Gabriel Rossetti in 1862.  This was the last work that his wife, Lizzie Siddal,  posed for before her death.  I find myself searching her face, as if it were a photograph, looking for signs of what was to occur days later:  her overdose of laudanum.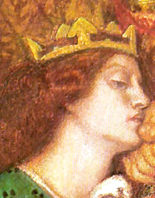 The Model:
One day she was a simple milliner's assistant.  Then suddenly she is discovered and begins modeling for artists in the Pre-Raphaelite circle, captured forever on canvas.  With a talent for painting and poetry herself, she falls under Rossetti's tutelage and even procures the great John Ruskin as a patron.   But Lizzie was often ill and became  addicted to Laudanum.  She married Rossetti in 1860 and shortly after they suffered the tragedy of a stillborn child.  Their daughter had died in Lizzie's womb weeks before she was delivered.
In 1862 Lizzie was pregnant again.  Still addicted to Laudanum, she overdosed and died on February 11, 1862.  Rossetti summoned doctor after doctor to try and save her, but to no avail.   In his famous gesture of grief, Rossetti buried his only manuscript of poems with Lizzie in her coffin.  Years later, he would have her grave in Highgate Cemetery exhumed in order to publish the poems. (LizzieSiddal.com: photos of Lizzie's grave, Lizzie's inquest. timeline of Lizzie's life)
The Subject Matter:
The story of St. George was not a new subject for Rossetti. He designed a set of stained glass windows to be created by the Morris firm.   Previously, in 1857, he had painted The Wedding of St. George: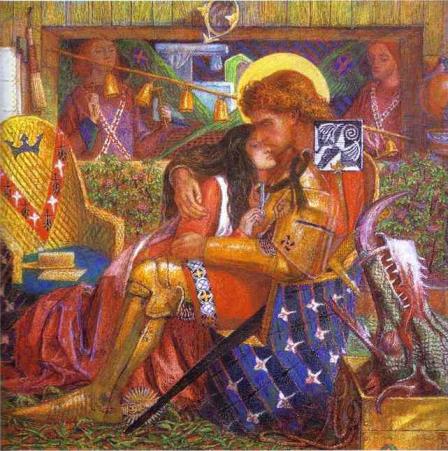 Here we can see the triumphant St. George embracing Princess Sabra, both of them seemingly oblivious to the dead dragon.
The story of St. George was a legend handed down from  the Crusaders and  was printed in 1483 by Caxton in a book called The Golden Legend.   St. George happened upon a town with a horrible dragon.  The townspeople had been feeding the dragon sheep in order to keep it at bay.  In another version of the myth, they fed the dragon their children who were chosen according to a lottery.  They also gave the dragon young virgins.
St. George attacks and slays the dragon, saving the city.  He is rewarded with Princess Sabra's hand in marriage.
Links:
St. George and the Princess Sabra at The Rossetti Archive
St. George, England's Patron Saint at Brittania.com
Catholic Encyclopedia:  St. George
Burne-Jones also illustrated the story of St. George
The Tate Collection:  Rossetti's St. George and the Princess Sabra